The Whiskey Cocktail That Tastes Like A Bacon Egg & Cheese Bagel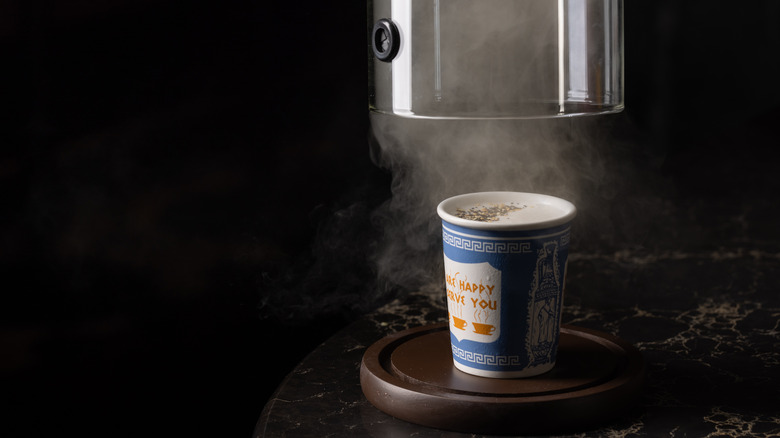 Madame George
Would you try a cocktail that tastes like ... breakfast? Madame George, a Midtown cocktail lounge in New York City, is proving that many people would. This glamorous subterranean bar features a cocktail menu inspired by New York City throughout the ages, with drinks named after city landmarks like the Gravesend Highball, Northbound Track, Forgotten Borough Sour, and Manhattan Ave. However, the drink captivating TikTokers is a cocktail called the NY Bodega Sour, which tastes like a BEC — also known as a bacon, egg, and cheese — from your local bodega.
Made from bacon fat-washed 77 rye, lemon juice, maple syrup, orange bitters, and foamy egg white, the drink is garnished with black and white sesame seeds — just like your favorite bagel. (Who knew there was an opportunity for such a literal execution of an egg white cocktail?) But the masterstroke comes when it's served under a dome filled with everything bagel-flavored vapor, tricking your brain into thinking it's breakfast time.
The Everything cocktail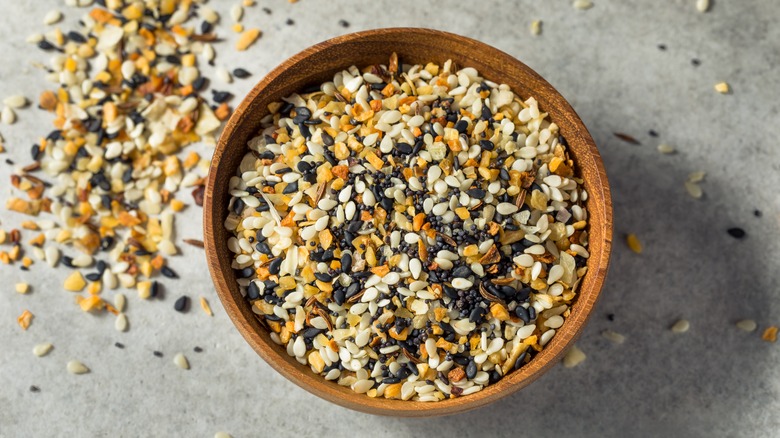 Brent Hofacker/Shutterstock
Marshall Minaya, Beverage Director of Madame George, describes the NY Bodega Sour to Food Republic as "an everything bagel sandwich inspired drink, reminiscent of a morning visit to your local New York bodega. Bacon washed Breuckelen 77 Rye commingles with flavors of maple and citrus. The addition of egg white provides a smooth, velvety balance. The final touch is a cloud of everything bagel aroma. We remove the glass in front of guests to maximize effect."
It's a combination of ingredients that shouldn't work, yet somehow, they do. Whiskey and bacon are often paired together in various forms, such as in candied whiskey bacon, bacon-infused bourbon, and even whiskey and maple bacon jams. Ever since Trader Joe's launched its fan favorite Everything But the Bagel seasoning, people have been experimenting to see just how far they can push the envelope in making everything taste like a bagel. For instance, there's even Everything Bagel Nigiri — don't knock it until you try it. Vanderpump à Paris restaurant in Las Vegas serves a dirty martini rimmed with everything bagel seasoning, and the NYC dry speakeasy Fat Tiger sells a non-alcoholic Old Fashioned called the Stop Plain, made with everything bagel syrup.
That NYC Coffee Cup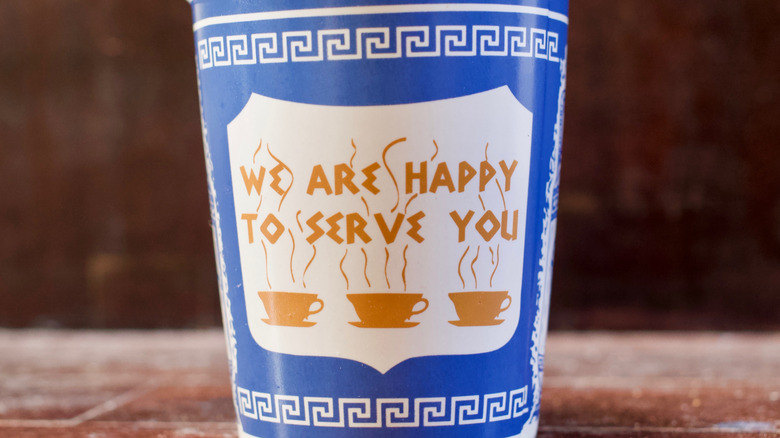 Bokehboo Studios/Shutterstock
Part of the charm of the NY Bodega Sour isn't just the dramatic cloud of bagel smoke with which it is served. It's also the fact that the cocktail comes in an iconic blue and white NYC coffee cup. Known as the Anthora (a riff on amphoras, vessels used for drinking in Ancient Greece), this style of coffee cup has been ubiquitous in NYC since the 1960s. The Sherri Cup Company created it as an homage to the hundreds of Greek-owned breakfast carts around the city.
Interestingly, Madame George is not the only place in New York using this famous cup for a cocktail. Rocka Rolla in Williamsburg has been serving a very different kind of cocktail in the same classic NYC coffee cup for years — a frozen coffee drink and cult favorite called, simply, "Coffee Thing." It just goes to show that New Yorkers are always game for a whiff of nostalgia, enjoying something familiar packaged in a suave new way.