To Make An Aperol Spritz, All You Need Is The Label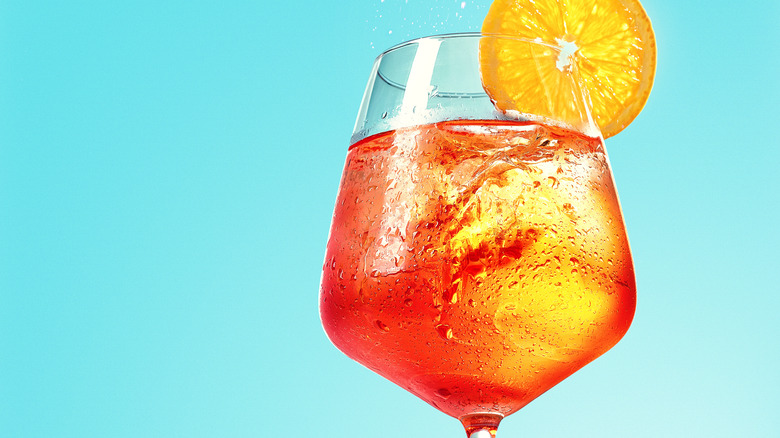 baibaz/Shutterstock
Nothing says, "I am living my best life," like an al fresco afternoon, Aperol Spritz in hand. It often feels worth every penny to order yet another round for one more "salute" with your friends. But if you Aperol spritzed a little too hard over patio season and still have a hankering, you can make this iconic cocktail easily at home. The label of the bottle actually has a helpful picture so you can make your Aperol Spritz just right.
Pure Aperol has a deep, jewel-toned, reddish-orange hue and a slightly syrupy texture. When an Aperol Spritz is made perfectly, it has a lighter tangerine-orange color. Too diluted, and an Aperol Spritz looks like an orange Gatorade. Thankfully, the label of the Aperol bottle also has a recipe for the cocktail. If you aren't feeling too confident, just hold your glass right up next to the image on the label and check the color. Fool-proof!
How do you make an Aperol Spritz?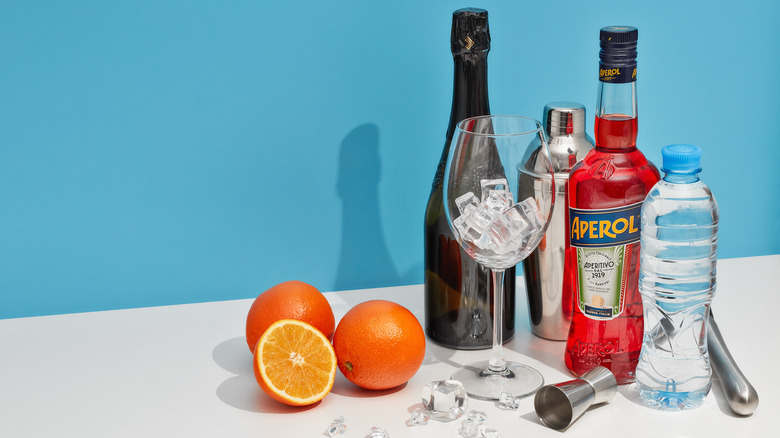 Dmitry Melnikov/Shutterstock
First, you need the right glass. A large stemmed wine glass, or balloon glass, used for a full-bodied red wine is typical. If your personal bar cart isn't stocked with these, a gin and tonic goblet, stemless wine glass, or even a tall water glass will work in a pinch. To start, fill your glass with lots of ice. Then add three parts of prosecco. Prosecco is the perfect pairing because it has notes of orchard fruit, honeyed florals, and melon — and generally has fewer bubbles than Champagne. If you don't have prosecco, any other dry sparkling white wine will do the trick. Next comes two parts of Aperol followed by one part of soda water. Swirl a half slice of orange in the drink to give it a quick stir and drop it in.
Because the Aperol Spritz recipe uses proportions, you can make as large or small of a spritz as you would like. If you are a person who likes more exact measurements, use 3 ounces of prosecco, 2 ounces of Aperol, and 1 ounce of soda water. Just remember that the perfect cocktail has a simple countdown: three, two, one! If you're in doubt, compare your glass to the back of the label and adjust accordingly.
Figure out how to make your perfect Aperol Spritz
RossHelen/Shutterstock
Now that you have a handy guide to craft an Aperol Spritz, you can tweak the cocktail to make a perfect version to enjoy on your own patio, front porch, next to an open window in your apartment, or sitting directly in front of a box fan because your air conditioning broke and you deserve it.
If you want to continue using the color guide on the label, keep the amount of Aperol the same but play with the other components. Prosecco comes in three different designations — dry, extra dry, and brut. Dry proseccos have the most residual sugar and brut have the least, so experiment with these to fine-tune how sweet you like your cocktail to be. See what you think about seltzer versus club soda versus sparkling water, and play with how bubbly and mineral-driven you want the final cocktail to be. You can even try sparkling water flavored with something complimentary like lemon, grapefruit, cranberry, or vanilla. If you love the bitter and herbal qualities of the Aperol, play them up with a couple of extra dashes of bitters. Garnish with a slice of any type of citrus or a big green olive for a true Venetian finish. Cin-cin!