How Much It Costs To Shop At Erewhon, One Of America's Most Expensive Grocery Chains
Not too long ago, home cooks schlepped to different stores to fulfill their grocery list, hitting the butcher for meat, fishmonger for seafood, and a bakery for baked goods. Today, grocery chains carry everything we need in one location, changing how we decide where to shop.
Consumers consider many factors when purchasing groceries, from convenience, quality of merchandise, and the best prices, some driving past several stores in this economy to find the least expensive eggs. But if you live around the Los Angeles area, one grocery chain has tapped into a new niche and is immune to the adverse effects of inflation: Erewhon Market, one of America's most expensive supermarkets.
Opened in Boston, Massachusetts, in 1966, Erewhon Market moved two years later to the West Coast in Los Angeles, California, where it still stands. With perks like free valet parking and memberships, Erewhon is unlike the patchouli-smelling health food stores only perused by hippies 20 years ago. Celebrities and influencers flock to Erewhon well-dressed for groceries, embracing $24 beef bone broth and $22 tie-dyed rainbow Cactus Plant Flea Market smoothies.
Since 2020, expensive shopping trips to Erewhon Market have continued to trend on TikTok – where the young and fit simultaneously complain about paying $22 for strawberries as they roll their eyes and fill their carts with the store's beautiful merchandise. This elite grocery chain developed a cult following online — where brightly colored non-alcoholic juices and outrageous prices are part of the draw.
Luxury grocery shopping
Named after a fictional health-conscious utopia in Samuel Butler's book "Erewhon" ("nowhere" spelled backward, also known as "Over the Range"), the chain caters to one-percenters who can afford to spend more on 'organic products with a cause' and those who play the part and are curious about Bella Hadid's or Selena Gomez's smoothies. It's not unusual to spot celebrities shopping in Erewhon, who likely can afford the steep prices. However, during the pandemic, Erewhon became the place to be seen when little else but grocery stores were open, prompting people to post photos and videos from trips to Erewhon. 
Unlike another high-end grocery chain, Whole Foods Market, the press surrounding Erewhon's over-the-top pricing seems part of the allure. Loyal customers will buy a 2.5-pound organic rotisserie chicken for $22.50 – while Whole Foods retails the same-sized bird for $11.99. Both are a premium compared to Costco's famous $4.99 — albeit not organic — but bigger bird.
The same carton of Vital Farms pasture-raised organic large eggs fetches $9.99 at Erewhon versus $8.49 at Whole Foods ($1.50 more per dozen, and they aren't even the most expensive brand sold). To further emphasize the disparity, according to the United States Department of Agriculture, the national retail average for eggs, as of August 2023, is just $2.25 per dozen. Universally, the prices at Erewhon are higher than other grocery chains, no matter the category — although some brands are not found elsewhere for a side-by-side comparison.
Why spend $1 when you can spend $1,000?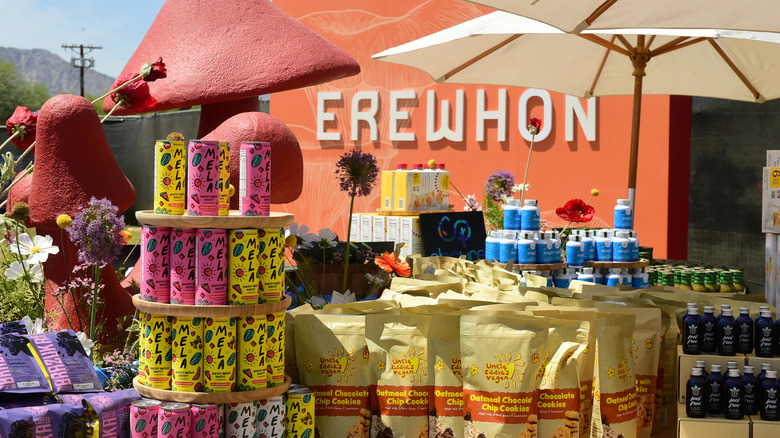 Vivien Killilea/Getty Images
When the A&P grocery chain changed the landscape of food markets in the early 20th century, replacing our mom-and-pop and specialty food shops, no one could have imagined a place like Erewhon Market where the more money you spend on groceries is directly proportional to your number of social media followers. TikTok influencers like Chefbae, a private chef to celebrities like comedian Mindy Kaling, regularly post shopping trips to Erewhon, where the chef can spend over $1,000 to make a small plate of "vegan" nachos topped with an entire tin of caviar (yes, rendering it not exactly vegan).
To reinforce Erewhon's exclusive status, frequent shoppers can buy a membership, which earns them rewards like 10% off discounts, complimentary drinks, and $0 delivery fees (as long as you purchase a minimum of $150). Erewhon offers two memberships: the Cafe Membership for $100 annually and Membership Plus, which allows you to share the account with one partner for $200.
If you don't live near one of Erewhon's nine locations, the California chain ships nationwide via UPS, so everyone can access its curated merchandise within three days. While the company won't ship perishable items like soups, smoothies, or a gallon of milk for $20, apparel, pantry items like coffee and tea, snacks, housewares, and beauty can be. Products like Erewhon's energy-boosting Neptune Blue Sea Moss Gel, recommended post-workout daily, are $44 for 16-ounce bottles, plus $135 for the denim Erewhon tote bag you'll want to include, so everyone knows you shop there.