What Makes Thai Iced Coffee Totally Unique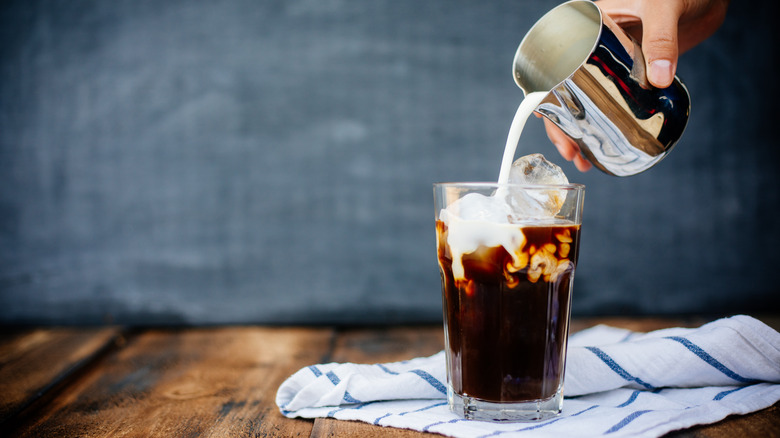 Agrobacter/Getty Images
Thai iced coffee also called gafae yen (กาแฟเย็น) is anything but subtle — strong coffee over lots of ice and creamy sweetened condensed milk come together for a caffeine and sugar hit. The texture is a little thicker, the coffee flavor is more intense, and the sweetness is more present. It is common across Thailand and Asia — and now across the West because of how gastrodiplomacy brought Thai food to the world stage.
Great Thai iced coffee starts with the coffee. A prepackaged blend of coffee, soybean, and corn – often called "oliang powder mixed" — is commonly used and does give Thai iced coffee a unique taste. However, any boldly-flavored, dark-roast coffee will work beautifully. You can also use high-quality instant coffee or espresso powder. The main thing is that the coffee must be very strong because the bitterness of the coffee provides a necessary balance that is tempered with warm spices. Sweetened condensed milk lends richness, body, and, of course, sugar. Without it, Thai iced coffee would be way too bitter, so even if you don't like very sweet coffee, don't skip it entirely. Of course, you can mellow out the sugar with unsweetened evaporated milk as well. All in all, this iced coffee is a rich, spiced brew that feels luxurious thanks to the condensed milk.
How to make Thai iced coffee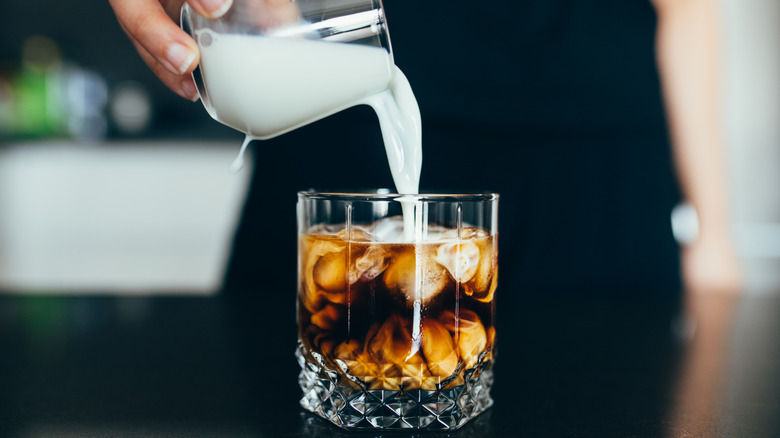 Evrim Ertik/Getty Images
Start by brewing very strong coffee or stir together some instant coffee in hot water, and set it aside in the fridge to cool. Once cool, add sweetened condensed milk to the bottom of a glass. You do need a little extra dairy to bring this iced coffee together. You can use whole milk, heavy cream, or evaporated milk, and stir well with the sweetened condensed milk. Fill the glass to the brim with ice, top the milk mixture with coffee, and stir to combine. Alternatively, stir the sweetened condensed milk into the coffee, and drizzle on your milk of choice at the end to create a pretty cascading effect. Because the mixture is strong and sweet, it stays flavorful even as the ice melts. For a dairy-free version, use sweetened condensed coconut milk and your plant-based milk of choice.
Thai iced coffee is delectable as is, but a touch of warm spice from cardamom, cinnamon, star anise — even vanilla or almond extract — like what is used in Thai iced tea can elevate it. Brew the coffee with whole spices, add a splash of vanilla or almond extract, or skip it entirely if you prefer a simpler mix. Thai iced coffee is similar to an iced latte with the volume dialed all the way up, and it's definitely worth adding to your cold coffee rotation.