Copa Di Vino: Here's What Happened After Shark Tank
Copa di Vino isn't your average bottle of wine; in fact, it doesn't come served in a bottle at all. Instead, the premium wine comes ready to drink in recyclable single-serve plastic containers with resealable splash-proof caps. Making wine easier to enjoy, the product features the same great taste — but with no corkscrew required. The company's founder, James Martin, conceived the idea in 2007 while riding a bullet train in southern France with his wife, Molli, for their 20th anniversary. After ordering a glass of wine on the train, they were intrigued when they were given a sealed, on-the-go glass of the drink instead — and, just two years later, Copa di Vino was born.
Soon after, Martin made the ultimate business move and brought his wine brand before the judges of the hit show "Shark Tank." But Martin didn't just make a splash in the Tank once; he went on the show twice in what would turn out to be two of the most memorable episodes in "Shark Tank" history. After Martin shockingly took a walk the first go around, would any of the Sharks be interested in taking a sip of his alcoholic beverage the second time?
Copa di Vino visits the Tank twice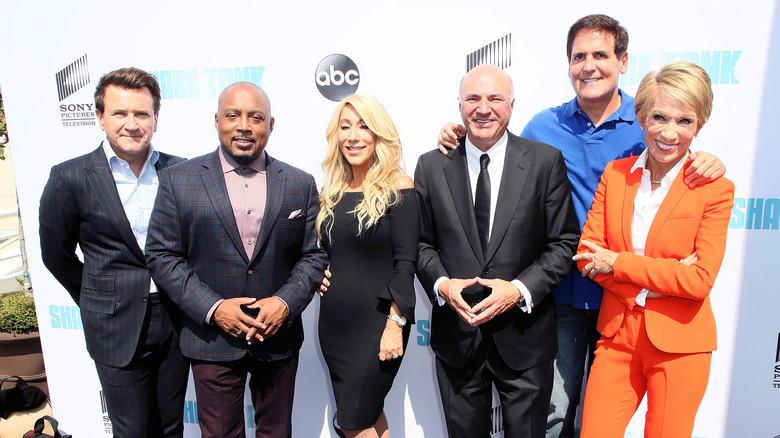 David Livingston/Getty Images
During Martin's first appearance on "Shark Tank" in Season 2 Episode 1, which aired in 2011, he asked the judges — Barbara Corcoran, Mark Cuban, Robert Herjavec, Daymond John, and Kevin O'Leary — for a $600,000 investment for 20% of his company, which, he said, was already in major retailers like Ralphs and other Kroger chains.
Several of the judges were initially confused as to whether they were buying a wine label or a packaging system, the latter of which O'Leary said was the real game-changer. This led him to make an offer of $600,000 for a 51% stake in the patent, but Martin ultimately walked away from the deal. "I am going to go buy a $1,000 bottle of wine tonight, and I'm going to drink it because I am weeping for the opportunity lost," said O'Leary.
The second go around came about during Season 3, Episode 11, which aired in 2012. Martin was seeking $300,000 for a 5% stake in the company in order to create a second bottling line to keep up with the high demand. O'Leary, Cuban, and Herjavec ultimately made a joint offer of $600,000 for a 30% stake in the company, and after a very tense standoff — Cuban backed out of the potential deal, and Herjavec stormed off the set — Martin eventually walked away from a deal with the Sharks yet again.
Copa di Vino after Shark Tank
Corks may not be flying, but Copa di Vino is still popping off. After being added to the shelves of more leading retailers, such as Walmart and 7-Eleven, Martin revealed during his second time on "Shark Tank" that his company was on track to achieve more than $5 million in sales that year — up from the $500,000 made in the first six months after launching the concept. "And so the success continues," Martin shared in a 2012 Facebook update. "The winery has tripled in size and Copa is now one of the fastest growing brands in America!"
Post "Shark Tank," the brand is still raking in air time, recently have been featured on Tampa Bay's Morning Blend. Copa di Vino's portable glasses, which feature an ergonomic shape, became available in four-packs and also got an upgrade in the form of a tight seal underneath the cap to keep the wine fresh for longer. And, in April 2022, the company launched a new online shop site — which features more shipping options and wine combinations — completely selling out in its first month.
Copa di Vino is still in business
Fast forward to today, and business is certainly still booming for Copa di Vino, which means "a glass of wine" in Italian. After notoriously turning down offers more than a decade ago on "Shark Tank" — not once, but twice — the wine brand still went on to generate tens of millions of dollars in revenue, making Copa di Vino an incredibly profitable company, despite never having landed a deal on the show.
With just one look at Copa di Vino's appealing assortment of wine offerings, it's not hard to see why the brand's been so successful. Varietals include some of the best red wines to chill — including Merlot, Cabernet Sauvignon, and a Red Blend — white wines like Pinot Grigio, Moscato, Chardonnay, and Sauvignon White, as well as a white Zinfandel rosé, which all start at $3.49 per glass. In addition to making sipping wine a breeze, the to-go cups are eco-friendly and can be recycled after use.
What's next for Copa di Vino?
Although glasses of Copa di Vino are still flying off store shelves, things have certainly changed for the brand. In January 2021, the Fort Lauderdale, Florida-based Splash Beverage Group Inc., a portfolio company of leading alcoholic and non-alcoholic beverage brands, announced it had acquired Copa di Vino. And, perhaps much to Kevin O'Leary's chagrin, the deal included the brand's proprietary packaging technology, which Splash Beverage Group's CEO, Robert Nistico, revealed would be used for various applications across its growing portfolio. 
As for Martin, who was already running a winery called Quenett before founding Copa di Vino, it's safe to say he's still dabbling in the business of wine in some capacity. His LinkedIn lists another wine venture, Oregon Mountain Estate, dating back to 2012. Even more, the entrepreneur founded two new companies, DrinxTec and Eturnity, which are centered around making packages for universal refilling.