Take A Cheese Grater To Frozen Fruit For Hassle-Free Shaved Ice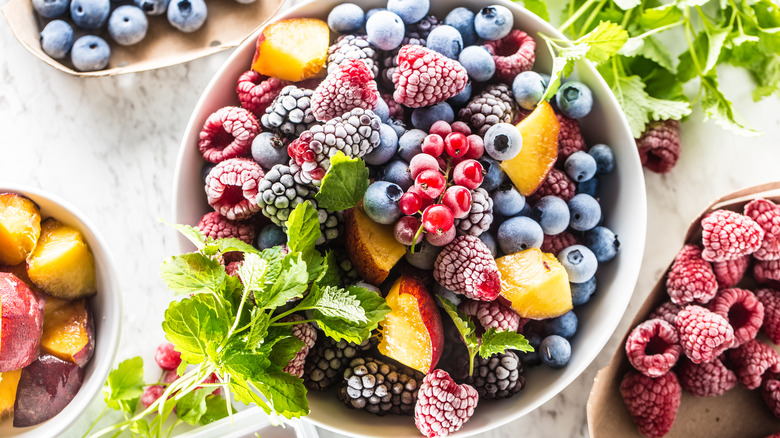 Marianvejcik/Getty Images
While Japan is the original inventor of shaved ice, known as kakigōri, shaved ice desserts have taken on many forms and flavors around the globe. From Puerto Rico's piragua to India's gola and Mexico's raspado, there's no shortage of variations on this simple frozen concoction. Most versions follow a simple formula: scraped ice, a sweetener — often in the form of a syrup — and sometimes a garnish. However, blogger and cookbook author Frankie Gaw has taken to TikTok to demonstrate how to make a simplified version of this widely popular treat.
Using just a grater and one base ingredient — frozen fruit — Gaw, a Taiwanese American home cook who grew up in Ohio, demonstrates how to make an easy and fast version of shaved ice with strawberries that looks a bit like bingsu, South Korea's version of shaved ice. The concept is so simple that it feels like it should have become popular a whole lot sooner. But does it work?
How to make shaved ice with frozen fruit and a cheese grater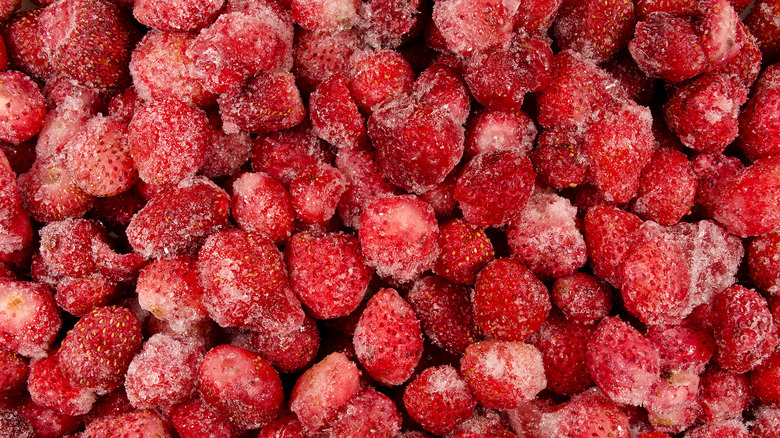 Vitalkaka/Getty Images
In his TikTok video, Frankie Gaw fills a small bowl with frozen strawberries. He then quickly shreds them into a separate serving bowl using a microplane grater. The result is a pink mound of finely grated strawberries, which he tops with condensed milk, crushed peanuts, and black sesame seeds before digging in with a wooden spoon.
Comments on the post on both TikTok and Instagram are mostly positive, though some users responded that it seemed like the grating process would take a long time. However, Gaw indicated in a response that the entire process took only a few minutes. And for those who are concerned about their fingers freezing while grating, Gaw suggests using a paper towel to grasp the strawberries. While a microplane was used in the video, a grater can be used as well. Just be sure to use the finest shredding side of the grater to make the best shaved ice dupe.
Shaved ice variations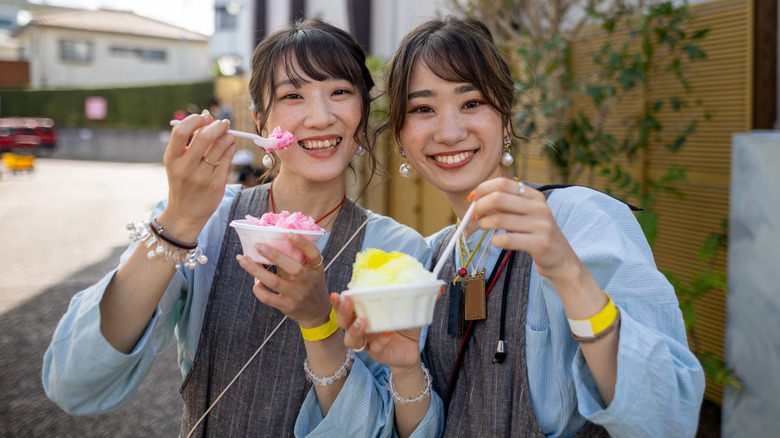 Satoshi-k/Getty Images
Frankie Gaw's video uses strawberries, but you can use virtually any frozen fruit to make shaved ice, from peaches, pineapples, and mangoes to watermelons and grapes. When it comes to toppings, Gaw's combination of condensed milk, crushed peanuts, and black sesame seeds seems like it would channel the flavors of peanut butter and strawberry jelly beautifully. While most viewers seemed content with (and enthusiastic about) that version, many offered up other topping ideas including coconut milk, crushed cookies and crackers, shaved chocolate, and even a dash of tajin. Gaw himself chimed in with some other ideas, too, like honey, maple syrup, cashews, and hazelnuts.
If you're squeamish about getting your fingers too close to the sharp ridges of a grater or microplane, there are other options available. Kitchen tools like stand mixers and food processors often come with attachments for grating. Simply use these appliances instead, and you can avoid slicing your fingers — as an added bonus, they'll stay significantly warmer, too.