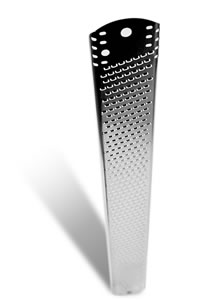 Quick: What's made in the USA, costs about $10, and will be one of the most-used items in your kitchen tool drawer if it isn't already? The Microplane zester/grater. This simple device stays razor-sharp and can be used to zest a lemon, finely grate parmesan, slice off slivers of ginger, or turn nutmeg into a tasty condiment.
What's even cooler is that it started out as a woodworking tool. Arkansas brothers Richard and Jeff Grace had a printer parts manufacturing plant, and one day they decided to start experimenting with sharp metal, eventually designing an etched tool for planing that debuted in 1990. According to Microplane's website, four years later, a woman in Canada needed to zest an orange, tried her husband's planer, and discovered this device's unintended magic.
If you've tried all the fancy cheese graters and lemon zesters but never used a Microplane, make the switch. All you've got to lose is 10 bucks, but you could gain a new best friend in the kitchen.
What's your favorite kitchen tool? Nominate next week's featured item in Gadgets That Rock in comments.