Halloween Raisins & Popcorn Were A Hot Commodity In The 1960s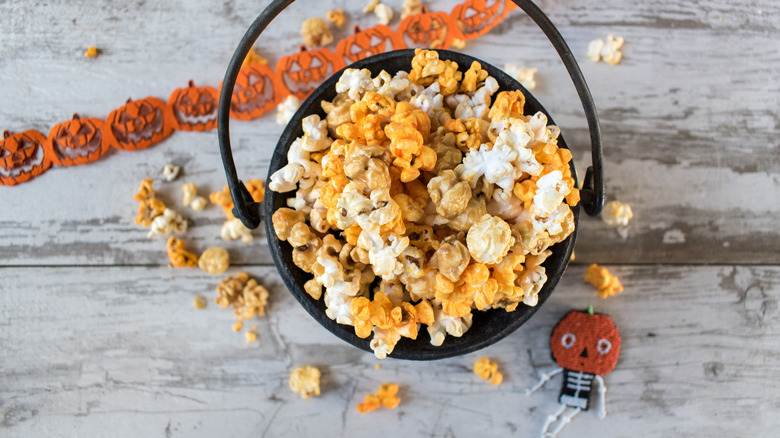 Lynne Mitchell/Getty Images
For a lot of kids, there is no greater disappointment than sitting down with a massive Halloween trick-or-treating haul at the end of the night only to find something that is definitely not candy. While toothbrushes might be the worst "treat" of all time, boxes of raisins aren't much better. It turns out we might have the 1960s to blame. It was during this groovy decade that there was a marketing push for such treats as dried grapes and popcorn to be known as enticing American Halloween snacks.
Of course, there was still plenty of candy that littles wanted to get their hands on during this time, too, so companies that existed outside the candy bar realm had to get creative in order to get little ghouls and goblins excited about being offered a box of raisins on Halloween night. 
Advertising campaigns in places like LIFE magazine touted the fruit snacks as plenty sweet but with an added boost of vitamins (appealing primarily to parents). Popcorn balls were also a fairly popular All Hallows' Eve treat in the '60s, with one company even including a frock along with their boxes of popping corn that could be beneficial for kids to collect all their holiday candy inside.
There was stiff competition with Halloween candy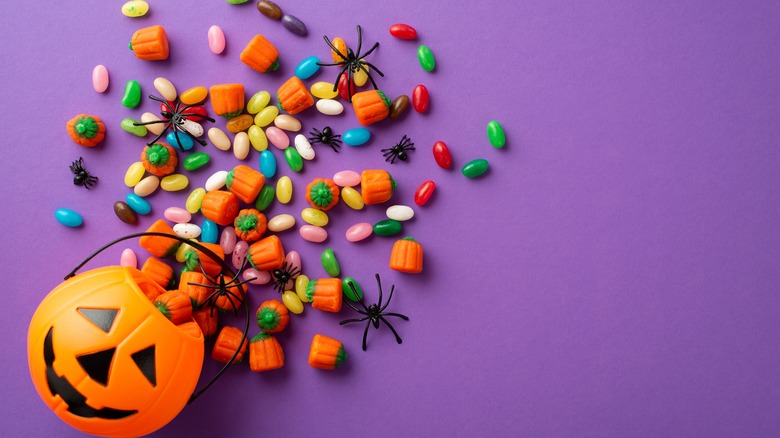 Inspiration GP/Shutterstock
Asking most children to choose between a pack of M&M's and a box of raisins is almost laughable. But, that doesn't mean companies like Sun-Maid Raisins didn't try to do so in the middle of the 20th Century. Struggling with sales and foreign manufacturer competition, the California Raisin Advisory Board pushed the fact that raisins were available in mini, snack-sized boxes (much like fun-sized candies) and, as such, they were perfect for handing out to kids on Halloween. They even began selling plastic bags filled with multiple mini boxes of raisins in the 1960s (kind of like bulk shopping before it became en vogue).
Popcorn was at the height of its popularity by the Swinging '60s largely due to the explosion of home television sets during the previous decade. Families were suddenly gathering around their new TVs, enjoying bowls of the crunchy snack. Because of this, homemade popcorn balls became a handy and delicious Halloween treat (when spooky movies were being telecast). TV Time Popcorn sold packages of corn kernels and pre-measured packets of oil and salt, which made for a guess-free experience while making the snack on the family stove. The company also introduced a "feed-bag" to go along with the popcorn, which could be worn around the neck and act as a vessel to hold the snack while watching "The Addams Family." It was also perfect for kids to hold extra candy in and keep their hands free while going door to door on Halloween night.
Raisins still disappoint, but popcorn gets a pass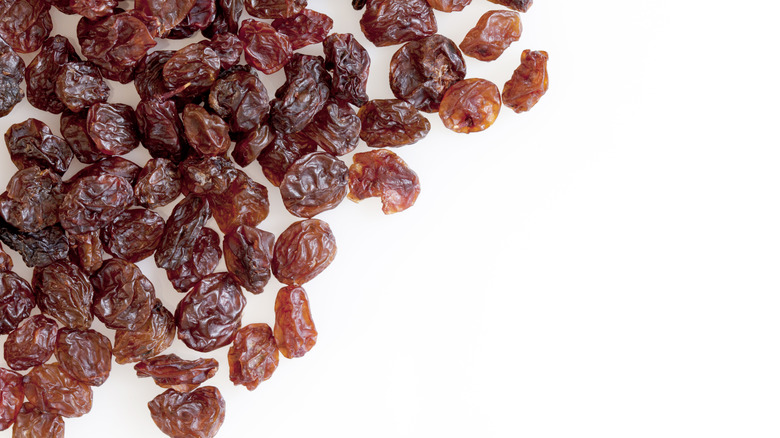 Mantonature/Getty Images
Raisins had to wait a couple of decades before they experienced the popularity boom they were looking for, and they did this with a genius ad campaign featuring the singing, dancing, Claymation California Raisins who sang, "I Heard it Through the Grapevine." Talk about "raisin' awareness." But, let's be honest, most kids still don't appreciate getting raisins while trick-or-treating. 
Yet, as far as popcorn goes, is there ever a bad time for it? Apparently, Halloween is as good a time as any; companies like SkinnyPop and Smartfood now offer Halloween-sized bags of their popcorn in lieu of around-the-neck snacking aprons.
Today, kids (and their parents) hit the goldmine when they receive the best-ranked options like Reese's Peanut Butter Cups, Twix, KitKats, and Starburst, but in the 1960s, the candies-of-the-moment included Tootsie Pops, Baby Ruths, Candy Cigarettes, Life Savers, and the ubiquitous candy corn. 
It will be interesting to see, in another 60 years, if those little boxes of raisins still sneak their way into Halloween buckets, or if popcorn is still a welcome addition.