Illustrated: The Most Popular Recipes By State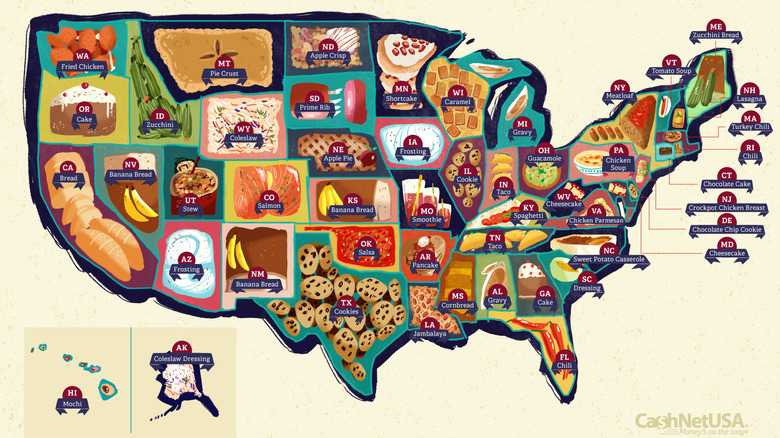 Which recipe reigns supreme in your state?
Who would've thought Washingtonians are searching most for fried chicken recipes? Or that turkey chili is the most popular search in Massachusetts? Using data gathered from Google Trends, CashNetUSA found the most popular recipes searched on the Internet in the past year.
Typical searches for cookies, pies and cakes were found across the country. Folks were also looking for bread recipes, whether corn, zucchini, banana or just the plain stuff. The very specific outlier of "crockpot chicken breast" resides in New Jersey, and we don't know what's up with frosting in Arizona, but it sounds like they know something we don't. Click through for a larger version of the infographic and check out the list below.
Alabama: Gravy
Alaska: Coleslaw dressing
Arizona: Frosting
Arkansas: Pancake
California: Bread
Colorado: Salmon
Connecticut: Chocolate cake
Delaware: Chocolate chip cookie
Florida: Chili
Georgia: Cake
Hawaii: Mochi
Idaho: Zucchini
Illinois: Cookie
Indiana: Taco
Iowa: Frosting
Kansas: Banana bread
Kentucky: Spaghetti
Louisiana: Jambalaya
Maine: Zucchini bread
Maryland: Cheesecake
Massachusetts: Turkey chili
Michigan: Gravy
Minnesota: Shortcake
Mississippi: Cornbread
Missouri: Smoothie
Montana: Pie crust
Nebraska: Apple pie
Nevada: Banana bread
New Hampshire: Lasagna
New Jersey: Crockpot chicken breast
New Mexico: Banana bread
New York: Meatloaf
North Carolina: Sweet potato casserole
North Dakota: Apple crisp
Ohio: Guacamole
Oklahoma: Salsa
Oregon: Cake
Pennsylvania: Chicken soup
Rhode Island: Chili
South Carolina: Dressing
South Dakota: Prime rib
Tennessee: Taco
Texas: Cookies
Utah: Stew
Vermont: Tomato Soup
Virginia: Chicken parmesan
Washington: Fried chicken
West Virginia: Cheesecake
Wisconsin: Caramel
Wyoming: Coleslaw