13 Meatball Recipes From Around The World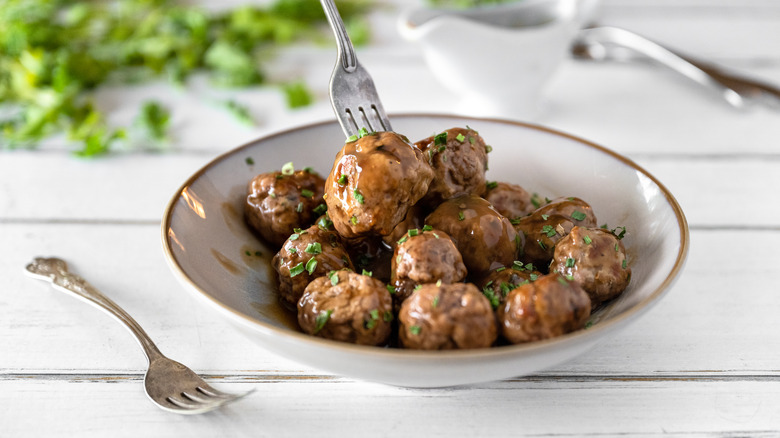 Lisegagne/Getty Images
You know what doesn't own meatballs? Spaghetti. That's right, a rolled-up ball of ground meat belongs to everyone on the planet in a ton of delicious ways. The evidence lies in these 13 excellent meatball recipes from around the world. From Asia to the Mediterranean to the Middle East and South and Central America, there's sure to be a meatball for you.
Recipe: Charles Phan's Vietnamese Meatball
Like the Vietnamese sausage, these meatballs are multipurpose. You can serve them as is, with rice, or as a sandwich filling. I particularly like the meatballs alongside a plate of fresh vermicelli noodles drizzled with scallion oil and served with torn lettuce, cucumber, and flavored fish sauce for dipping. Pickled radish is also a nice addition.
Recipe: Lamb Meatballs With Chèvre Tzatziki
Lamb is a biggie around Easter time, and I love big, bold Greek flavors in general — and lamb in particular! The secret to the flavors here is to taste and then try to make sure you're almost pushing the limit with both the lemon and the salt — like you've just about used too much of each, which is then just enough. They temper each other. Add the refreshing brightness of the mint, and you have a worthy foil for the rich gaminess of the lamb. The tzatziki here is made with cheese instead of yogurt, which brings together citrus, mint and goat cheese — what could be more lamb-friendly than that?
Recipe: Lemongrass Pork Meatballs
Tip: A lemongrass stalk adds flavor to stocks, soups, and curries. For this recipe, use only the bottom four inches: Cut off the bottom, peel off and discard any dry outer layers to get to the tender bulb, trim it to four inches, and proceed with the recipe.
Recipe: Montreal Meatballs With Maple-Mustard Sauce
Perhaps you never thought of smoking meatballs. You haven't met Jonathan Nguyen, co-owner of Montreal's lively Le Boucan Smokehouse restaurant. (The name comes from the Franco-Caribbean word for smoke, which, incidentally, gave us the pirate term "buccaneer.") Nguyen takes his inspiration from Kansas City and Memphis but adds plenty of Quebec touches. "Our grandmothers cooked with apples and sweet spices like cinnamon and nutmeg, which we incorporate into our sauces and rubs," Nguyen says. The restaurant piles pulled pork and apple barbecue sauce onto its poutine. Even Quebec's homey meatballs (here enriched with buttermilk and energized with chipotle chilies) come smoked. Le Boucan serves them with maple syrup–inflected mustard barbecue sauce.
Recipe: Harold Dieterle's Steamed Pork Meatball Soup
There's a symbiotic relationship between the meatballs and broth in this recipe, each imbuing the other with its flavors. This is a useful soup when you're under the weather because the spice and salty soy are very invigorating and soothing. The fried garlic is not made at home but rather is a high-value garnish available for purchase.
Recipe: The Meatball Shop's Mortadella Meatballs
We couldn't pass by one of Michael Chernow and Daniel Holzman's Meatball Shop locations without popping in for a snack, so naturally we thought of them when it came time to bulking up and reinforcing our game day menu. Remember that time we all made meatballs on Google Plus? These are every bit as good because they're made with love...and mortadella.
Recipe: Marcus Samuelsson's Swedish Meatballs
My grandmother Helga was the one who taught me how to cook — traditional Swedish meatballs before anything else. The meatballs I got for school lunch were always perfectly shaped and just the right size but never tasted as good as her lumpy, misshapen ones. I serve them at Red Rooster, where they're the most popular dish on the menu. I've cooked all my life, but my meatballs never compared to the ones my grandmother used to make for us.
Recipe: Beef And Eggplant Meatballs
"Al-bunduq" means "hazelnut" in Arabic, and in Ladino, albondigas are small meatballs. One of the iconic dishes of Sephardic Jews and the epitome of Jerusalem cuisine, these tiny meatballs are always cooked in rich sauce. In this version, roasted eggplants and bell peppers add subtle smokiness and balance the acidity of the lemon juice and tomato paste.
Recipe: Num Pang Veal Meatball Sandwich
We hit up the chefs at NYC favorite Num Pang for their recipe for a Cambodian veal meatball sandwich. It's got little in common with the Italian meatball sub. But if you're looking to expand your repertoire or just throw your taste buds a curveball, this is a great way to do it.
Recipe: Light, Healthy Thai Quinoa Meatballs
These "meatballs" are jam-packed with Thai-inspired flavors and come in bite-size portions. Serve atop carrot noodles with peanut sauce for a hearty meal that's bursting with flavor.
Recipe: Lentil-Bulgur Meatballs
Mark our words: Bulgur is the new quinoa. Over the last few years, quinoa has shot up in popularity due to its numerous health benefits, but we think it's time to make way for another superfood: bulgur. Bulgur is a whole grain made from several different types of cracked wheat. Compared with white rice, bulgur has more fiber and protein, a lower glycemic index and higher levels of several vitamins and minerals. It also has half the amount of calories in quinoa. Basically, the stuff is magical.
Recipe: Cantonese Spiced Pork Meatball Soup
Chinese chefs grind far more pork than any other meat for various dumplings, savory cakes, meatballs and stuffed vegetables, and the meatballs bound with rice, egg, and watercress for this spicy Cantonese soup have to be some of the most delectable ever conceived.
Recipe: Lamb Meatballs With Foie Gras Sauce, Mint And Pecorino
This rich lamb meatball recipe comes from chef Mike Abruzese at Polpettina in Eastchester, New York. Did we mention the Hudson Valley has some of the best foie gras on earth?