12 Light And Simple Summer Chicken Recipes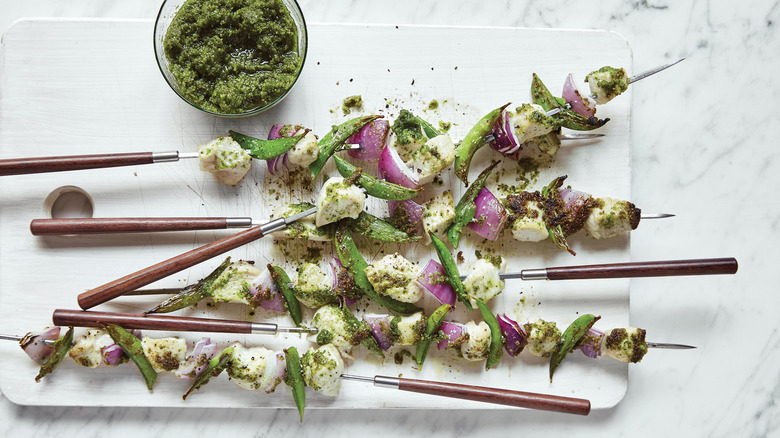 If you're looking to get a light, healthy dinner on the table fast, we've got simple 12 summer chicken recipes to inspire a little creativity. Bust out the skewers or enlist the help of lemon, herbs, sea salt and other best friends of chicken. Spin it Asian, roast in the oven or enlist the help of your trusty grill — whatever your fancy, there's a way to do it right here.
Recipe: Quick Chicken And Snap Pea Skewers
I love making these skewers as soon as my snap peas are at their peak. They're quick to assemble and pretty enough to serve when company comes. Marinating the chicken in the mint and parsley pesto ensures it is as juicy as it is flavorful. I love to prep them the night before so they marinate overnight in the refrigerator which makes the meal even easier when it's time to cook. Once broiled, the snap peas are tender and the onion is caramelized and sweetened to perfection.
Recipe: Ina Garten's Skillet-Roasted Lemon Chicken
I can't tell you how many times I've made this! I have the butcher butterfly the chicken, so all I do is grind the thyme, fennel seeds, salt and pepper, mix it with olive oil, and brush it on the chicken. When the lemon slices are roasted and caramelized, you can eat them with the chicken.
Recipe: Easy Thai Basil Chicken
It's as easy as adding ingredients to a pan in the right order. Lay out all your ingredients and get the rice cooking before you start, as this dish comes together very quickly. With a little order of operations (and some stirring) you'll have a delicious, healthy dinner on the table in about 30 minutes.
Recipe: Sriracha Mayo And Chicken Onigirazu
The Japanese can't get enough of these seaweed and rice 'sandwiches.' Fill them with anything you fancy — the combinations are endless.
Recipe: Burmese Chicken With Mint
Those who like laap will love this Burmese-Chinese version of the herby Thai minced meat dish. Here, minced chicken is stir-fried with ground cumin and mustard seeds, ginger, garlic and a spoonful of sambal oelek. Whole cloves of garlic are mixed in for texture, but they are fried ahead of time to reduce the pungency of eating them raw. Use the smaller cloves found on the inside of a head of garlic or slice large cloves in half. You can turn this into a veg­etarian dish by dicing up a block of firm tofu, letting it drain on paper towels for a few minutes, and then stir-frying the tofu pieces in place of the chicken.
Recipe: Chicken With Apricots In Riesling
If you feel like eating meat but time is tight, throw some chicken thighs in the oven. This is one of the quickest and easiest dishes to please a hungry crowd of family or friends, in which case just double the amounts below. And if there are fewer people at the table, add a little chutney and some arugula leaves to the cold leftovers, and stuff everything into a sandwich.
Recipe: A Lean, Green, Nutty Chicken Satay Salad
As crunchy, creamy, nutty, chicken satay salad goes, this one has a lot to offer. Based on one of my favorite Asian street foods, chicken satay, it's got all the best bits — tender chicken in an aromatic peanut sauce, along with a simple crunchy salad. Mix and match the vegetables as you wish, but do choose ones that have a bite to them.
Recipe: Tangy Sumac And Oregano Wings
Tavuk kanat, or chicken wings, are barbecued and served all over Turkey, expertly marinated in fragrant herbs and spices. I have used a traditional Turkish marinade made with Turkish pepper flakes, sumac, cumin, oregano, and yogurt. The yogurt helps to tenderize the meat and bind all the flavors together. These charred chicken wings are ideal served with orange and celeriac salad and plenty of bread to mop up all the juices.
Recipe: Tarragon Chicken With Pearl Couscous
This very subtle dish is perfect for midweek suppers when you want something warming but fairly quick to prep. By cooking the couscous in the same pan as the chicken, you can guarantee that no flavor is lost. I adore giant wholewheat couscous for its bite and slightly nutty flavor, but you can of course use the regular stuff if preferred.
Recipe: Grilled Chicken And Onion Skewers
This simple recipe is good with salt (shio yakitori) or with sauce (tare yakitori). You can prepare half the recipe with the salt and half the recipe with the sauce to have the best of both worlds.
Recipe: Citrus And Za'atar Chicken
Roast chicken is the ultimate comfort food, and I have been known to conjure up many different versions over the years. While I love a classic salt- and pepper-seasoned bird, I'm pretty adventurous and unafraid of throwing the contents of my spice racks and pantry at a chicken to liven it up when the mood suits. Za'atar is a staple spice blend in my house — it's so versatile, it goes with everything, and the fragrance of citrus zest really lifts this flavorsome dish. Try it: It's a winner. And don't waste the leftover fruits — juice them and add water and sugar to sweeten for a refreshing drink.