Dairy-Free? We've Got A Ton Of Recipes For That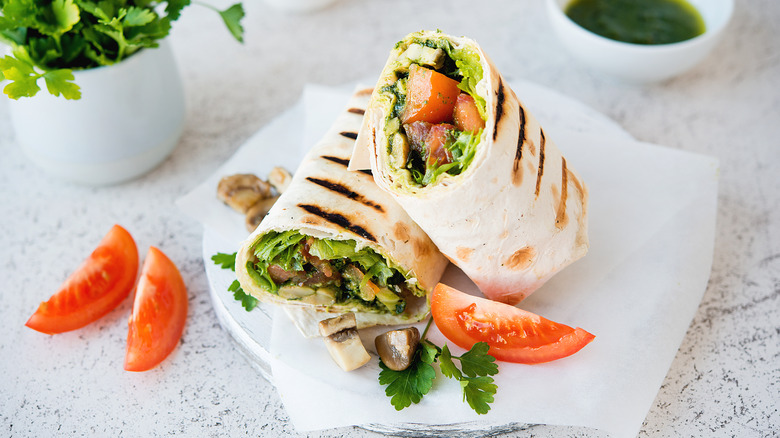 Gorenkova Evgenija/Shutterstock
Did you know that we have a ton of dairy-free recipes that need a new home in your kitchen? Freshen up your repertoire and get something delicious and new on the table tonight. Here are a few of our favorites:
Recipe: Crab And Salmon Towers
This is a great dinner party dish as it's so simple but never fails to impress, and no one will ever guess you are on a diet.
Recipe: Pork Belly Lettuce Wraps
Sharing is a common theme underlying all Korean food. Bo ssam embodies this convivial sentiment — everyone sharing from the same plate, yet creating a small bespoke parcel for their own consumption. The lettuce leaves and pickles cut the fat nicely and bring a welcome freshness to the dish. If your pork belly comes with the ribs on, cut them off and slather with some doenjang-honey-ginger-gochujang paste (make extra). Roast until cooked through and caramelized and you'll have the tastiest ribs ever.
Recipe: The Vegan Breakfast Burrito
Our cookbook designer, Holly, recommended I add this recipe to the cookbook as it was sure to be a crowd-pleaser. The original inspiration was a bit difficult to tackle while keeping within my simple standards, so I made a few adjustments and came up with something amazing. I would be proud to serve this to meat lovers and plant-focused folks alike. It is hearty, filling, and versatile. Multiply the recipe to serve more, and serve it buffet style to let everyone build their own dream burrito.
Recipe: Vegan Mushroom Stroganoff
The very definition of comfort food, this mushroom stroganoff is ideal for chilly winter nights when all you want is a big bowl of carbs to warm the cockles of your heart. Traditionally a Russian meal with beef in the starring role, we updated this nineteenth-century classic and gave it a plant-based twist. With tender, sautéed portobello mushrooms and a dairy-free cream sauce, our version packs all the delicious flavor of the original dish without the sky-high calorie count.
Recipe: Fig And Crispy Chicken Skin Num Pang
One of our personal favorites as well as one of the most popular num pangs is the glazed peach and bacon. It's that combination of sweet heat, fatty crunch, smoke, and juiciness that is like total sandwich nirvana. We tap into the same pleasure zone in this combination: spicy soy–glazed juicy, ripe figs and salty, crackly fried chicken skin. Now there is no way we could ever make this sandwich to feed the thousands upon thousands of hungry New Yorkers who stream into our shops every day. But at home, it's totally doable. Of course you can swap the chicken skin for bacon, but you'll be missing out — the chicken skin is like crispy, porky lace compared to a more solid plank of bacon.