8 Labor-Free Labor Day Desserts To Make This Weekend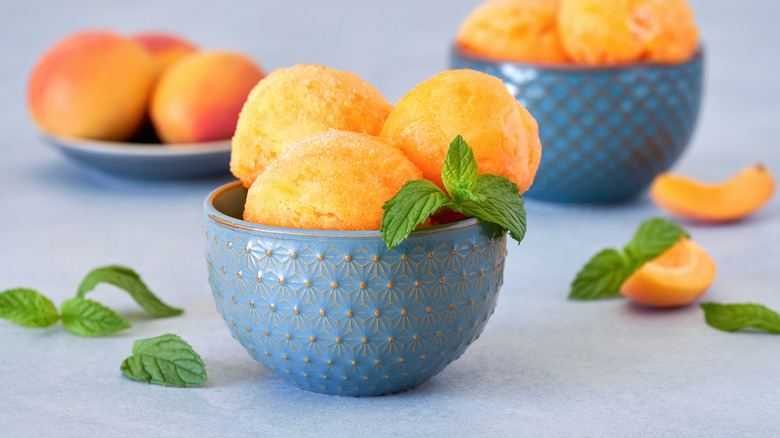 Veliavik/Shutterstock
Okay, maybe they're not labor-FREE — that apricot sherbet isn't going to blend or freeze itself, but these Labor Day desserts are as low-maintenance as possible. Grab some ripe seasonal fruit or luscious dark chocolate and get ready to churn out a fantastic dessert in half an hour or less (minus freezing and baking time, of course).
Recipe: Roasted Apricot Sherbet
Roasting is an easy way to bring out the wonderful flavor of apricot that we all know exists but is sometimes hard to detect when apricots are eaten fresh. This smooth sherbet is highly addictive and soars with the lively flavor of apricot and the creaminess of gelato.
Recipe: Chocolate-Cornflake Haystacks
If, like me, you find yourself unable to resist the allure of the no-bake cornflake treats sometimes known in America as haystacks and called desert roses in France, then brace yourself for this baked version. Like the old-fashioned haystacks, these don't have many ingredients — it's the baking and the addition of eggs and agave nectar that make them different — but they end up being more satisfying than you'd expect. My go-to combination for these is sweetened coconut, chopped nuts, plumped raisins and high-quality milk chocolate, but this recipe is a DIYer's dream. You can change the nuts, the dried fruit and even the chocolate. Actually, you can even swap the namesake cornflakes for another kind of flaky cereal. What you don't want to leave out is the salt — it's the perker-upper here.
Recipe: Peach-Chile Ice Pops
These homemade frozen pops are a refreshing — but never boring — summer treat.
Recipe: Poached Peaches In Green Tea Syrup
From three-Michelin-starred chef Gérald Passedat comes Flavors From the French Mediterranean, an ode to the bounty of the lush region he calls home. Enjoy 80 of Passedat's finest recipes, all easy enough for home cooks to pull off in their own kitchen. From the traditional French to the multi-ethnic, shellfish to root vegetables and bright, flavor-packed desserts, there's something in this tome for every lover of French cuisine.
Recipe: Lemon-Basil Butter Cookies
Lemon and basil make a great pair in savory dishes, so we figured they'd marry well in a sweet cookie, too. We were right. These delicate cookies have a refreshingly unique flavor that's worth sharing.
Recipe: Whiskey-Infused Chocolate Magic Shell For Ice Cream
Restraint? I'm not fond of it. This recipe includes all of my favorite flavors — bourbon, salt, black pepper, and good-quality dark chocolate — and turns them into a big kid's delight. Remember Magic Shell from your favorite cheapo ice cream shop? That crackly chocolate was amazing; it was SCIENCE happening before our big, hungry eyes.
Recipe: Mango Sorbet With Mint
The great thing about this dessert is that it comes together in about a minute and doesn't require an ice cream maker! Frozen mango creates a lovely creamy texture when it's blended, so there's no need for dairy products or even coconut milk to stand in for them. A tasty frozen treat without any waiting around — now that tastes like winning!
Recipe: The Easiest Vegan Cocoa Espresso Mousse Recipe. Period.
We borrowed this vegan cocoa espresso mousse recipe from chef Laurent Mechin at Jill's Restaurant at the St. Julien Hotel and Spa in Boulder, Colorado and it's pretty great. We love Meatless Mondays, but the crew at Jill's takes it a step further with Vegan Fridays, which is where you can find this smooth and creamy play on chocolate mousse along with a few dozen other totally delicious, animal-free dishes. Got a food processor? Good, you're ready to go.