Autumn's On With These 10 Early Fall Dinner Recipes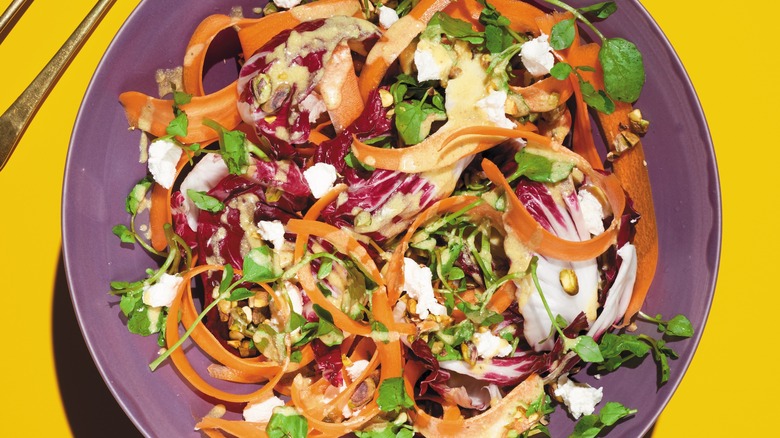 It's time to start thinking about fall cooking! Now summer's not entirely over yet — tomatoes and corn are involved and you may need to fire up the grill for a couple of other recipes — so create a perfect blend of hot and cooler weather with these 10 early fall dinner recipes. They're packed with produce, colorful as all get-out and will satisfy everyone at the table.
Recipe: Carrot And Radicchio Salad With Feta-Pistachio Dressing
Many years ago, my friend showed me how to make pesto with pistachios and it was one of the best things I ever tasted. Here, we use pistachios to make a thick, creamy, nutty dressing. Paired with the sweetness of the carrots and the slight bitterness of the radicchio leaves, you'll be in heaven.
Recipe: Dinosaur Kale Pizza With Pickled Red Onions
It makes me laugh that people are impressed by pickling. You can pickle something in 30 minutes, no practice or prior knowledge necessary. The pickled element really balances out the flavor and richness with the acid.
Recipe: Roasted Fig Pizza With Chèvre
For two days, I was obsessed with thoughts of this pizza. It came to me in a shamanic reverie (aka, scrolling through my Facebook feed for recipe ideas), and I knew I had to make it. It was so easy, so possible, and would be so delicious. I started frantically texting people: "Do you want to come over and make this roasted fig, chèvre, and caramelized onion pizza?" The answers were inevitably the same: first the expected "LOL," and then, as the obsession began to infiltrate, "YES. WHEN?"
Recipe: Smoked Butter Fudge
Smoky fudge is unusual, but really delicious. I think it is best enjoyed outdoors, after a barbecue or as a campfire treat. The smokiness counters the intense sweetness well, and this is my favorite kind of fudge — soft, smooth, and creamy.
Recipe: Five-Spice Pork With Plums
Try this pork chop dinner while summer plums are at their peak. It's super speedy, so you won't break a sweat.
Recipe: Egg And Okra Curry
While eggs and okra are the headliner ingredients of this simple curry, don't over­look the virtues of the simple sauce. Made from slow-cooked shallots, garlic, and tomatoes and a generous amount of turmeric, it's so popular that the staff at sister restaurant Burma Love spoons it alone over rice. Shallots (or onions) are used in two places — minced for the sauce and sliced for texture. In Myanmar, cooks fry hard-boiled eggs to help them hold their shape in this classic curry, but not everyone is a fan of the ensuing rubbery texture. Frying isn't actually necessary: adding the eggs at the end preserves their shape just fine.
Recipe: Brown Sugar Baked Salmon And Vegetables
Salmon is another favorite fish in my house. I could eat it every single day and be a happy girl! And it's so good for you too. This savory-sweet one-dish meal is one of my favorite ways to prepare it — especially for busy weeknights. I prefer to use wild-caught Alaskan salmon, so I stock up when it's in season or I find a great sale.
Recipe: Fried Feta BLT Sandwiches
It doesn't get much more classic than a BLT. I was born and raised on a steady diet of classic toasted tomato sandwiches, my father's specialty. Years later, bacon in all its glory entered the equation, dressed to the nines in crispy deliciousness and smelling like a million bucks. Sandwich heaven. It's simple, it's timeless, and it's near perfect. But even the classics need a little upgrade sometimes. This recipe is a fantastic way to bring that magical sandwich into the modern age, with crispy feta cheese, sweet-and-savory maple bacon, and olive oil–grilled bread.