20 Tailgating Recipes To Kick Off Football Season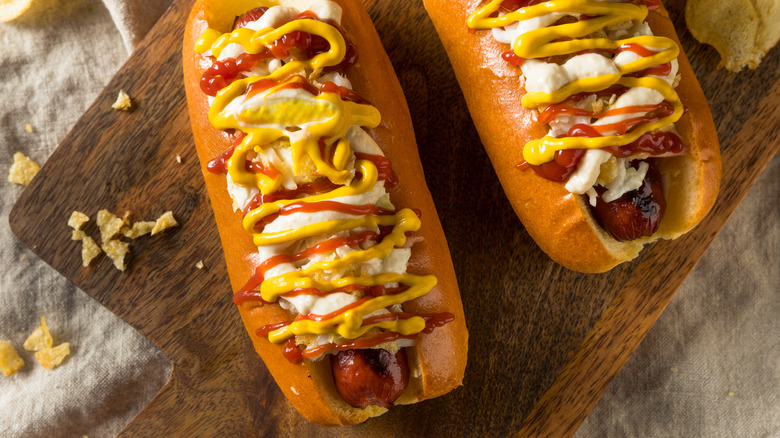 Brent Hofacker/Shutterstock
We've been ready to kick off football season for months! Beyond the never-ending entertainment and chance to lose all our money in fantasy pools, the season stars some of our favorite food of the year: tailgating recipes. Polish up your Frydaddy game, smash up some avocados and pick up some slider buns, cause it's officially that time. Check out 20 recipes we can't wait to churn out, then not leave the couch for a while.
Recipe: Patagonia Hot Dogs With Avocado Mayo
At the southern end of South America, hot dog fanatics in Patagonia, Argentina, revel in a colorful variation that involves sauerkraut, chopped tomatoes, and a creamy avocado mayo. Although it's a combination we probably never would have imagined on our own, it has made it into this collection for a good reason: it tastes great!
Recipe: Arrabbiata Pizza
The Arrabbiata is my pizza. It's what I want to eat, but it's not for everyone. "Arrabbiata" means "angry" in Italian. What's angry about this pizza is its heat. Like me, it's bold and perhaps a little obnoxious. If you could describe a pizza as somewhat self-destructive, it is this one. On the positive side, it's immensely flavorful and equally addictive. Just like me, if you get to know me. I've found when talking to customers that they will let you know what it's like to digest spicy food and experience its inevitable disgusting return. We know, we know. But my favorite quote is: "Put the toilet paper in the freezer tonight."
Recipe: Oven-Fried Beef Taquitos
By baking taquitos in a hot oven, we found a way to still achieve that crispy, crave-worthy shell. A seasoned beef and zucchini filling and sharp Cheddar give this dish loads of flavor. Don't worry if some of the taquitos crack open while baking — they'll still be delicious. Serve with your favorite salsa, guacamole and sour cream.
Recipe: Tangy Sumac And Oregano Wings
Tavuk kanat, or chicken wings, are barbecued and served all over Turkey, expertly marinated in fragrant herbs and spices. I have used a traditional Turkish marinade made with Turkish pepper flakes, sumac, cumin, oregano, and yogurt. The yogurt helps to tenderize the meat and bind all the flavors together. These charred chicken wings are ideal served with orange and celeriac salad and plenty of bread to mop up all the juices.
Recipe: Ina Garten's Apple Pie Bars
When I bought my specialty food store, Barefoot Contessa, Jeffrey took me on a grand tour of food stores in California looking for inspiration, including a visit to the iconic Oakville Grocery in Napa Valley. I was there again recently and they were making apple pie bars — what a great idea! I worked on my version of the bars with two kinds of apples, tart Granny Smiths and sweet Golden Delicious. One large batch of buttery shortbread makes both the crust and the crumble topping.
Recipe: Rajas Con Queso
Popular in South Texas, rajas (Spanish for "slices") are strips of poblano peppers typically served with cream during taquizas — taco parties. In this dip, Tex meets Mex with a blend of cheeses and sour cream, which tempers the often unpredictable heat of the poblanos.
Recipe: Manchego Cheese Fritters
Like bread puddings, this is one of many ways I like to use up leftover bread. You might think they would be heavy, but in fact they are lighter than most fritters. The bread disappears into these fluffy orbs that are deeply flavored with two intense salty cheeses. They are fantastic, but in all honesty what really makes this dish is the tomato jam, which your friends will want to eat with a spoon. It is great on anything — such as biscuits or served with bread and cheese.
Recipe: Myers+Chang's Grilled Corn With Sriracha Butter
We originally only made this corn as component of a popular dish, wok-charred octopus with sriracha grilled corn. One of our favorite regulars, David, would order just the sriracha sauce that we toss the octopus and corn with. At one point he asked if we would bottle the sauce for him so that he could pour it on everything at home. "But David, it's just butter and sriracha and scallions!" He didn't believe us, so here's the proof. We love to grill the corn with the husk off, so that the sweet kernels pop and char and then slather it with this spicy delicious butter. It is summer personified. This recipe makes six ears of corn, but we have found that it only serves two or three people because no one can eat just one ear.
Recipe: Spiced Stilton, Cheddar And Kimchi Melt
This spiced stilton, cheddar and kimchi melt is not for the faint-hearted, but if you are willing to try it you are bound to love it!
Recipe: Garbanzos Con Chile
When we were growing up in Mexico, fried chile-and-lime-spiced peanuts were the snack we would eat while hanging around, watching movies, or waiting for dinner. Since it is difficult to find organic peanuts in California (and they can be expensive), we tried the recipe with fried dried chickpeas instead. It works perfectly, and the crunchy, salty little chickpeas are addictive.
Recipe: Steak And Potato Kebabs
Who doesn't love steak and potatoes? It is a very popular food combination eaten in the West. This is the kebab version of that dish. It is best to parboil the potatoes before placing them on the skewer. That way, the steak and potatoes cook evenly and at the same rate. Look for very tiny potatoes. If you cannot find them, try using smaller fingerling potatoes.
Recipe: Skillet Chocolate Chip Cookies
These large cookies are like gooey, sticky cakes. If you don't have two small cast-on iron skillets, of course you can bake these cookies in a regular baking pan.
Recipe: Middle Eastern Lamb Nachos
Real party food is the sort of stuff you just have to keep going back to, emboldened by the booze, and against the judgement of others. That's true in my case, anyway. But these really are sensationally good, and so different from the boring old chips 'n' dips you'd expect to stumble upon at a disco spread. The idea is, based on the chapter title, that these are for sharing with a crowd, but this recipe would make a lovely midweek supper too.
Recipe: Perfect Cornflake Fried Chicken
Sometimes it's best not to mess with a classic — though I do love adding an unconventional sweet-and-sour dipping sauce. Eat this chicken hot out of the fryer or pack it up for a picnic and have it cold.
Recipe: Butcher Babe's 60 Minute Carnitas
When I hear the words "cilantro," "beer" and "lime," I get hungry. Even if I wasn't hungry before, I can't help myself. If you take these South-of-the-border fixin's and add some spicy chipotles and pork, 60 minutes later it'll be dinner time. It's a misconception that cooking pork butt has to take several hours. I cut the cooking time in thirds by using pork butt steaks that are thinly cut versus one big piece that weighs up to 10 pounds (4.6 kg) whole. You can use this method for various other types of meat also.
Recipe: Muffuletta Dogs
Looking to bring a taste of New Orleans to your next cookout? This is just the ticket. Our latest muffuletta riff (we've also made muffuletta deviled eggs, sliders, and cocktail kabobs) lightens up the classic filling and turns it inside out for a chargrilled hot dog topping. It's light, fresh and, quite frankly, delicious.
Recipe: Grilled Chicken And Onion Skewers
This simple recipe is good with salt (shio yakitori) or with sauce (tare yakitori). You can prepare half the recipe with the salt and half the recipe with the sauce to have the best of both worlds.
Recipe: Queso Flameado With Chorizo
This delicious dish of molten cheese and crumbled, spiced chorizo is loved all over Mexico, but my favorite versions are in the southern part of the country, where cooks often add tender cactus leaves, or nopales. (Outside of Mexico you can usually find cactus at Mexican markets or online.) Once you have all the ingredients prepared and layered, it takes just 10 minutes in the oven.
Recipe: Pimento Cheese-Stuffed Sandwiches
Food & Wine contributing editor Andrew Zimmern is a fearless eater. I can't pronounce half the things he eats on his Travel Channel show, Bizarre Foods, but he taught me this genius grilled cheese trick. You crimp the edges of the bread with a fork so it holds in all the oozy filling.
Recipe: Waffled Avocado Quesadillas
What's better than a cheesy avocado quesadilla made in a waffle iron? You have to try it to believe it. Just be careful to avoid getting cheese in the waffle iron, or you'll have a lot of cleanup to do!