20 Rib-Sticking Fall Recipes For Mushrooms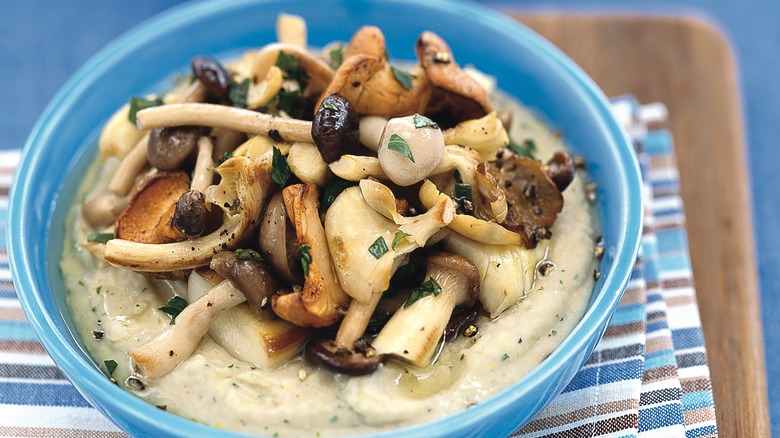 For a hearty fall dinner, turn to mushrooms. Umami-packed fungi add a rich, flavorful element and hearty texture  to comforting autumn classics like creamy polenta, pasta, pizza, Asian noodles and much more. Oh, most of these crowd-pleasing recipes for mushrooms are also vegetarian? Didn't even notice.
Recipe: Truffled Wild Mushrooms Over Whipped White Beans
Truffle oil and earthy wild mushrooms turn a simple combination into a sublime main dish. Try making the whipped beans with cooked red lentils for a change.
Recipe: Hearty Vegan Mushroom Stroganoff
The very definition of comfort food, this mushroom stroganoff is ideal for chilly winter nights when all you want is a big bowl of carbs to warm the cockles of your heart. Traditionally a Russian meal with beef in the starring role, we updated this nineteenth-century classic and gave it a plant-based twist. With tender, sautéed portobello mushrooms and a dairy-free cream sauce, our version packs all the delicious flavor of the original dish without the sky-high calorie count.
Recipe: Dan Dan Noodles With Shiitake Mushrooms
One of the original street foods of the world, this amazing Szechuan dish was once served by vendors walking around with a stick across their shoulders. On one end hung a pot with some hot broth and on the other end was a pot with the noodles. It eventually evolved into one of the spicier Szechuan offerings, dan dan noodles with shiitake mushrooms, and then on its arrival to the States the spices were tamed to please more palates. We've kept our V Street version of this dish pretty spicy. If you can't hang, then by all means cut back on the sauce. We use fresh ramen noodles here, but any noodle you choose (even spaghetti!) will work just fine if cooked properly.
Recipe: Crispy-Bottomed Oyster Mushroom Steaks With Chimichurri Sauce
The best steak you'll ever have may just be a mushroom. But not just any mushroom: An oversized cluster of the oyster variety that crisps up in the pan, developing a deep brown crust and undeniable meatiness that just might have you convinced, if only for a moment, that you're eating a hunk of meat instead of a mycological miracle.
Recipe: Grilled Portobello Mushroom Tacos
Anyone who's ever loved a taco should hit LA's Pink Taco with an empty belly and a fierce craving. In honor of Food Republic Grilling Month, we borrowed a meatless recipe from chef Sam Anguiano. "Mushroom tacos are perfect for the food lover who wants a good taco, but doesn't eat meat. Grilling them over live mesquite will give you optimum flavor. The portobello should be grilled through but still have some bite to create different layers of texture. Carnivore or not, you will love this taco." Agreed.
Recipe: Stuffed Mushroom Burgers
There's no reason to do without burger and fries when meat is no longer on the menu. By stuffing the already "meaty" portobello mushrooms, you create a dense texture that would fool anyone into thinking there's more than just veggies inside that bun—and when I first turned vegan, that was of paramount importance. I was never a fully fledged fast-food aficionado, but I enjoyed the occasional blowout. Now, however, I can indulge my greasy whims from the comfort of my home and without harming any unsuspecting cows in the process! It's diner food without the moral, calorific, and overly-processed dilemma, and who could ask for more than that?
Recipe: Three-Cheese Lasagna With Porcini Mushrooms And Spinach
We layer a lasagna the same way we top a pizza — with a light hand. Forget about over­stuffed layers and an overflowing casserole dish. You want to scatter just enough cheese and vegetables on the layers to flavor, but not overwhelm. If you use fresh pasta that's rolled very thin, you can even form eight or ten layers. With dried or thicker pasta sheets, you'll want fewer layers.
Recipe: Creamed Savoy Cabbage With Mushrooms And Buckwheat Pasta
Like the little ridges in penne rigate that are designed to soak up sauce, the crinkly leaves of savoy cabbage catch every creamy, earthy drop as well. Cabbage, often regarded as poor people's food, feels luxurious in this mushroom-laden entrée. Here I like to use a combination of shiitake, oyster and cremini mushrooms, but almost any fresh mushroom will work fine.
Recipe: Wild Mushroom Couscous
This flavorful, buttery couscous is a great way to break out of a rice or mashed potato rut. With three kinds of umami-packed fungi and a smattering of fresh herbs, this mushroom couscous recipe makes an ideal side dish for a holiday or special occasion spread where a ho-hum accompaniment just won't cut it.
Recipe: Deviled Mushrooms On Toast
It's usually deviled kidneys you get on toast, but I like 
to devil mushrooms. You still get all the flavor, and 
you can share them with your vegetarian friends too.
Recipe: Cabbage, Mushroom And Bacon Pasta
Want to know the secret to creamy pasta dishes? Reserve some of the pasta water before you drain the pasta. When blended into the cheese and the other recipe ingredients, the starchy water helps create a smooth and creamy sauce.
Recipe: Onion, Mushroom And Sage Custard Tart
This flavorful tart is perfect for baking the day before you serve it. All you need to do is warm it up when it's time for brunch. If you can find them, use seasonal mushrooms.
Recipe: Classic Sausage And Mushroom Stuffing
Stuffing is like pizza (and some of life's other great pleasures): There's an endless supply of perfectly decent encounters, very few "bad" ones, and even fewer that are "the most amazing ever."
Recipe: Mushroom, Cheese And Vegetable Strudel
Here's a gorgeous option for holiday meals that every-one at the table will love. Whole-wheat phyllo dough lends a wholesome, nutty taste and golden color to the finished strudel.
Recipe: Ina Garten's Filet Mignon With Mustard And Mushrooms
When Jeffrey and I eat out in Paris, I love to order a classic filet of beef with mustard sauce. The rich beef and the creamy, spicy sauce are a great combination. This is my version of that dish, with some wild mushrooms added for even more flavor.
Recipe: Cauliflower And Mushroom Kugel
Be aware that this kugel has a delicate consistency and serves more like an Italian sformato (vegetable soufflé) than the dense kugels you might be used to. Normally we like to make this dish in ramekins and serve it in individual portions, for an elegant look and feel. In Seattle, we found squat 8-ounce Mason jars and baked individual kugels in those, but baking in a 9-inch square glass baking dish works well, too — just let the kugel cool slightly before slicing or scooping into individual portions.
Recipe: Buckwheat Pizza With Mushrooms And Bone Marrow
Besides being highly nutritious, with plenty of skin-loving collagen and helping to boost immunity, the creamy, nutty combination of the roasted bone marrow and mushrooms is delicious in this buckwheat pizza.
Recipe: Stuffed Portobello Mushrooms
Portobello mushrooms have a strong, earthy flavor and will fill your kitchen with a tantalizing aroma, making these hard to save for the next day.
Recipe: Creamy Chanterelle Soup
Foraged mushrooms are a mainstay of Nordic cuisine, so grab the nearest mycologist or hit the farmers' market or specialty grocer for chanterelles. These savory yellow mushrooms make a hearty, creamy soup that will make you forget all about buttons, portobellos or anything else you can find at the supermarket. Whip up a batch for the first course of your next dinner party in less than an hour, and wow your guests with this simple Scandinavian favorite.
Recipe: Chicken Scaloppine With Marsala And Mushrooms
Keep a bottle of Marsala stashed in the back of the cupboard and you will find yourself returning to this speedy recipe every few weeks, never growing weary of it. Jacob likes it with creamy mashed potatoes, and though I'm always loath to argue with creamy mash as an accompaniment, there are also egg noodles, orzo, mushroom ravioli, gnocchi — the choices are many. If I'm in the mood for extra sauce, I simply use more mushrooms and another splash or two of Marsala. Make it as you want to eat it — never a bad rule to cook by.