Last-Minute Thanksgiving Sides To Bring To The Table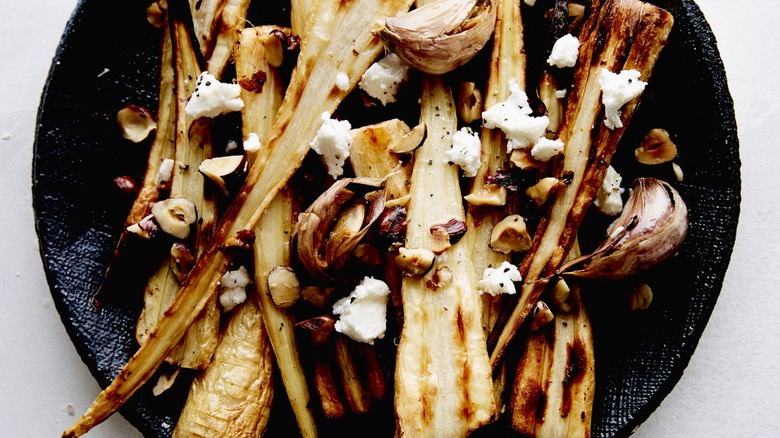 Bust out the whisks and ready the basters, Thanksgiving is here and there's no time to spare! Pick a couple of these great Thanksgiving sides and round out your dinner table. It's not like it'll buckle under the weight of a couple of extra dishes, right? Peruse our latest recipes from the worlds of squash, root vegetables, potatoes, green beans and other staples and find your favorite new Turkey Day addition.
Recipe: Roasted Parsnips With Hazelnuts & Feta
If you can't find baby parsnips, larger parsnips cut lengthways into quarters will do the trick. The nuttiness of parsnips and hazelnuts pair very well together.
Recipe: Spaghetti Squash Patties With Sriracha Mayo
Baking spaghetti squash magically turns the firm yellow flesh into spaghetti-like ribbons or strands, which make a great pasta alternative whenever you'd like a lower-carb meal. Deep-frying the squash strands makes for an incredible-looking patty, highlighting all the glorious 'spaghetti' strands and giving a great amount of crunch. If you are opting for a healthier approach, shallow-frying works well too, although the crunch won't be quite as pronounced.
Recipe: Green Beans With Black Sesame Dressing
Compared to white sesame seeds, black ones have a stronger flavor and therefore dark or normal soy sauce can be used.
Recipe: Lemony Fennel, Radish And Kale Salad
I receive one twinkly-eyed question nearly without fail whenever I share the name of my website: Do you eat kale and caramel together? I'm left to confess that not only do I never combine the two, I've never even wanted to try. The name for the blog came to me one night, mid-dishwashing, as my friend and mentor Rebecca was urging me to create a digital home for my food and writing. But what would I call it? I lamented. I summoned to mind the two foods I could think of that I loved most: Kale. And caramel. And thus the blog was born. At the risk of sounding too heady, it was more a concept than a suggestion for a new flavor combination.
Recipe: Sweet Potato And Chinese Sausage Fritters
An addictive treat, these fritters are creamy and soft inside and super crunchy on the outside. They get their exceptional crunch from the panko crust. Panko is a Japanese bread crumb that is puffed so that it fries up light and crispy. You can find panko in most grocery stores, along with small cans of red curry paste (often labeled "Thai") and plastic jars of sambal oelek. You'll likely have to visit an Asian grocery store to find Chinese sausage, sometimes labeled "lap cheong." It is a firm, cured sausage that is reddish in color like salami with a distinctive sweet flavor. Feel free to substitute chopped-up chorizo, bacon, or ham, or leave it out altogether for a vegetarian version. If you can find Japanese sweet potatoes, which have a purple skin and are especially sweet, definitely use those; otherwise, regular sweet potatoes or even yams work well here.
Recipe: Filo Ratatouille Samosas
A friendly tomato twist on the favorite samosa. Once you've mastered the folding method, you'll be making them in your sleep.
Recipe: Crispy, Crunchy Sheet Pan Mac And Cheese
Who doesn't love the crunchy top layer of mac 'n' cheese? Baking this favorite dish in a sheet pan ensures a high ratio of crispy topping to creamy noodles. In this version, a layer of golden bread crumbs enshrouds blistered cubes of mozzarella, which stretch with every pull of the fork, clinging to the noodles trailing in its wake. This mac 'n' cheese can be cut into squares like sheet-pan pizza and needs nothing more than a simple green salad on the side.
Recipe: Pearl Onion Tarte Tatin
Before you start, place your raw onions in the skillet and make sure that they fit very snugly. They will shrink a bit as they cook, so if you start with a slightly crowded pan, you'll end up with perfect coverage. We usually make this with a mix of onion types, so there's some pretty variation in color even as they caramelize. Likewise, we call for white balsamic vinegar, as regular balsamic will darken the onions more than we like. Serve this with a crisp, sharp salad and maybe a cup of soup.