We Have A Ton Of Indian Recipes!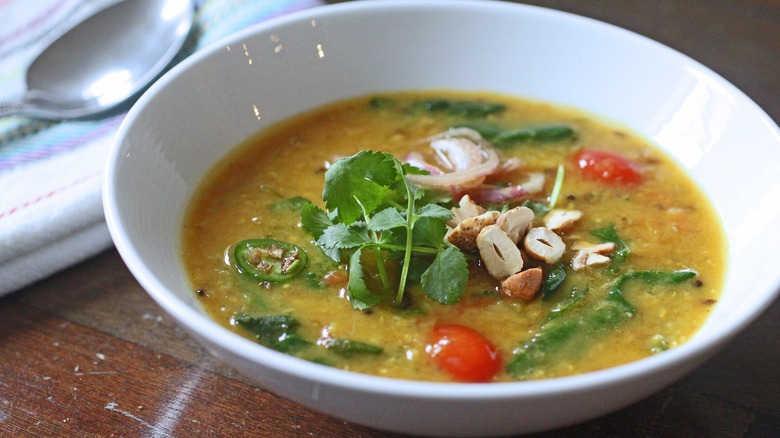 Did you know that we have a ton of awesome Indian recipes that need a new home in your kitchen? And we've got even more for our dosa and samosa enthusiast friends: handy explainers, crucial techniques and in-depth guides about our favorite masala-infused treats. Take a deep dive into our colorful Indian food section for dishes from award-winning chefs and cookbook writers, and freshen up your repertoire from the Subcontinent. Here are a few of our recent favorites:
Hearty Coconut Dal Bowl
This is a twist on my mom's lentils, daal, which are spiced, nuanced and creamy. Daal was a staple in our household, and when I go home to visit, there is always some in the fridge to remind me of my childhood. In this soup, I make the lentils a bit more dilute and add in any greens I have lying around — kale, baby spinach, chard, a super greens blend — to take advantage of the cold-fighting vitamins.
Sweet Potato Samosa Purses
We put these on the menu in the fall close to Thanksgiving and Christmas because sweet potatoes and cranberries are so much a part of the American table at that time of year. In the summer, we may fill the samosas with corn and fava beans.
Slow Cooker Butter Chicken
I encourage you to make this meal your own by choosing toppings and sides that are your family's favorites or that need to be eaten up. You know the ones — like that last sprinkle of nuts taking up precious storage space and staring at you, longingly, from the cabinet. I typically boil up some rice and toast slivered almonds with a handful of flaked coconut, but warm naan bread is another good accompaniment.
DIY Cauliflower-Stuffed Parathas
These are sumptuous and simple to make. They serve parathas for breakfast in India with yogurt and pickled vegetables or mango chutney, and I suggest you do the same. Excellent on a cold day.