Keep It Fresh: 10 Bold, Creative Recipes For Shrimp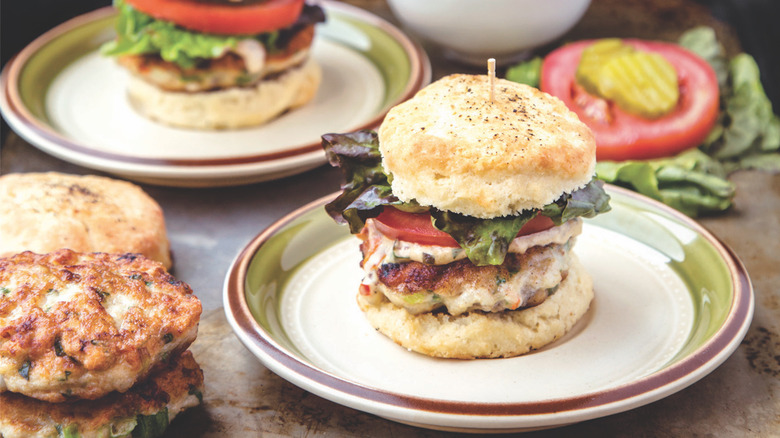 Shrimp is such a versatile protein. There are so many ways to prepare it that you might not even think to try a brand-new recipe. This especially applies at the end of the workday, when you manage to pick up shrimp but run out of brain power before you figure out what to do with it. Thankfully, we've gathered up our favorite new recipes for shrimp that aren't just another pasta dish, salad, taco or anything you might expect. Keep it fresh with these 10 creative dishes — you might even find a new go-to preparation!
Recipe: Cajun Fish And Shrimp Sliders
Making fish cakes at home is relatively new to me. I only discovered it recently, when I was really craving a homemade fish burger. Instead of going down the freezer aisle to pick up a pack of breaded "fish patties," I decided to be adventurous and try the fresh seafood case instead. Turns out, grinding up fish and shrimp with a bunch of other ingredients to make a mixture isn't all that difficult. The food processor does all the work for you. This slider is inspired by my trips to New Orleans. Catfish and shrimp are ground and formed into a patty, seared, and then topped with Cajun rémoulade sauce, lettuce, tomato, and pickles. Any white fish will work very well here — try cod or trout if you prefer.
Recipe: Hot-Smoked Shrimp
Shrimp hot smoke very quickly and easily. You can leave the shells on or peel them—it is up to you—but I find small shrimp can benefit from a protective jacket—they can shrink and dry out easily if peeled first and then smoked, and the flavor of the smoke is imparted more intensely. Larger shrimp are more robust and will hold up better to smoking when peeled.
Recipe: Curried Shrimp And Potato Kebabs
A flavor-packed marinade made from curry powder, garlic and cilantro amps up these baby potato and shrimp kebabs, which cook quickly on the grill. Don't skip the creamy yogurt-lime dipping sauce to serve alongside.
Recipe: Tamarind Honey Shrimp
Iranians love all things sour: lemons, limes, pomegranate molasses, young plums and tamarind. I especially love tamarind because you can use it so well in savory cooking and balance it with sweetness to create something really delicious. In this recipe, I simply mix tamarind paste with honey to make a marinade that has lots of flavor without much effort. These shrimp are also great to skewer and are easy to cook on the barbecue.
Recipe: Shrimp Nigiri
When shrimp are prepared for nigiri, they are cooked first and then peeled and deveined. Before cooking a bamboo skewer is carefully inserted under the shrimp's shell to straighten it. Once the skewer has been removed after cooking, you will be able to rest the shrimp flat on the rice.
Recipe: Shrimp Boil Shu Mai
Over the past few years we've stopped by the kitchen at Talde in Park Slope to ask if the chef would slide us some of our favorite recipes. This ingenious full shrimp boil in the form of a lovely dumpling is one of them. Served in a spicy Old Bay-spiked broth, Talde's Shrimp Boil Shu Mai is an impressive new way to fuse Asian and Cajun. Make it at home and see for yourself.
Recipe: Pickled Shrimp With Fennel
History aside, pickled shrimp and fennel are perfectly complementary. After all, we often encounter fennel's close cousins, dill (or dill seed) and celery (or celery seeds), in many preparations of this classic hors d'oeuvre. Served in a bowl for self-service with toothpicks, pickled shrimp may also be a passed hors d'oeuvre on a plate if you use the sturdy bamboo picks found in many party stores these days.
Recipe: Smashed Shrimp Shumai
This dish began with a near-disaster. I was making shumai for a TY KU Sake party, held in Aspen, Colorado. As the guests were arriving I realized that the water I was going to cook the dumplings in wasn't going to boil at our high altitude. What to do? I grabbed a paella pan, put it on the grill and added oil. I smashed – flattened – the shumai with a wet palm, then sautéed them until golden and crisp.
Recipe: Stuffed Jumbo Shrimp
Growing up, we'd go to these little joints all around New Orleans that had great stuffed shrimp. But the dish has changed so much. Now it's all premade, pre-stuffed, and fried. I still make stuffed shrimp the way I remember them. I love the presentation: Head-on jumbo shrimp are stuffed with more shrimp and crabmeat piled as high as the shrimp will allow.
Recipe: Shrimp Cakes With Watermelon Hot Sauce
My favorite combination of flavors is spicy and sweet, so while this may seem a little out of left field, it's actually a totally logical combination. It also makes sense because watermelon with lime and salt is amazing, and adding a little heat to that (or a lot of heat) seems like the next natural step.