14 International Fried Chicken Styles Worth Traveling For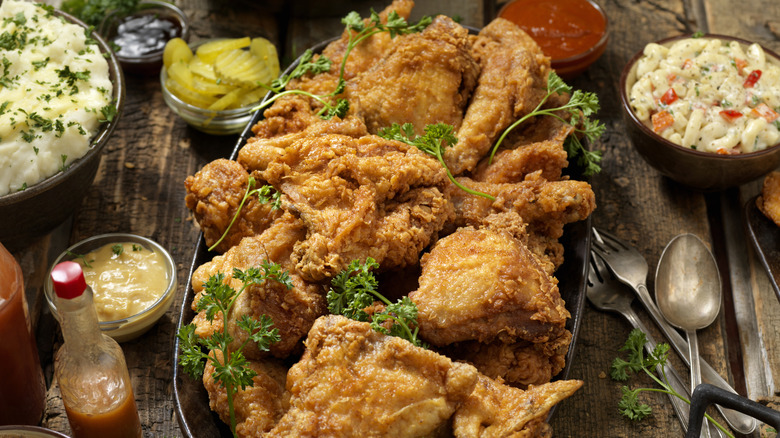 Lauripatterson/Getty Images
Fried chicken is one of the most popular dishes in America — it's crispy, golden brown, and undeniably satisfying. And it offers so many varieties — buffalo chicken wings, and southern fried chicken immediately come to mind.
But fried chicken has transcended borders to become a beloved culinary phenomenon around the world. Cultures have had plenty of time to perfect this amazing dish — since fried chicken has centuries of history behind it. From the bustling streets of Seoul to the vibrant markets of San Juan, the art of frying chicken has evolved into a diverse array of dishes that reflect unique cultural influences and regional flavors.
Though recipes may vary significantly from country to country, one thing is consistent: The end product of a crispy outside with a juicy, flavorful inside is a must. We'll cover the 14 best international fried chicken dishes that will inspire you to pack your bags and try them for yourself.
Indian Chicken 65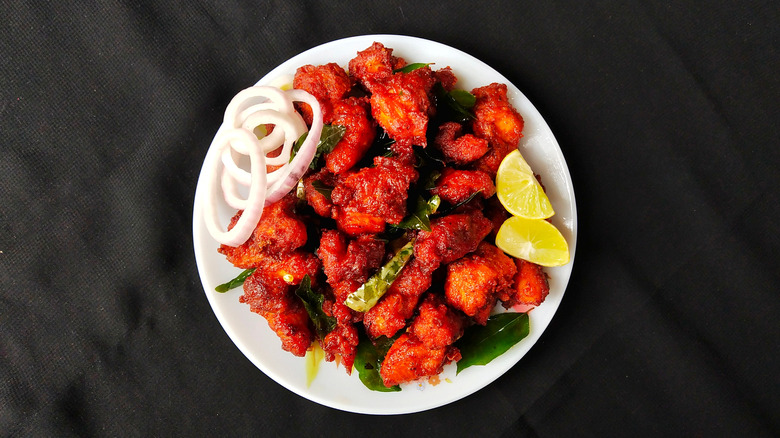 Nahadia Mariam/Shutterstock
Chicken 65 is an amazing appetizer made famous in South India and found anywhere from upscale restaurants to fast food joints. The chicken came to fame in 1965 (hence the name) in Buhari Hotel in Tamil Nadu, a southern state in India. The hotel created many popular versions of fried chicken throughout the years, giving each dish the name of the year it was invented.
This fried chicken is first marinated in yogurt, spices like chili powder and turmeric, eggs, and curry leaves. After an hour or more, the chicken is coated with cornstarch and flour and fried.
Before the dish is served, some places "temper" the chicken by adding an extra element — curry leaves and green chilies are fried in oil with minced garlic and red chili paste. The chicken is then tossed with these ingredients, leaving a bright red, spicy coating.
Now, you'll find this dish throughout India, and though the ingredients may differ slightly from restaurant to restaurant, the main spices of chili powder, turmeric, and curry leaves give this dish its delicious flavor.
Japanese Karaage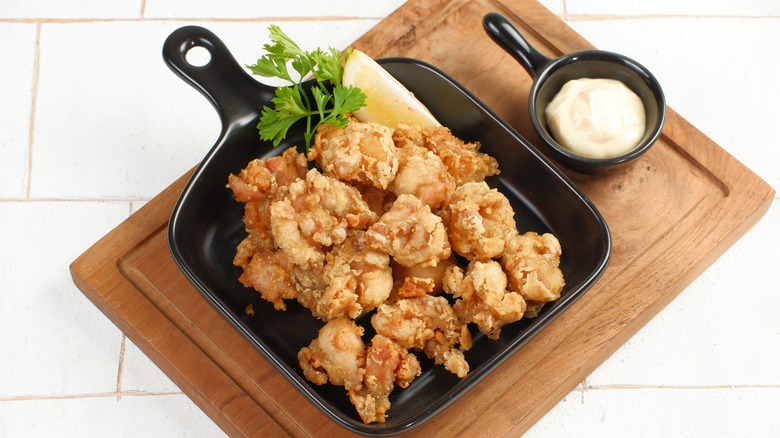 Edgunn/Shutterstock
You'll find karaage, a bite-sized fried chicken appetizer, in traditional Izakayas, in home-served meals, and in convenience stores throughout Japan. There's something about Japanese fried food that is more refreshing than filling. Perhaps it's the light fry batter or the low-fat oil typically used in Japanese friers. Whatever the case, karaage starts with chicken marinated with soy sauce, ginger, sake, and mirin, a sweet cooking wine, to give this Japanese dish its delicious, light flavor.
After absorbing the marinade, the chicken is battered with a combination of flour and starch, usually potato starch and rice flour, which is why the fry is so light. The chicken is then fried at a low temperature until it's cooked all the way through, then fried at a higher temperature to give the outsize a crisp, crunchy texture. When the dish is served, it will usually come with a lemon garnish and mayonnaise-based sauce, either drizzled over the top of the chicken or on the side.
Thailand's Hat Yai Style Fried Chicken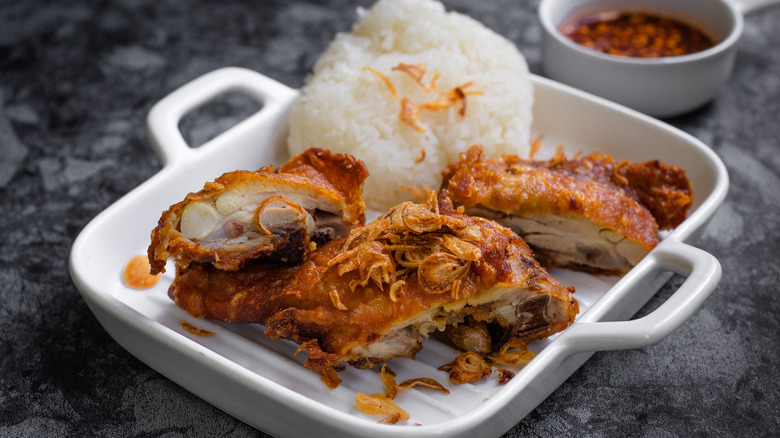 Meowsom3/Shutterstock
A fried chicken that has its own Lays potato chips? You know this has to be good. A light, crispy, and less oily (compared to American fried chicken) combination, you'll commonly find this side dish in the street markets of Thailand.
The marinade is what makes this fried chicken unique, which blends together peppercorns, garlic, sugar, soy sauce, and fish sauce in a mortar and pestle. This mixture is added to bone-in drumsticks and left to soak in the flavor for at least four hours.
Before frying, the chicken is thinly battered with rice flour meant to enhance the meat's flavor instead of adding to it. The chicken is then fried in a wok until it is golden and perfectly crispy.
As the chicken is rested, the chopped shallots are fried in the same oil as the chicken, absorbing the salty marinade flavor. The chicken is then served on a bed of sticky rice and topped with fried shallots.
Ukrainian Chicken Kiev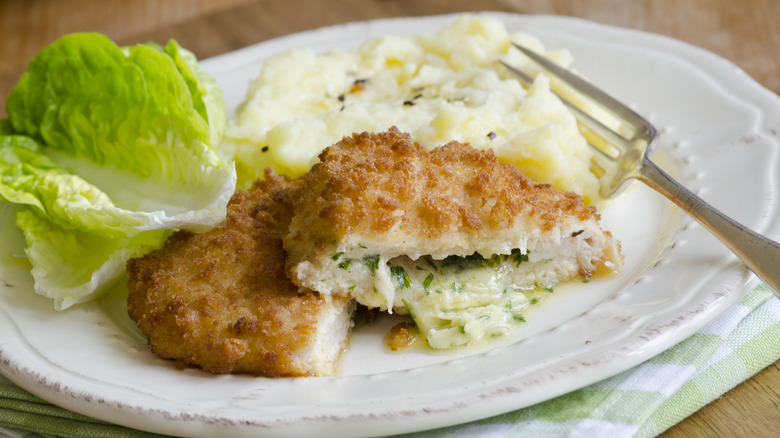 Martinturzak/Getty Images
The concept of Chicken Kiev is simple. While the chicken is cold, it is pounded, rounded, and wrapped around the stuffing, a garlic-herb butter. Traditionally, this spice combination includes dill and parsley, which is shaped into butter and frozen. However, more modern restaurants have experimented with the herb combination and included haute ingredients like shaved truffles.
The outside of the chicken is spiced simply, with salt and pepper, then breaded. The cooking method of the chicken is different depending on the restaurant. In some, the chicken is simply fried; in others, it is baked, but the traditional method is to first fry and then bake. Whatever the case, the end result produces a crispy, golden outside with a flavorful, tender, and juicy inside.
Unlike many of the fried chicken dishes on this list, Chicken Kiev is the main protein in a complete dish. The chicken is chopped in half so the garlic butter oozes out, seasoning the inside and out of the chicken. Traditionally, the chicken is served with garlic-butter mashed potatoes and a side of seasonal vegetables.
Jamaican Fried Chicken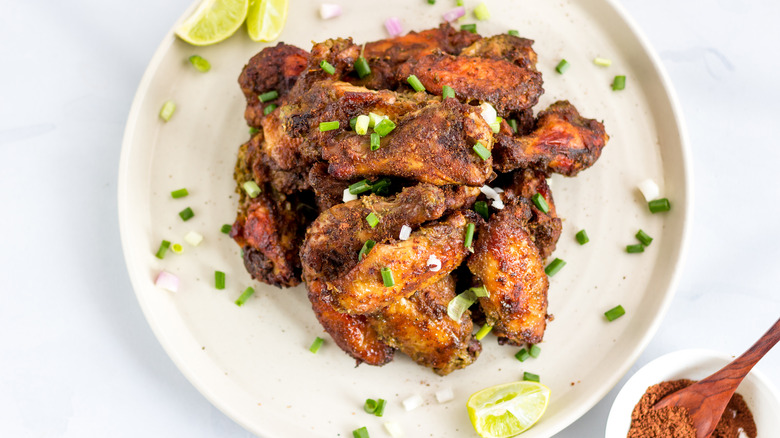 Ravsky/Getty Images
A comfort food staple in Jamaica, no part of the chicken goes to waste in this dish. The full chicken is infused with thyme, allspice, paprika, cayenne pepper, and other spices. These spices are hand rubbed on a skinless chicken, coating the entire bird before marinating, giving a huge burst of flavor in every bite.
Other than flour and milk, the coating includes more spices like salt, garlic and onion powders, and paprika, which is the star flavor of this chicken and gives the result a subtle red color. The breading is light, with a soft dusting of flour and breadcrumbs that provides the dish with an extra crunch.
Again, this takes some work, as the flour and breadcrumbs are scooped and pressed into the chicken, ensuring every surface is coated. The spiced, breaded chicken is fried on medium to low heat until the desired golden color is achieved.
In Jamaican home cooking, the chicken is served as a side, usually at Sunday dinner. But you can find this delicious Jamaican fried chicken at restaurants nationwide.
Singapore's Har Cheong Gai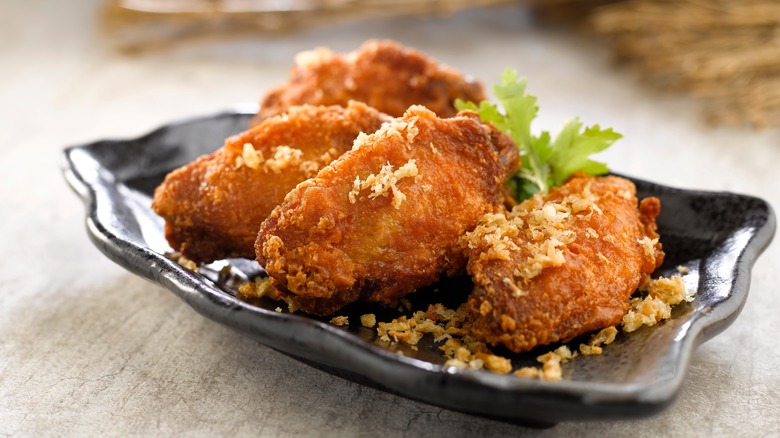 Food Shop/Shutterstock
The concept of shrimp paste combined with chicken may be foreign to our Westernized taste buds, but there's a reason why this recipe is hugely popular in Singapore, China, and many other Southeast Asian countries.
Har cheong gai provides a unique umami-packed flavor with its mixture of prawn paste, oyster sauce, sesame oil, and sweet cooking wine. These ingredients are added to chicken drums, then a light mix of potato flour, baking powder, and rice flour is combined and coated onto the chicken before it is stored to soak up the flavors.
After at least four hours, the chicken is ready to fry. Because the flour is part of the marinade, the chicken goes right in hot oil. The final product is a balanced flavor, giving your taste buds umami, savory, and sweet sensations with a crunchy, moist mouthfeel.
The chicken is usually served with a chili sauce made with tomatoes, sugar, salt, and red chilis, blended together, adding a sweet and spicy element to the chicken.
Indonesian Ayam Goreng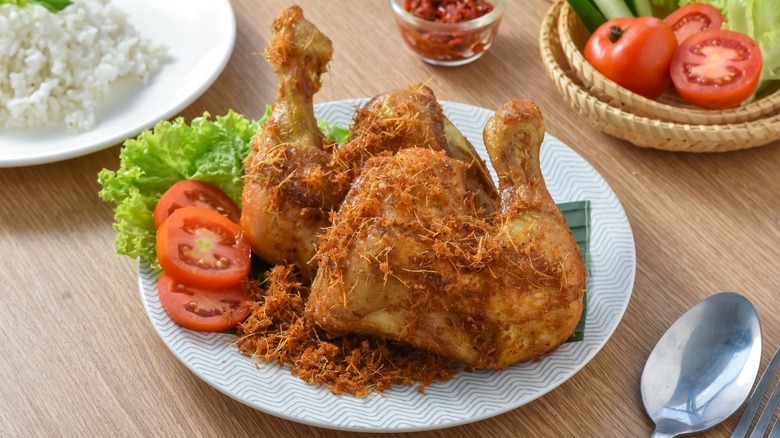 ZahyMaulana/Shutterstock
Ayam goreng is one of Indonesia's most popular street foods. Served as a side or full meal, this dish is typically enjoyed over rice. Though spices may vary depending on the region, preparation is usually the same.
What really sets this fried chicken apart is that instead of being floured and battered, it is slowly simmered in a delicious paste so that it absorbs the flavors. The paste consists of turmeric, ginger, garlic, and many other ingredients and is gently kneaded into the chicken. Meanwhile, lemongrass stalks and bay leaves are placed at the bottom of a bowl, where the marinated chicken rests to absorb the flavors.
When the chicken is done marinating, usually around 15 minutes or so, the pot is placed over low to medium heat and covered until it boils. The chicken will simmer, then the cover is removed until the liquid dissolves.
The chicken is then rested again to absorb the flavors before it is fried. The aromatic flavors will fill the kitchen at this point, and when served, each bite will give you a mouthful of fresh spices.
Dominican Pica Pollo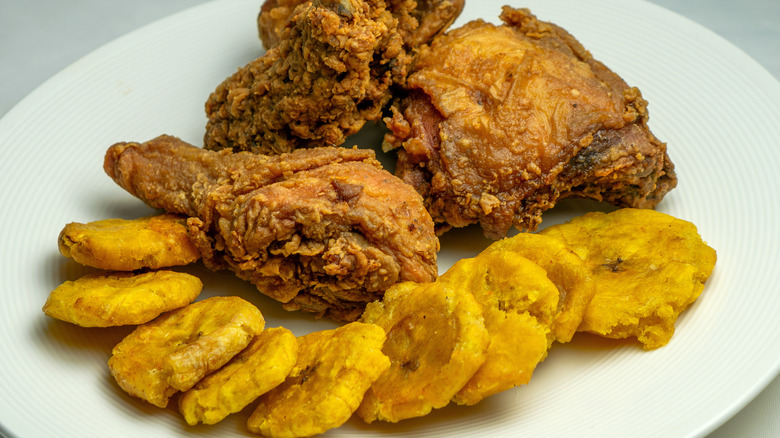 Mario De Moya F/Shutterstock
Pica pollo is the Dominican Republic's authentic fried chicken. It has maintained its presence despite the overwhelming foreign fast-food chains that have popped up in the major cities of the island country. Despite this, much of the country remains undeveloped, so delicious, cheap fried chicken is the go-to for a rich, delicious meal or a night of heavy partying.
Like the ayam goreng, the chicken is cooked in spices before frying, which works as the marinade. The chicken is butchered and boiled with onion, lime juice, oregano, garlic, and other spices until it's cooked all the way through. The broth is usually saved for another dish while the chicken is removed and cooled.
The chicken is then battered in a combination of flour, salt, pepper, and spices like oregano, garlic and onion powder, and pepper, then fried for a few minutes until the outside is crispy and golden brown.
Of course, this wouldn't be a Caribbean dish without a side of tostones, fried plantain chips, or mangu, a Dominican special made with mashed plantains and spices.
Brazilian Frango A Passarinho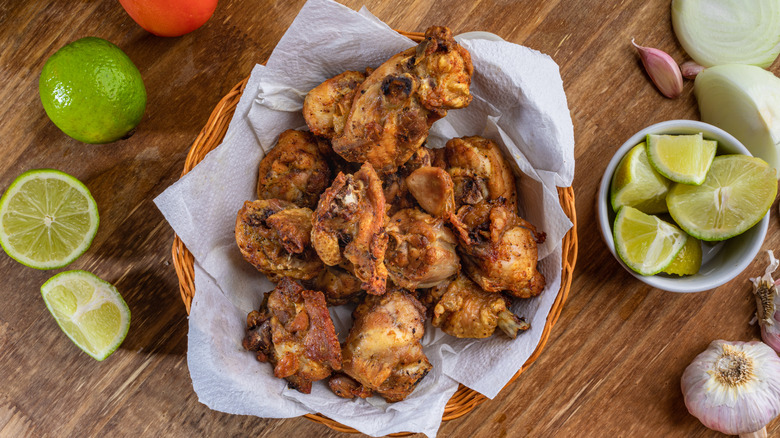 bnetto/Shutterstock
Literally translated to "little birdie chicken," this side dish is served at tapas restaurants and bars across Brazil for a small snack. Because the drinking culture begins late at night, Brazilians usually eat a full meal before heading out. The chicken is a petisco, or finger food, cut into really small, bite-sized pieces and is meant to nibble on to help soak up the alcohol.
These Brazilian fried chicken wings are bone-in and skin-on and marinated in lime juice, parsley, and sweet paprika. These bright flavors give the chicken wings a unique combination of acid and sweetness. The breading is then added with corn starch to give the outside a light, crispy texture.
Before frying the chicken, the garnishes are added to a bit of oil first. Lime slices are first flash fried in oil, and then garlic is fried in the same oil. The chef adds more oil to lightly fry the chicken, which soaks up the flavor from the marinade and, well, the oils. Finally, the bite-sized fried chicken is served with the fried wedges and crispy fried garlic.
Austria's Vienna Fried Chicken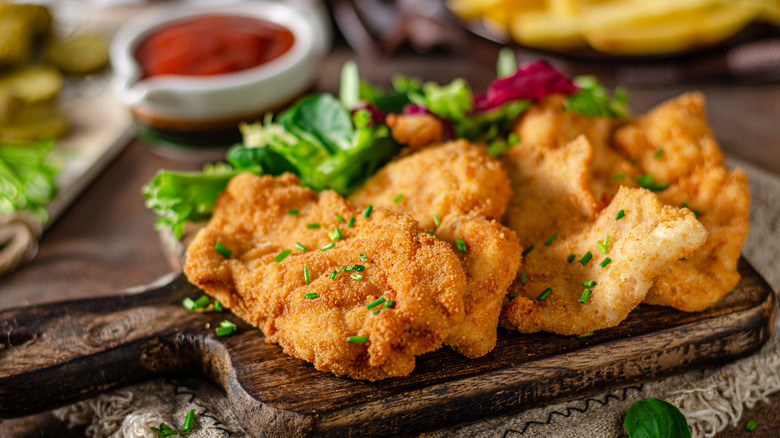 Stepanek Photography/Shutterstock
Backhendl, or Vienna fried chicken, is a simple recipe that is the highlight of Austrian meals. The dish's history started all the way back to the beginning of the 19th century when fried chicken was a delicacy exclusive to the aristocracy. Throughout the years, poultry became an ever-popular food in Austria, and now this fried chicken is a staple all over the country.
The classic fried chicken flavors of salt, pepper, and lemon juice are rubbed into a whole chicken, then left to marinate. It is then coated in breadcrumbs and flour and fried until both sides are browned.
Today, the dish is usually served with lemon wedges and topped with parsley fried in the chicken's oil. As a meal, the chicken usually comes with traditional Austrian potato salad. The potatoes are usually boiled, peeled, and cooked again with butter and chopped parsley. Before serving, they are seasoned with salt and pepper, and other spices that the chef favors.
Australia's Chicken Parmigiana
Rose Marinelli/Shutterstock
Chicken parmigiana is a dish you may attribute to Italian cooking, as the original recipe called for thinly sliced eggplant with spaghetti and red sauce. This recipe made its way into Australian fine-dining restaurants, and as chicken breasts became cheaper and readily available, the eggplant was substituted for chicken, and the dish somehow became a staple bar food across the country. Nicknamed "parma" or "parmy," this dish is usually served with french fries and a salad instead of the traditional spaghetti and red sauce.
The recipe starts with halved chicken breasts spiced simply with salt and pepper. The chicken is breaded with flour and breadcrumbs, usually with Italian spices like oregano, and then fried. Because the chicken is halved, it spends less time cooking, leaving it less oily.
After the chicken is cooked all the way through, it is placed on a cooking dish and topped with homemade marinara sauce, mozzarella, and parmesan cheese. Together, the ingredients are put in the oven and baked until the cheese is a bubbly, golden color.
Taiwanese Ji Pai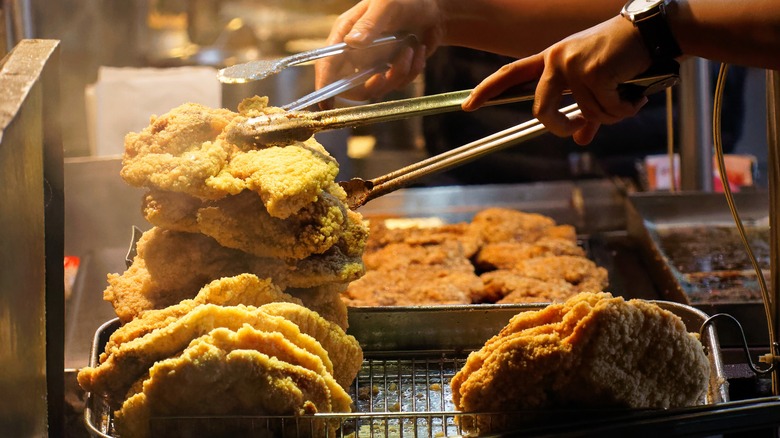 Chen Min Chun/Shutterstock
Ji Pai fried chicken has a similar look to country fried steak popular in restaurants like Cracker Barrel but with a completely different flavor profile. You'll find this dish at street markets, restaurants, and in the homes of many Taiwanese.
Some food historians believe this dish is inspired by tori katsu, a thin, lightly fried chicken dish served in Japan, which would explain the first step in making this fried chicken. The chef begins by butterflying chicken breast and pounding it until flat. The marinade of soy sauce, sugar, white pepper, garlic, sesame oil, cornstarch, and other spices is rubbed into the pounded chicken and set aside for several hours.
After the marinade has made its way through the chicken, the chicken is breaded with flour, then dipped in egg, and covered in sweet potato starch. This gives the final product a light and crispy outside. The chicken is then fried for five to six minutes, spiced with salt and pepper, and set aside to drain the excess oil. This deliciously juicy chicken cutlet is usually plated over rice, and served with sides like pickled daikon radish, bok choy, or soy sauce eggs.
Korean Yangnyeom-Tondak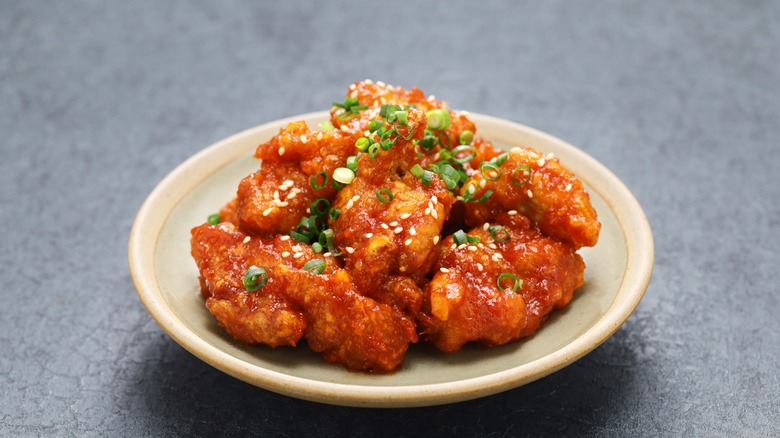 bonchan/Shutterstock
These bite-sized fried chicken pieces are light, crispy, spicy, and garlicky. Though Korean fried chicken varies in spices, yangnyeom-tondak, which literally translates to "seasoned chicken," usually looks the same, with a crispy texture coated in red sauce.
First, the chicken is brined or marinated in salt, pepper, ginger, and other spices. The chicken is then breaded and lightly spiced before frying for about 12 minutes, then set to the side and cooled. After it cools down, the chicken is fried again in hotter oil until golden brown.
Then the chicken is tossed in a sauce, which is where it gets most of the flavor. You'll have a choice between two sauces; the first is a mild honey, soy, and garlic combination, while the other is a red spicy sauce. You can usually choose between both or make it a half-and-half.
The spicy sauce is the most popular, which is made from ketchup, gochujang or a Korean hot pepper paste, garlic, and vinegar. The end result is a delicious, bright-red seasoning that brings out the delicious flavors of the fried chicken.
Puerto Rican Chicharrones De Pollo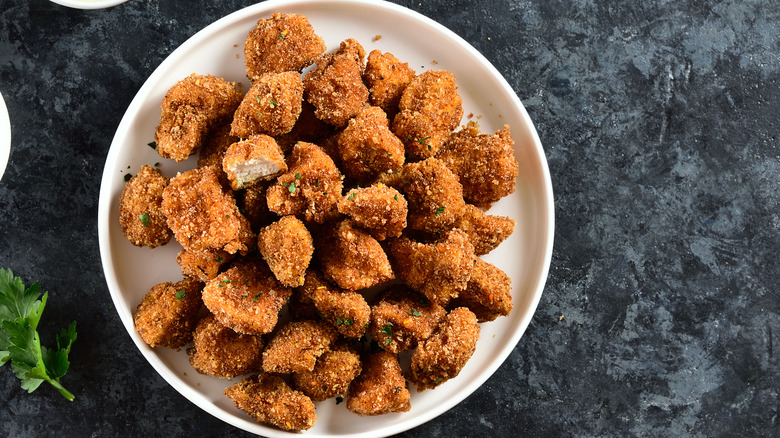 Tatiana Volgutova/Shutterstock
Chopped into bite-sized pieces, chicharrones de pollo is a skin-on, bone-in, crispy, salty Puerto Rican comfort food. The crunchy outside and flavor-packed, juicy inside leave you wanting more after each bite.
The name "Chicharrones" comes from the salty, fatty dish of fried pork belly or pork rinds. Essentially, the cooking method and flavors are all the same, the only difference is the meat.
The chicken is first marinated in a mixture of garlic, lime juice, white vinegar, and two Latin American spice mixtures, Adobo and Sazon. These two spice blends perfectly combine a distinctly savory flavor of Savon and complex zesty and tangy flavor of Adobo.
After the flavors set in, the chicken is lightly breaded with flour or cornstarch mixed with more Adobo and Sazon seasoning, then fried until the outside is crunchy and golden. Served as a side, the dish comes with fresh limes to add an extra boost of acid.