We Have A Ton Of Awesome Potato Recipes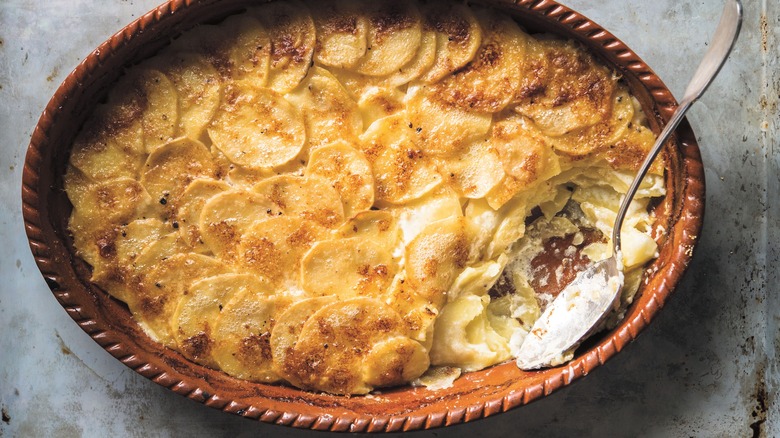 Did you know that we have a ton of awesome potato recipes that need a new home in your kitchen? And we've got even more for our spud and yam enthusiast friends: handy explainers, crucial techniques and in-depth guides about our favorite tuber treats. Take a deep dive into our colorful potato food section for dishes from award-winning chefs and cookbook writers, and freshen up your repertoire from the garden. Here are a few of our recent favorites:
Recipe: Classic Potato Gratin
I think it's a good idea to keep a sack of potatoes on hand so you can make a gratin whenever you get the urge. It's not so hard to do, simply a matter of slicing potatoes thin, layering them in a baking dish, and adding cream. Once you have the technique up your sleeve, you'll find the gratin a very useful addition to your dinner party repertoire. It's a dish with near-universal appeal, and there are virtually limitless variations, such as adding ham and cheese to this classic French gratin dauphinois.
Recipe: Vada Pav
Perfect for breakfast, lunch or dinner, vada pav are ubiquitous in Mumbai. When living in the city I used to have them all the time — they are so readily available, delicious and make a good, cheap meal to eat on the go.
Recipe: Super Crispy Potato Peels
The next time you're peeling potatoes, don't throw away the peels. Baked in the oven, they make a crunchy, moreish snack or a great topping for soup. The secret is to wash and dry them well, toss them in oil and get them into the oven quickly. They're so good, and so easy, you'll wonder why you haven't been doing it for years.
Recipe: Japanese Potato Salad
Japanese potato salad is just the best. For the uninitiated, it is distinguished by three key components: salty-umami additions such as ham and MSG; thinly sliced crunchy vegetables; and potatoes that are roughed up, almost mashed, to create a light and creamy texture.
Recipe: The Ivy's Famous Sarladaise Potatoes
We serve this with our roasted Devonshire chicken for two. It's a brilliant dish to make as part of a Sunday roast, especially if you are entertaining, as you can make it in advance, leaving you to just put it in the oven once your guests have arrived.