Meatless Monday: 8 Hearty Vegan Dinner Recipes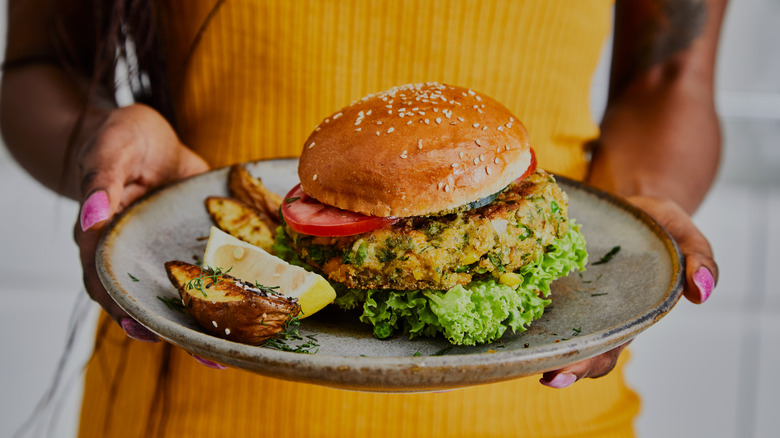 Marko Jan/Getty Images
News flash: It's a total myth that a vegan meal won't fill you up. You don't need meat or dairy to feel satisfied, and we've got eight great recipes to prove it. Protein is protein, after all, and the higher-quality it is, the better it'll work for you. We're talking about lentils, quinoa, tofu, nuts, seeds and other plant-based foods that will nourish, fuel and sate you, all without slowing you down. Enjoy your Meatless Monday (and maybe even Tuesday)!
Recipe: Spiced Udon With Crispy Tofu
Time-saving tip: Steam the vegetables over the saucepan you are cooking the noodles in so they cook at the same time.
Recipe: A Hearty Coconut Daal Bowl
In this soup, I make the lentils a bit more dilute and add in any greens I have lying around — kale, baby spinach, chard, a super-greens blend — to take advantage of the cold-fighting vitamins. I sometimes add in a bit of coconut milk for silkiness, and if I need a bit more bulk, I throw in some cooked rice, bulghur or quinoa. Pickled shallots add the perfect tart balance, and toasted cashews up the nuttiness factor.
Recipe: Plantain Tacos With Pepitas
These wholesome yet rich-tasting soft vegan tacos filled with chunky, savory refried beans and caramelized ripe plantains will please everybody at your table, including the most fanatic meat-taco aficionados. My mom and I came up with the recipe the last time she visited us. We paired the refrieds with the plantains and topped them with a crunchy mix of toasted walnuts and pumpkin and sunflower seeds tossed with seared scallions. Don't hesitate to drizzle a liberal amount of quick salsa verde over the tacos.
Recipe: Green Beans And Mushrooms With Tehina
I created this dish for a Chanukah meal at Zahav in 2013, the year that the first day of Chanukah coincided with Thanksgiving. Since this hadn't happened in over 100 years (and won't happen again for another 77,000), we decided to have fun and merge some of our Israeli flavors with traditional American Thanksgiving casseroles. This is our riff on the classic green bean casserole, with tehina standing in for the cream of mushroom soup.
Recipe: Eggplant, Tomato And Almond Pasta With Quinoa Meatballs
A healthier version of classic spaghetti with meatballs, this eggplant, tomato and almond pasta dish is still packed with protein, but it skips the saturated fat and cholesterol. Eggplants are rich in antioxidants, particularly nasunin, which is predominantly found in the skin of eggplants — so don't peel it off!
Recipe: Rum Fried Rice With Dragon Fruit
"Fried rice was the equivalent of a peanut butter and jelly sandwich in my family, a super-quick fix for those moments when hunger strikes and you want instant gratification," says Daphne Cheng of New York's Mother of Pearl. "Hawaiian cuisine draws from Chinese cuisine, but I wanted to create a dish with more Hawaiian flavor, so I added rum and tropical fruits, including fresh citrus, pineapple and dragon fruit. The end result is full of flavor and fun textures."
Recipe: Quinoa Stir-Fry With Garlic And Pineapple
Stir-fried rice is one of my favorite Asian dishes. However, it's not always the healthiest, so I swapped in quinoa for added protein and nutritional value. I borrowed the cashew and pineapple idea from my college roommate, who made some of the best fried rice. The five-ingredient sauce melds everything together to create a flavorful, hearty entrée or side dish.
Recipe: Lemon-Soy Edamame Barley Bowl
The distinctive flavors of lemon, sesame oil, soy sauce, and oregano combine beautifully in this perfectly balanced "power lunch." I love to use fiber-rich barley as a base for hearty lunch bowls — it has such a great texture and is really filling. Add tofu, edamame, and — my favorite — avocado, and you have a totally satisfying meat-free meal.
This post has been updated.