Here's What You Should Be Grilling This Labor Day Weekend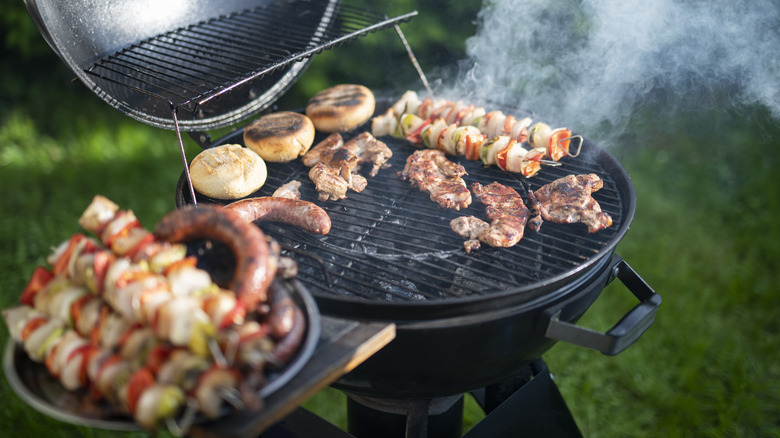 Artistgndphotography/Getty Images
If you've experienced late-summer culinary fatigue and you haven't gone near your barbecue in a while, now is the time to brush up on your skills, because Labor Day weekend is your last chance to make the ultimate grilling feast before the season is over. We encourage you to wear all the white clothing you have before you need to stash it away (we don't make the rules, we just enforce them) and take no responsibility for stains, spots and/or smears.
Recipe: Floyd Cardoz's Grilled Hanger Steak
This recipe requires some advance planning, since hanger steak is best when it is marinated before cooking. A bold marinade complements the assertively flavored meat and tenderizes it a bit as well. Here I use a red wine with big flavor both to marinate the meat and in a reduced sauce — which incorporates the marinade after the meat is grilled. This way nothing — including all that great flavor — goes to waste.
Recipe: Grilled Tandoori Chicken Wings With Coriander Yogurt
Indians don't glorify chicken wings the way Americans do, so I'm stepping in to bridge that inexplicable gap. When faced with chicken and the possibility of high-heat smoky cooking, such as any ol' charcoal grill, there's only one preparation on my mind. I've tandoorified and char-grilled everything from pork loin and tofu steaks to more traditional fare like shrimp and lamb chops. Brine and baste all you want, but tandoorification (my word for marinating overnight in heavily spiced yogurt) is the way to go if your end game is "juicy and flavorful."
Recipe: Chorizo And Cheese Grilled Stuffed Bell Peppers
We're going to pop open and clear out the peppers, grill them up a bit, fill them with goodies and then throw them back on the grill to finish up. The result is a smoky, charred exterior on a completely cooked pepper that's just oozing cheese, meat and other great stuff. After you make these, you will never look at a skewer filled with pepper slices the same way again.
Recipe: Harold Dieterle's Grilled Prawns, Thai Style
Grilled prawns are grilled prawns. If you buy a nice, plump, fresh product from your favorite guy at the fish counter, you're going to have a good time — even if you scorch the thing. But please don't. Oftentimes grilled prawns (and shrimp for that matter) can be straightforward. Salt and pepper, a burst of acid. Done. New York City chef Harold Dieterle does the opposite, brushing the little guys with a spread made with some of Thailand's most iconic flavors: coriander, lemongrass, galangal and lots of coconut milk. It's as if you were sipping a bottle of Chang on a beach in Ko Samui. And when cooking with prawns, always leave the head on. That's where the flavor is.
Recipe: Kevin Gillespie's Grilled Pork Tenderloin With Spanish-Style Garlic Shrimp
It's like Spanish surf and turf with shrimp and pork. The idea came from a Brazilian steakhouse in Atlanta, Fogo de Chao. They roast whole pork loins and carve them for you tableside. It's good, but I always thought it would be better with some surf to go with the turf.
Recipe: Grilled Chicken With Spicy West Indian Salsa Verde
This has to be our best-loved chicken dish. The well-seasoned chicken also gets a "post-cooking" marinade; it is tossed in a bit of West Indian salsa verde and put in the oven for a few minutes so the salsa verde flavors can be absorbed into the chicken. The combo of the chargrill, the island seasonings and the kick of the West Indian salsa verde is truly unforgettable.
Recipe: Oaxacan Grilled Pork Fajitas
In Oaxaca, they use thinly sliced pork shoulder, which is loaded with fat, so it stays moist on the grill. If you have the patience, thinly slice boneless pork shoulder (we're talking poker chip thin here), or bribe your butcher to do it. Otherwise, use pork loin or tenderloin thinly sliced across the grain. It helps if you partially freeze it first.
Recipe: Grilled Coriander-Crusted Fish Steaks With Gazpacho Relish
Chef Chris Schlesinger and Cook's Illustrated executive editor John Willoughby have combined their forces once more with their new cookbook, The Big-Flavor Grill. These truly simple and delicious recipes don't take a lot of time or effort but are (as they say) big-flavor dishes. Try this easy spice-rubbed fish steak recipe on for size. The gazpacho relish takes about five minutes to make and adds a burst of bright flavor to the hearty fish.
Recipe: Grilled Portobello Mushroom Tacos
Anyone who's ever loved a taco should hit L.A.'s Pink Taco with an empty belly and a fierce craving. In honor of Food Republic Grilling Month, we borrowed a meatless recipe from chef Sam Anguiano. "Mushroom tacos are perfect for the food lover who wants a good taco but doesn't eat meat. Grilling them over live mesquite will give you optimum flavor. The portobello should be grilled through but still have some bite to create different layers of texture. Carnivore or not, you will love this taco." Agreed.
Recipe: Grilled Pork T-Bones With BBQ Butter
Just like beef T-bones, pork T-bones contain a lower piece of the loin (the strip loin section of a beef T-bone) and a section of the tenderloin (the fillet of the pig). I treat this simply: well seasoned, grilled to medium, and then topped with a thick pat of my BBQ Butter. Delish! The BBQ Butter can be made ahead and frozen. Just pull out a portion a couple of hours before needed. I also love to use it to top steaks, chops, and even breads for a nifty treat.