Classic English Crumpets Recipe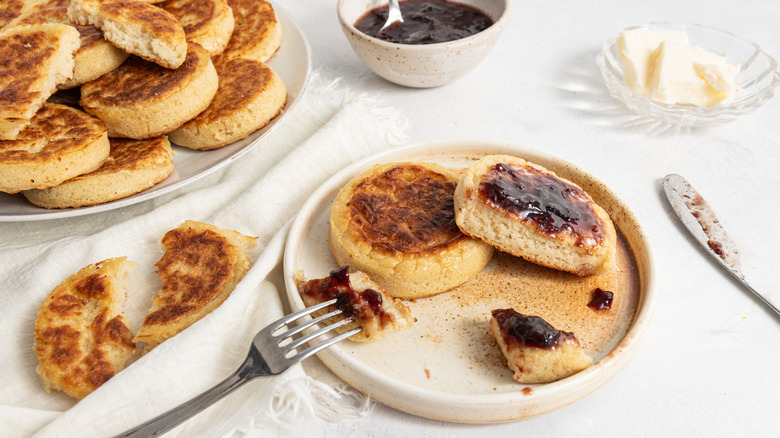 Milena Manolova/Food Republic
There's something wonderfully quaint about crumpets. Whether it's the way the word rolls off your tongue or their pleasant consistency and endless serving options, they are the perfect starchy vessel for any toppings. While you can pick up packaged or frozen crumpets at the supermarket, nothing beats a freshly baked batch. You might luckily stumble upon a bakery selling them nearby, but the chances are definitely less likely in the U.S. than in the U.K. Recipe developer Milena Manolova brings us this classic English crumpet recipe that is easy to whip up so you can savor them warm off the pan. 
"I love how just a few simple ingredients create such a distinct flavor," Manolova says about crumpets. "The unique texture, characterized by a soft interior and slightly crispy exterior, creates a beautiful contrast." Aside from their delightful taste, she comments, "Crumpets are a versatile treat that can be enjoyed both for breakfast and afternoon tea with a variety of jams and spreads," butter and honey, or "more elaborate combinations like smoked salmon and cream cheese."
Gather the ingredients for this classic English crumpets recipe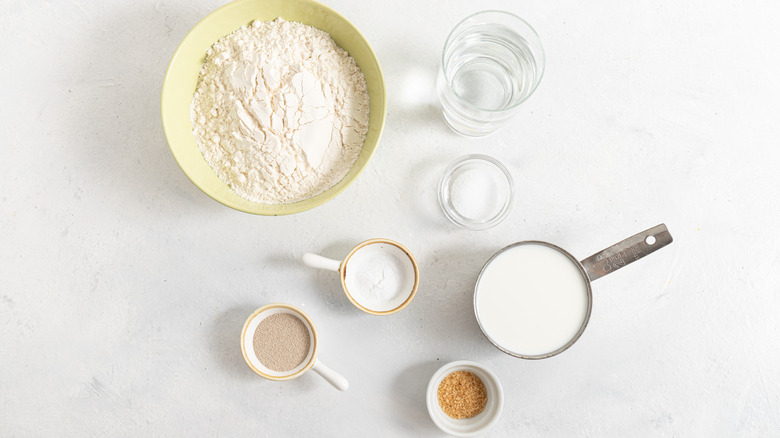 Milena Manolova/Food Republic
Like many bread recipes, this one begins with lukewarm water, sugar, and active dry yeast. Next, you'll need all-purpose flour, salt, warm milk, and baking soda for the batter. Finally, have some butter at the ready to grease the pan. 
"Although crumpets are made with simple ingredients, it is important not to skip any for the best result," Manolova comments. She highlights that "yeast and baking soda/powder are the key ingredients in developing the correct crumpet texture and flavor."
Activate the yeast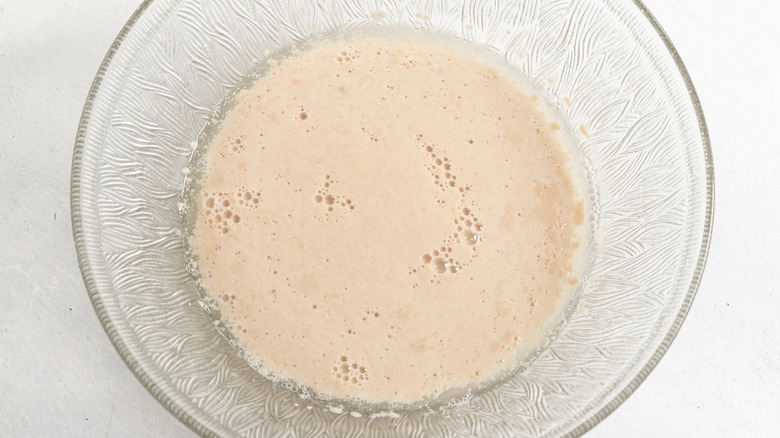 Milena Manolova/Food Republic
Begin by activating the yeast. To do so, pour the warm water into a bowl and whisk in the sugar and active dry yeast. Give the yeast 10 minutes or so to activate — it will become foamy once it's ready.
Combine the batter ingredients and let them rest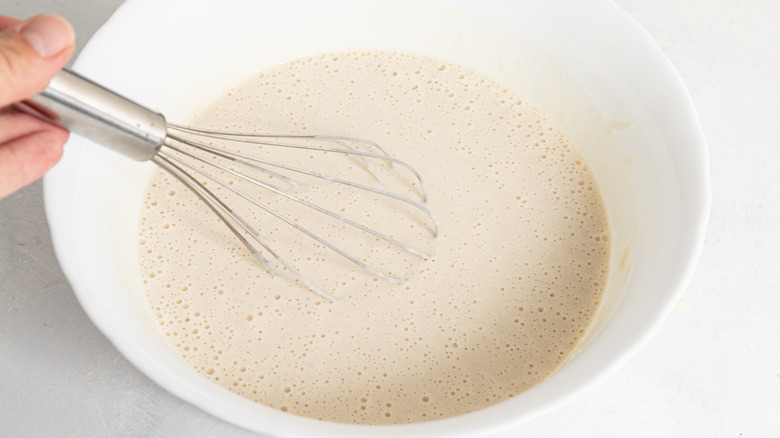 Milena Manolova/Food Republic
Add the flour, salt, warm milk, baking soda, and activated yeast mixture to a bowl. Whisk the contents together to form a smooth batter, then set it aside to rest for 30 minutes. If you want your crumpets ready to bake in the morning, Manolova notes that "the batter can be prepared in advance (the day/night before)," but you should "skip the baking soda and add it right before cooking." As she explains, "Baking soda will lose its rising property if left in the batter for too long."
Cook the crumpets in a buttered pan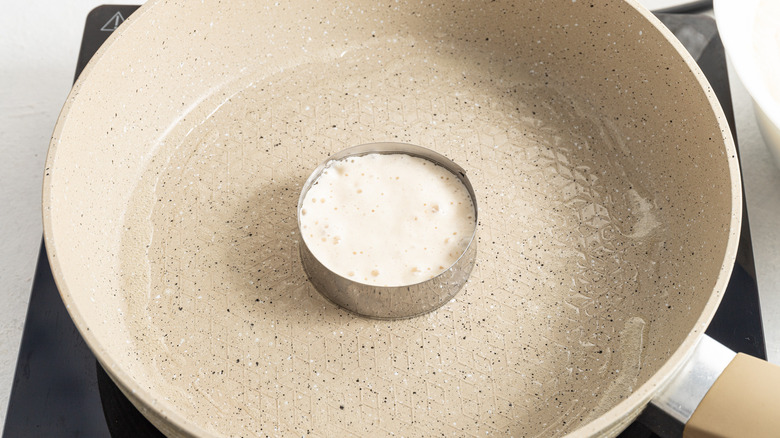 Milena Manolova/Food Republic
Once the batter is ready, warm a skillet with butter over medium heat. If you only have one crumpet ring, make your crumpets one at a time. Otherwise, place as many as you can fit in the pan. Manolova recommends rings with a diameter of 3-4 inches, but if you can't find any crumpet-making equipment, she suggests using "clean, empty tuna cans with the tops and bottoms removed" or egg rings. Whatever you use, be sure to clean it properly and grease the sides beforehand.
With your rings on the pan, ladle some batter into the center and leave a bit of room so the crumpets can rise. Cook for 3-4 minutes on one side or until the edges begin to cook and tiny holes appear on the surface. Once the crumpets are set on one side, carefully remove the rings and flip them over to cook on the other side for 30-40 seconds until both sides are golden brown. 
Serve the crumpets with your favorite toppings
Milena Manolova/Food Republic
Finally, you're ready to remove the crumpets from heat and serve them warm with the toppings of your choice, such as Manolova's suggestions of butter, jam, honey, or cream cheese.
If you have leftovers, let the crumpets cool down to room temperature and store them in a sealed container or plastic bag so they don't go stale. If you're storing them in layers, "you can separate them with parchment paper to prevent sticking," she recommends. Whenever you're ready for more, Manolova offers multiple reheating options in the oven, toaster, or a skillet. If you opt for the oven, she says to heat the crumpets at 350 F for several minutes, while heating them in the toaster on medium will ensure crispiness. Finally, you could also warm them in a pan on medium-low heat with butter "for extra flavor and to help crisp up the crumpets," Manolova describes.
Classic English Crumpets Recipe
Having yourself an afternoon tea party? You can't go without some crispy-on-the-outside, fluffy-on-the-inside crumpets.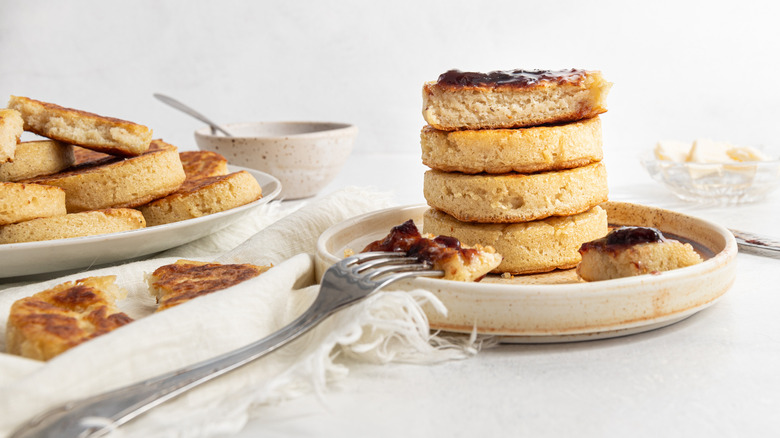 Total time: 1 hour, 10 minutes
Ingredients
1 cup lukewarm water
1 teaspoon sugar
2 ¼ teaspoons active dry yeast
2 cups all-purpose flour
1 teaspoon salt
1 cup warm milk
½ teaspoon baking soda
2 tablespoons butter, or as needed to grease the pan
Directions
Combine the warm water, sugar, and yeast in a bowl. Let the yeast activate for about 10 minutes until foamy.
In another bowl, whisk the flour, salt, milk, baking soda, and activated yeast until a smooth batter forms. Let this mixture rest for 30 minutes.
Preheat a skillet with a bit of butter on medium heat.
Place one 3- to 4-inch diameter crumpet ring (or as many rings as you have) in the pan.
Using a ladle, pour some batter into each ring, leaving space for the crumpets to rise. Cook the crumpets for 3-4 minutes on the first side, or until the edges begin to brown and small holes appear on the surface.
Remove the rings and flip the crumpets on the other side. Cook for 30-40 seconds, or until the bottom is golden brown.
Serve the crumpets warm with your choice of toppings, such as butter, jam, honey, or cream cheese.
Nutrition
| | |
| --- | --- |
| Calories per Serving | 82 |
| Total Fat | 2.1 g |
| Saturated Fat | 1.2 g |
| Trans Fat | 0.0 g |
| Cholesterol | 5.3 mg |
| | |
| --- | --- |
| Total Carbohydrates | 13.1 g |
| Dietary Fiber | 0.6 g |
| Total Sugars | 1.1 g |
| Sodium | 112.6 mg |
| Protein | 2.3 g |