Here's How Many Spritzes You Can Make From One Bottle Of Aperol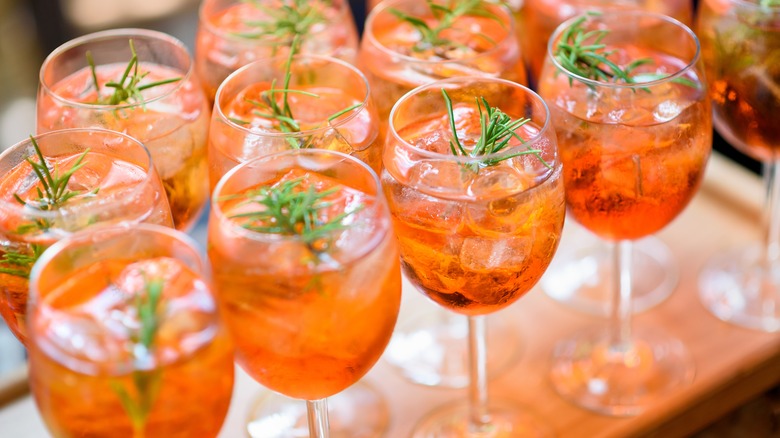 Photology1971/Shutterstock
Instantly recognizable by its orange color, the Italian Aperol spritz is a refreshing cocktail enjoyed all year round, offering an immediate taste of sunshine. Created in 1919 by brothers Luigi and Silvio Barbieri, Aperol quickly gained popularity throughout Italy. In the 1950s, the Aperol spritz cocktail as we know it today — mixed with prosecco and soda — was born, and the drink continues to grow in popularity across the globe.
Perfectly balancing sweetness with bitter notes, the Aperol spritz is part of the Italian aperitivo tradition. This social ritual runs from late afternoon into early evening, where the drink is often accompanied by a selection of small bites, or cicchetti. However, you don't have to be in Italy to enjoy a chilled Aperol spritz as a pre-dinner cocktail with friends. And the good news is, if you're thinking about buying the ingredients to make the cocktail yourself at home, you can make quite a few drinks from a single bottle of the apéritif.
A standard 25.3-ounce bottle of Aperol is enough for 12 drinks, with a bit leftover. This can be handy if you have a guest who wants to try a sip to see if they like the taste before committing to a full glass of this aromatic cocktail.
The official recipe for the perfect Aperol spritz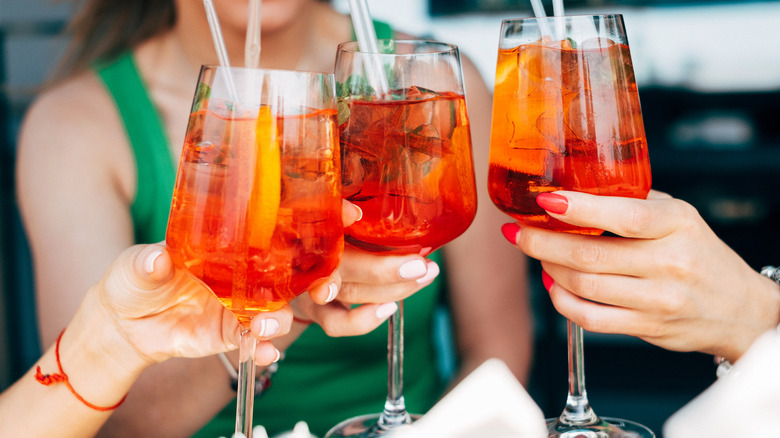 Dulin/Shutterstock
The original recipe for an Aperol spritz follows an easy 3-2-1 ratio. That's three parts prosecco, two parts Aperol, and one splash of soda.
To make the perfect Aperol spritz, served cold and crisp, you'll first need to fill a stemmed balloon glass with ice. Then pour in three ounces of prosecco, followed by two ounces of Aperol, and top it with one ounce of club soda. Finish by garnishing the drink with a slice of orange. The 3-2-1 ratio means you can easily scale up the recipe if you're preparing a larger batch rather than a single glass, by adjusting the volumes of each liquid accordingly.
Traditionally, Italian apéritifs tend to lean towards the bitter side, so using a brut (less sweet) prosecco will help ensure that your finished drink isn't overly sweet. However, when you make your own Aperol spritz, you have the flexibility to tailor it to your tastes. If you happen to prefer a sweeter drink, you can adjust the ingredients accordingly, or add more soda if you find the original recipe too strong.
What other drinks can you make with Aperol?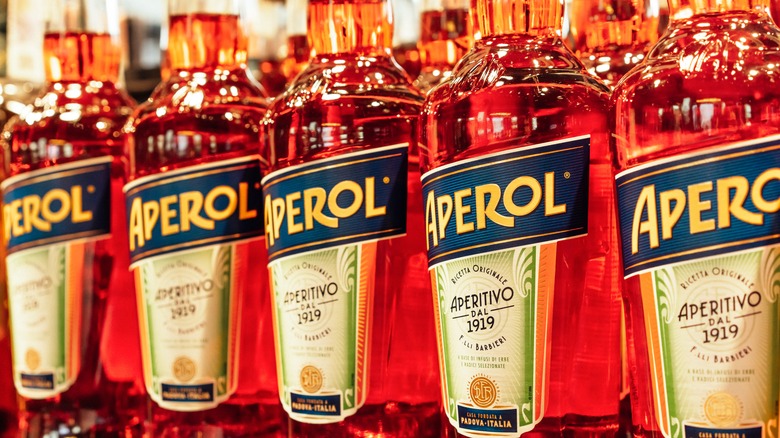 Iryna Mylinska/Shutterstock
If you want to take your Aperol spritz to the next level, there are several twists you can put on the classic cocktail to give it a fresh spin. If you're a fan of rosé, simply switch the prosecco for a sparkling rosé wine. To make a fruitier, less bitter version, replace the soda with passion fruit juice and add a squeeze of lime. For a tropical flavor, use pineapple juice and lime juice instead of soda. Or for an elegant Japanese twist, switch out the prosecco with sake, a fermented rice drink, and swap the soda for citrusy yuzu juice.
Aperol can also be used in a variety of other cocktails, such as the martini-style drink called the Paper Plane. For this, shake a three-quarter ounce of Aperol with equal parts bourbon, the bitter Italian liqueur Amaro Nonino Quintessentia, and lemon juice. For an Aperol sour, shake two ounces of Aperol with one-half ounce gin, one ounce of fresh lemon juice, one-half ounce of simple syrup, one egg white, and ice. 
For a cocktail that actually feels like it's good for you — and only requires two ingredients — try mixing two ounces of Aperol with four ounces of the fermented tea drink, kombucha. Serve it with ice and a fresh orange slice.