How To Get The Most Out Of An All-Day Beer Festival (And Survive)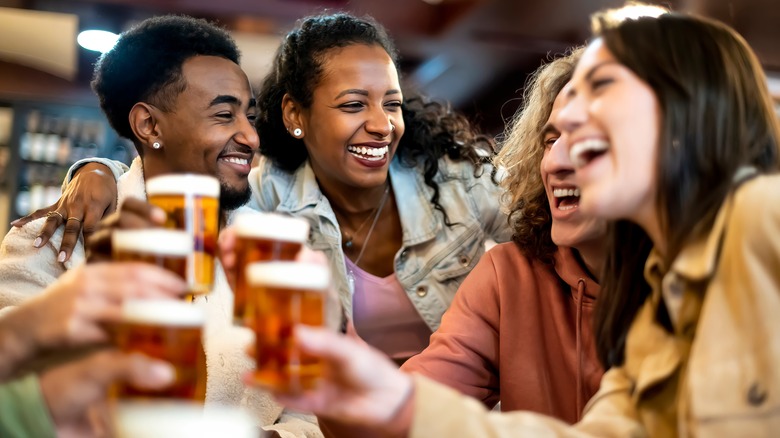 charmedlightph/Shutterstock
Beer lovers always seek new brews to try — and attending a beer festival is a surefire way to accomplish this. Local and national breweries participate in beer festivals to allow consumers to taste unique beers they may not get anywhere else. While beer festivals are put on all over the world, the most famous is Oktoberfest in Germany, where beer enthusiasts flock every fall to immerse themselves in the Bavarian lifestyle.
But beer festivals are held all year round worldwide, so you'll likely find one close to you. There are some things you should know, however, before you grab a ticket. And if you're wondering the best ways to get the most out of an all-day beer festival and be well enough after to tell about it, we've got you covered. Here, we're highlighting what you need to know about attending a beer festival so that you can enjoy this beer lovers' paradise to the fullest. 
Know what beers are going to be there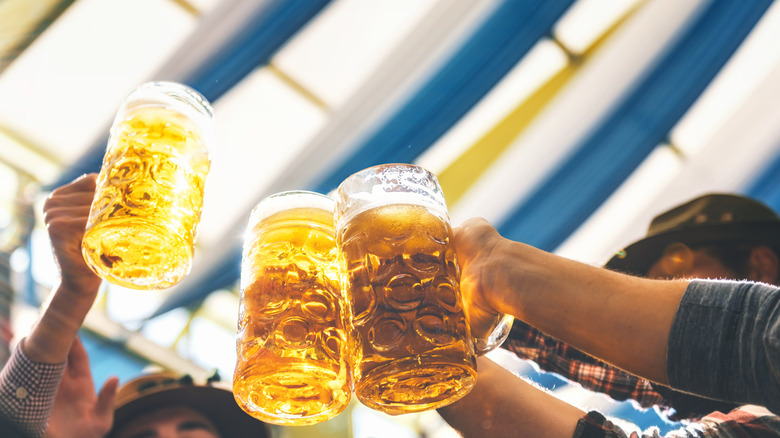 Golero/Getty Images
It is vital to read up on what breweries will be in attendance at your beer festival. This will help you formulate a game plan for which booths and tents you want to check out. Mainly, it's beneficial to do this if you only like certain styles of beer. Let's say you know you don't like witbiers, for instance. After researching the breweries, you can weed out the ones that heavily feature witbiers or Belgian-style ales. That saves you time from stopping at every booth and scanning the menu.
Doing research will help you understand which breweries in attendance may be far from where you live, so you can try ones you may have wanted for some time. Also, while brushing up on the festival, you'll likely learn more about the food vendors on hand and what other refreshments will be available. 
Eat at the venue or before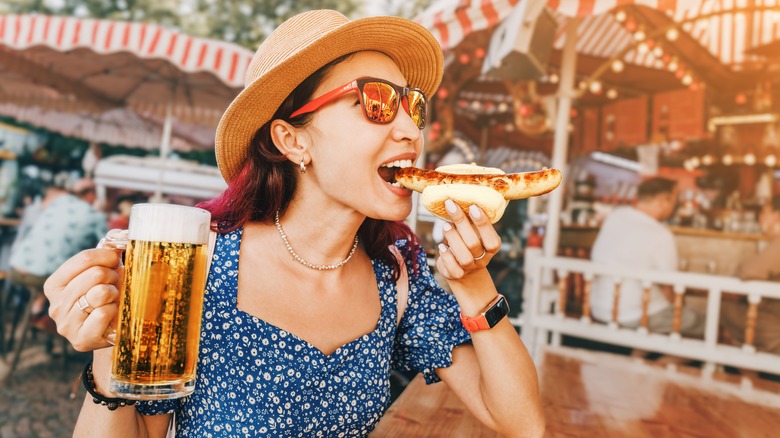 frantic00/Shutterstock
It doesn't matter if you're at the beer festival just to taste beers — if you're doing so on an empty stomach, the alcohol will flow right into your bloodstream. That will get you drunk faster and could limit the time you spend at the festival and how much beer you can sample. It's important to learn about all the food vendors before you go — especially for those with dietary restrictions. This will give you a clear idea of what's offered, so you can decide if eating before you arrive is a better option. Many beer festivals feature local restaurants and food trucks — a taste of the surrounding area's cuisine.  
One of the most popular food choices for people attending beer festivals is a pretzel necklace, where you string pretzels together to take a bite when you need a snack. It's a great way to put a little nosh in your belly as you walk and drink. Regardless, think smart when it comes to food — so you can enjoy everything the festival has to offer.
Pace yourself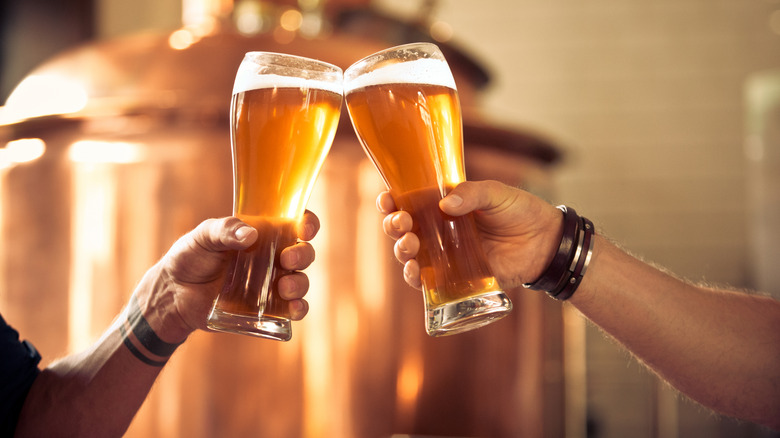 Izusek/Getty Images
Typically, the amount of breweries at beer festivals are in the double digits. That means you're going to be trying a lot of beers. Even if it's just a 4-ounce taster, the sips add up, especially if you're mixing beer styles. Some are bound to be higher in ABV. A double IPA, for instance, is higher in ABV than a pilsner — imperial stout is stronger than a saison. It's important to pace, especially if the beer festival is an all-day event. 
You want to make it to the end of the night and compare notes with your friends on which beers you like best. If you know you want to try a heavier beer, make sure you eat something before or after. But even if you're sticking with light brews, make sure you have some food in your stomach and mix in water as the day goes on. Think about it: You have all day to explore, converse, and drink — don't be a kid in a candy store, take your time. 
Know where the water stations are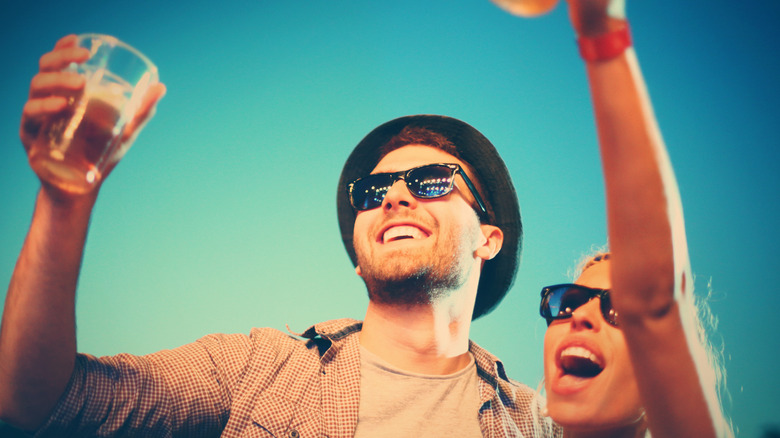 Gilaxia/Getty Images
Speaking of mixing in water between drinks, take note: You should definitely be drinking water at an all-day beer festival, and you should know where the water stations are to avoid wandering around looking for them when you're desperate for a sip. Walking for hours with beers in hand is par for the course — but making sure you know where the water is can be ultra helpful. Remember: Beer is dehydrating, so staying hydrated will allow you to taste beers longer — and water may keep you from feeling too drunk, or even sick. Also, because beer festivals are crowded, there will be a lot of people looking for H20, so there may be lines.  
Another perk to drinking water at a beer festival? It will cleanse your palate between beers — water introduces a neutral flavor that will help remove any aftertaste from the previous beer. Get the most out of every beer vendor by going in with a rinsed mouth.
Dress accordingly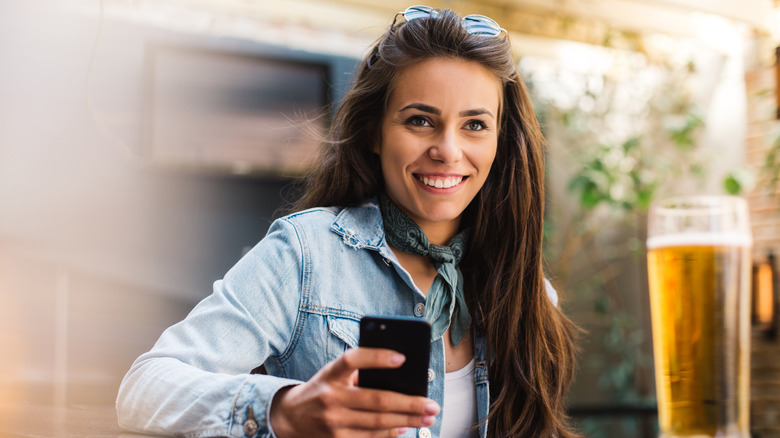 Just Life/Shutterstock
A flannel shirt or jean jacket can be the perfect style choice if it's a fall or early spring beer festival — because you don't want to be too chilly while enjoying cold beer. Wear layers, however, so you can peel them away if you get a little warm walking and drinking. Conversely, a summer outdoor festival can get very hot — so wear shorts or a short-sleeved shirt, and loose clothing might be more comfortable in large crowds and high temps. 
Definitely avoid high heels or flip-flops if it's outdoors — you could be walking around a large field with uneven terrain and lots of dirt. Even if it's an indoor beer festival, you'll want comfortable walking shoes — and if you're a step counter, you'll be getting in lots of steps, so sneakers are a no-brainer footwear for a beer festival. Plan clothing and shoes accordingly, and you'll totally survive an all-day beer festival.
Have a designated driver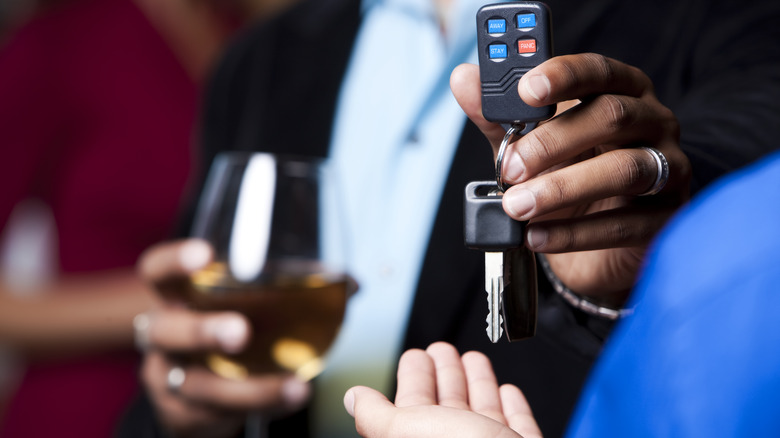 Avid_creative/Getty Images
It's irresponsible to drive home (or anywhere) drunk. Chances are — even if you've been pacing yourself and drinking lots of water — you'll be intoxicated (and tired) after an all-day beer festival. Someone should be assigned the designated driver if you're going with friends. Or grab some Lyfts, or ask a pal ahead of time to pick everyone up — either way, a day of drinking means this: Don't get behind the wheel. Police typically serve as security at large beer festivals, and they've got their eyes peeled for anyone who shouldn't drive. 
Frankly, you should go into these kinds of events with an exit plan. Drinking a variety of beers over several hours can be a lot of fun, but getting everyone home safe is a priority. In fact, it's better not to have a car as an option — chip in for a large van if you're in a group, or open that driving app and request a ride. Whatever your game plan, be smart and responsible. 
Bring a bag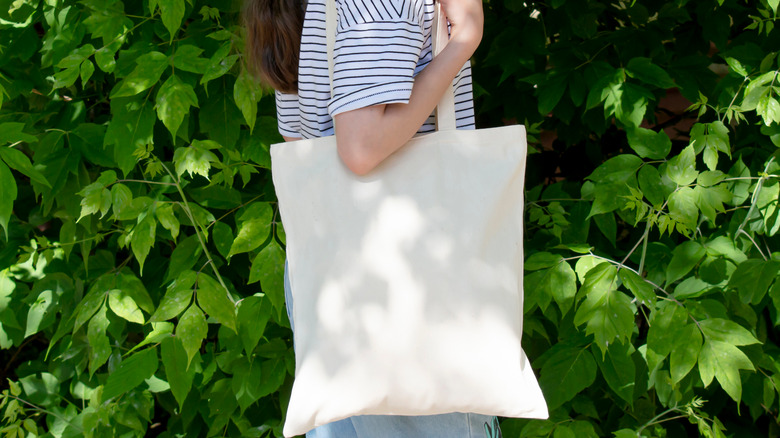 13Smile/Shutterstock
One of the cool things about an all-day beer festival is that each booth or tent will likely have tons of swag — koozies, stickers, mugs, t-shirts, and shot glasses are some of the items you might see available. Lucky you! But you won't have anywhere to store your wares if you don't bring a bag. A tote bag is probably the best option because it's easy to throw over your shoulder and sturdy enough to handle potentially breakable items. 
Don't rely on a brewery to give you a bag (they rarely will). Plus, if you buy a few cans or bottles of beer, you can toss those in your reusable bag too. A tote also comes in handy when carrying extra stuff like sunscreen, sunglasses, and wallet — things you might normally carry in a purse can be thrown in a tote. You might also roll and stuff a beach towel in a tote, for sitting on a patch of grass, or even wiping off sweat. 
Don't take a picture at every booth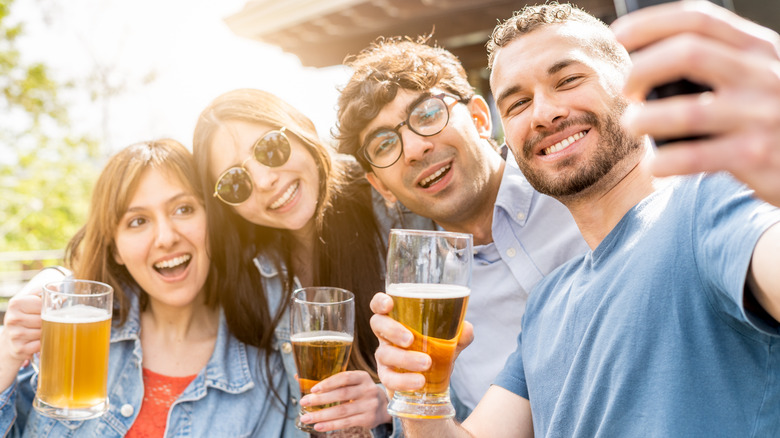 Vittorio Gravino/Getty Images
You're excited to be at the festival, we get it. You may have waited a long time for the day to come, and your friends have been planning which breweries you all want to visit. But hear this: Don't take pictures at every booth. Unless there's something unique about the beer — like it's a different color, or the can has an awesome logo — don't bother snapping a pic at every spot.  
Social media won't care about all the beers you taste. And nobody wants you clogging up the line just so you can snap a logo pic — it's annoying as all get out. Have respect for other festival goers in line — check out the options, order what you want, take your taster, move on. And if you have your heart set on taking a few selfies with the brand, step out of line to take it. This way, no one gets angry and comments on how you're holding everyone up. Beer festival survival 101, folks! 
Bring cash, sanitizer, sun protection, and ID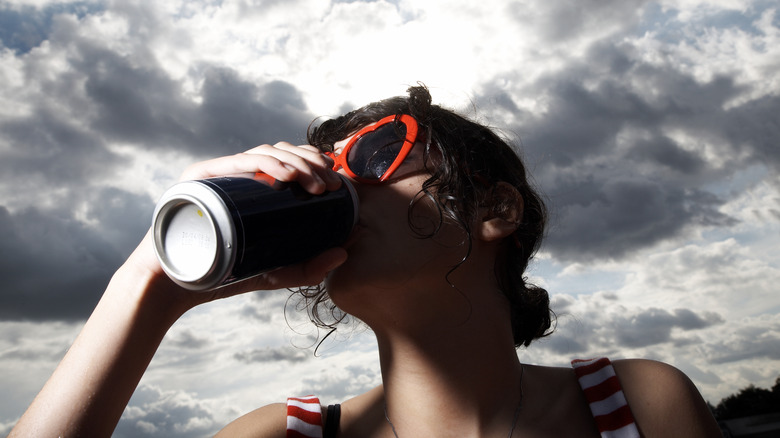 Massive/Getty Images
There are a few items you'll want to make sure you bring with you to the festival. If it's an outdoor festival, for example, you absolutely need to wear sunglasses and sunscreen — a hat might also be in order (you can throw that in your tote too!). Most outdoor festivals only have porta-potties, so make sure you bring hand sanitizer. Those porta-potties can get pretty gross and sanitizer will come in, uh, handy!
Double-check you have your wallet with your ID because you're going to get checked and given a wristband to prove you're of drinking age. You'll also want some cash to buy items at booths. While many vendors will be happy to swipe a card, sometimes machines go haywire during all-day beer festivals (or their connection is slow) — cash will help you navigate around that potential problem, allowing you to enjoy a seamless day of transactions.
Have patience and bring a distraction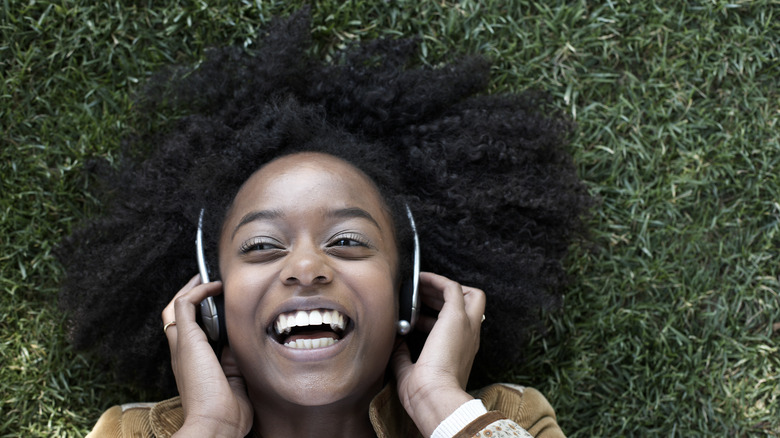 Mm Productions/Getty Images
You know beer festivals are hugely popular when almost six million people attend Oktoberfest each year. Even if you're heading to a local beer festival, you understand by now the lines are going to be long — whether it's for a booth, water station, or waiting for the restroom. Heat, long lines, and alcohol can make people frustrated, so this is a good time to practice patience. 
If you're going to the beer festival alone (or even if you separate from your group for a while), bringing headphones or something to read might make sense — a podcast, music, or a good book is something to do while you're waiting. You also may want to take a break at some point and get away from the crowd. Finding a spot of grass, shade under a tree, or a table can help you reset for the next half of the all-day beer festival. Whatever it might be, find a little distraction if you need to recalibrate.  
Have fun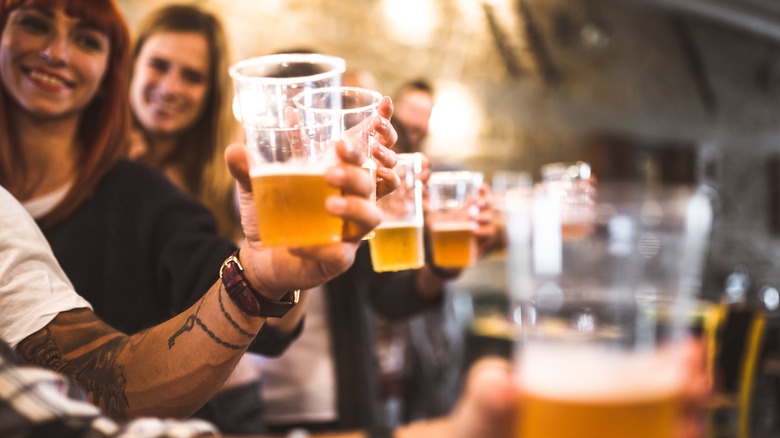 Franckreporter/Getty Images
It's not every day you get to enjoy beers that you potentially can't get anywhere else. Some breweries take the opportunity of an all-day beer festival to test out new beers and see how they might work on the public. You're likely going to try beers that you'll never have again — because they won't be mass produced and might, in fact, be a specialty for that event — so have fun with this experience.
Taste the beers, toast with friends and even strangers around you — revel in the experience, because it can be more than simply trying brew, but also a way to bring people together and converse. Beer drinkers feel a sense of camaraderie when sharing a cold one. And that ideology is heightened at a beer festival. Take note of the ones you like the most, so you can check their availability at a later date. 
Attending an all-day beer festival shouldn't be a chore. Having fun should come natural, even if there are some hangups, like super large crowds and hot temps. Also, vendors will appreciate it if you express how much you love their beer — so don't be afraid to tell them!