Giada De Laurentiis' Fresh Alternative To Heavy Alfredo Sauce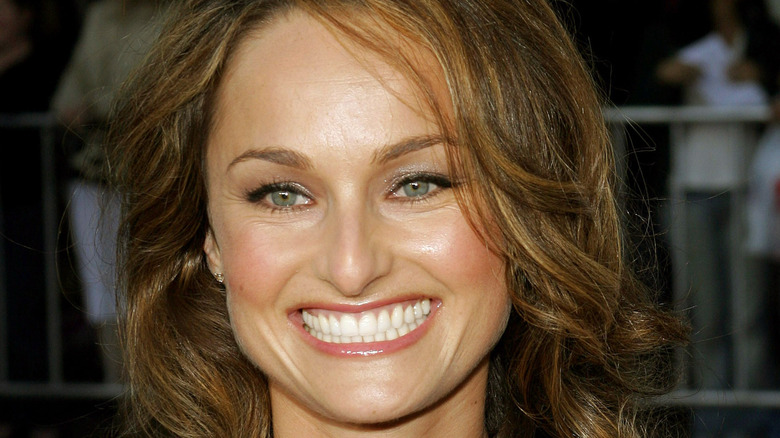 Tinseltown/Shutterstock
Fettuccine Alfredo was first created by chef Alfredo di Lelio at his restaurant in Rome in the early 1900s, but it's since become a global favorite. In that time, the original recipe has changed, too — what originated as fresh fettuccine pasta with a light butter and Parmesan cheese sauce has become a dish that's laden with heavy cream.
If you love Fettuccine Alfredo but want something a little less dairy-filled and still delicious, leave it to Giada De Laurentiis to help. The chef lightens up the pasta dish with fresh ingredients and bright flavors with something she calls white pesto, sharing on TikTok that it's "similar to a creamy Alfredo, but super fresh."
So, what makes this pasta recipe lighter, fresher, and even more delicious than the original? De Laurentiis still relies on dairy for that creaminess we love, but swaps out heavy cream for ricotta cheese and chooses flavorful ingredients like garlic and lemon zest to brighten everything up. 
How to make Giadzy's white pesto pasta
Giada De Laurentiis says this white pesto pasta is "as decadent as a no-cook Alfredo sauce." The simple ingredients you'll need include are olive oil, walnuts, Parmesan cheese, ricotta cheese, garlic, lemon zest, salt, fresh basil, and of course, pasta (the chef recommends Manfredi Lunghi pasta, but you can also use spaghetti or any other favorite shape).
The first step in making the white pesto is to toast your walnuts in the oven until they're slightly darkened and fragrant. Then you'll pulse them in a food processor or blender until they're finely crushed. Next, add the rest of the pesto ingredients — olive oil, garlic cloves, lemon zest, salt, and both cheeses — and combine until everything is evenly mixed.
Once you cook your pasta (to al dente texture, of course, because that's how real Italians do it), the next important step is to reserve some pasta water. Stir the white pesto sauce into the pasta, using the saved water to loosen up the sauce until, as De Laurentiis directs on TikTok, it's "creamy, luscious, dreamy, and life-changing in that new pasta recipe kind of way." Final touch: Top it all with some freshly-torn basil leaves.
Is white pesto really pesto?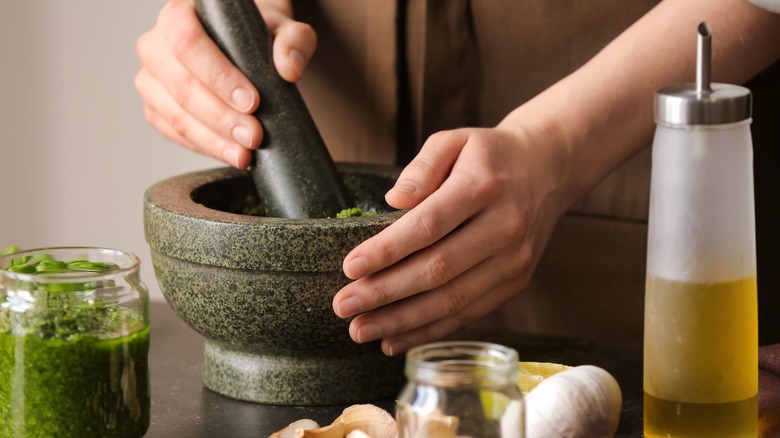 Pixel-Shot/Shutterstock
Pesto in its most traditional sense — Pesto alla Genovese, which first originated in Genoa, Italy — is classically made with basil, garlic, pine nuts, Parmigiano Reggiano, Pecorino Romano, and salt. It's the result of very specific, regional ingredients that are formed into a paste with a mortar and pestle. This green, herby, nutty, pasty Italian sauce is traditionally what people think of when hearing the word pesto.
So, why is Giada De Laurentiis' recipe called white pesto? (And can you even make pesto without that quintessential green basil?) While you may get a different answer depending on who you ask in Italy, the chef (and many others) would tell you yes.
Truthfully, pesto is the past tense of the word pestare, which means "to crush," "to pound," or "to step on." Going off of that definition, many consider pesto to be any sauce that can be made by pounding the ingredients together with a mortar and pestle (or nowadays, crushing them with a food processor). Today, all kinds of ingredients are used to make pesto recipes that go beyond basil sauce, from kale pesto to pistachio pesto to artichoke pesto — and even white pesto.