The Fine Dining Ingredient With An Electrifying Taste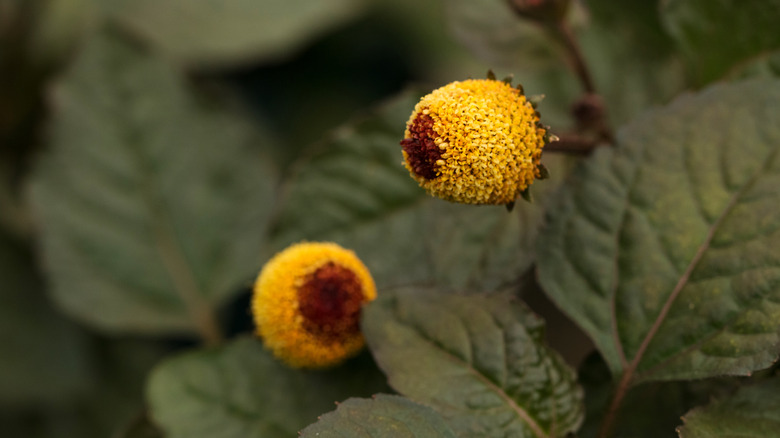 Skyprayer2005/Shutterstock
When it comes to Michelin Star-worthy fine dining, intriguing ingredients are usually front and center in the flavorous gourmet dishes that culinary professionals create to dazzle their luxury guests. But, one remarkable food, in particular, is all the buzz among chefs worldwide, and not for the reason you may think. Szechuan buttons aren't renowned for their nutritious qualities or exciting flavor profile, but rather for the electrifying sensation they impart when added to a variety of food and drinks.
Known by many names — including Szechuan button, Spilanthes acmella, buzz button, electric daisy, paracress, and even the toothache plant — the "Acmella oleracea" plant is native to warmer regions like South America, Africa, and Southeast Asia and features small yellow and orange flowers that, when chewed, deliver a rather stunning numbing sensation that leaves the mouth tingling for up to about ten minutes, depending on how many you eat.
A chemical in the plant causes the buzz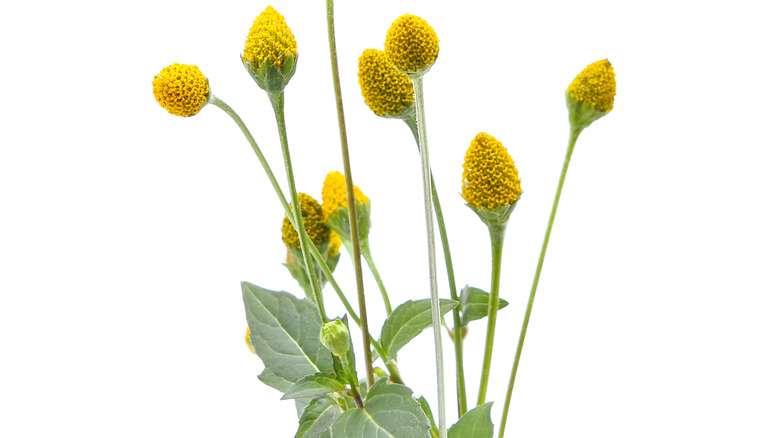 KETPACHARA YOOSUK/Shutterstock
Similar in name and the tingliness of Sichuan peppercorn, there are a variety of foods that offer interesting mouthfeels, but nothing is quite as exhilarating as the buzz button. The flowering herb's numbing sensation is caused by spilanthol, a chemical compound that's known for its potentially medicinal benefits, including various pain-relieving, antifungal, and anti-inflammatory properties, per a 2013 review published in the National Library of Medicine.
Largely only available in online retailers, the Szechuan buttons were on display at the 2021 Immersive Van Gogh Exhibit in Los Angeles, and let's just say the reactions of those who tried them are clear evidence of their tantalizing qualities, as seen in this TikTok video. But, in terms of being a culinary showstopper, the incredible sensory experience of buzz buttons works by activating the salivary glands, which stimulate taste buds and can help to enhance other flavors, making for a gastronomical twist unlike any other.
Chefs are buzzing about ​​Szechuan buttons
It's not hard to see why buzz buttons are popular in the culinary world. Chef Ferran Adrià, one of the original pioneers of the molecular gastronomy culinary trend, is credited as one of the first to experiment with the unique flower in the U.S., incorporating it into a milk wafer. Chef Marc Forgione currently serves them at his eponymous New York-based restaurant alongside hiramasa, avocado, and chips.
Featuring a ​​grassy and mildly citrusy flavor on its own, buzz buttons also add a jolting zest to any cocktail it accompanies. In 2017, the restaurant and wine bar Seasons 52 added the "Botanical Buzz" drink to its menu, which featured vodka, honey syrup, and lemon juice topped with the edible yellow flower all on the rocks. Szechuan buttons have also graced the drink menus of popular hot spots like The Chandelier bar at The Cosmopolitan and even the likes of the casual dining chain TGI Fridays.