The Creamy Hack To Amplify Boxed Cornbread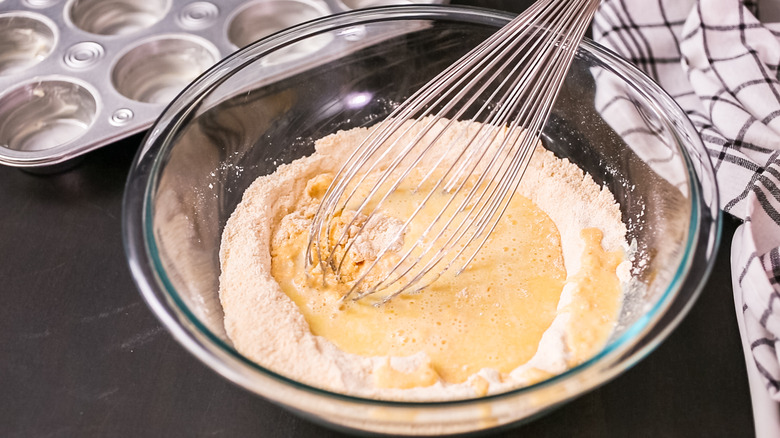 Arina P Habich/Shutterstock
Many would argue that, when it comes to food, absolutely nothing beats homemade. For the most part, they're right. When compared to something that comes out of a box, can, or container, homemade food is superior in nearly every way (except perhaps preparation time). Of course, there are exceptions, depending on your tastes. Take cornbread, for example, the Southern staple and undeniable partner to chili. Millions are proud to admit that their cornbread comes from a box. All you do is add an egg and some milk, mix it up, and bake and you have a quick, delicious side dish. Tasty as is, it's just as easy to make it taste even better.
By adding a little sour cream to the mix, your cornbread from a box will turn out super moist and a little tangy. You may not even feel the need to slather your square in butter (but if you do, no one will blame you). Cornbread like this is still a delicious counterpart to chili, or alongside a great plate of barbeque, but don't discount it as a yummy choice for breakfast, too. A great big chunk of it along with a cup of coffee is a comforting way to start the day.
Preparing cornbread with sour cream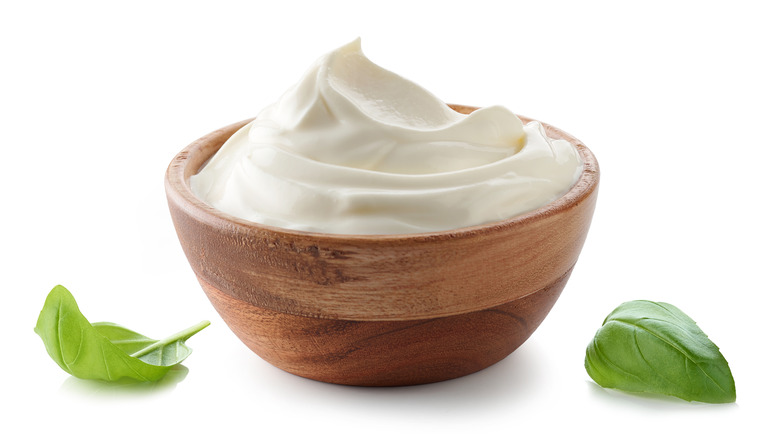 MaraZe/Shutterstock
The most famous and recognizable brand of boxed cornbread is probably Jiffy, which comes in the darling little box, but adding sour cream to any boxed cornbread brand should be just fine. With Jiffy, you mix the dry ingredients that come in the package with an egg and a little milk. When you do this, just include one-third cup of sour cream and mix everything together. Bake as directed and you're done.
If you don't have sour cream, buttermilk will also give you some tanginess and an extra soft crumb. And if it isn't something you keep in your fridge regularly, buttermilk couldn't be easier to make. If you have milk, some vinegar, and 15 minutes, you can make your own. While we're on this path, it's worth mentioning that making your own sour cream is completely doable, but it does take some time. All you need is some heavy cream, a bit of vinegar or lemon juice, some whole milk, and a mason jar. You end up leaving the mixture at room temperature for one to two days, so plan accordingly.
Then again, all this homemade talk might defeat the purpose of using boxed cornbread mix. We'll leave that to you to determine yourself.
Other ways to amplify boxed cornbread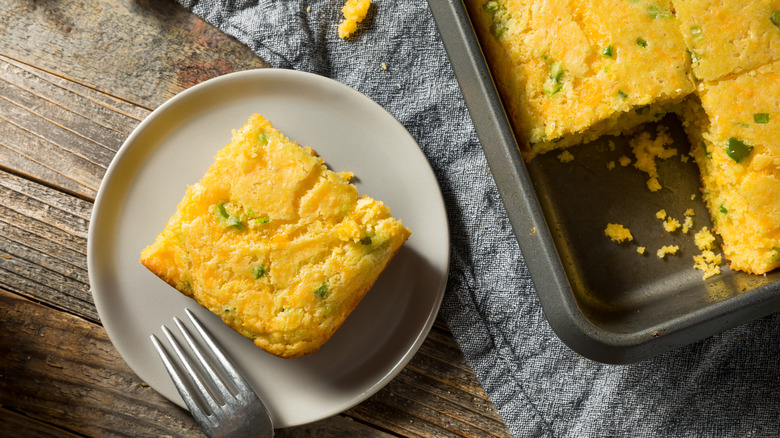 Brent Hofacker/Shutterstock
While adding sour cream to a box of cornbread may give you the most tender and luscious results, there are many different and exciting ways to jazz up the boxed stuff. If you want to keep things fairly savory (which is, apparently, the only way true Southerners enjoy their cornbread), consider adding corn kernels (either fresh or canned) to your mix. Cooked pieces of bacon, Mexican chorizo, chopped jalapeno, shredded sharp cheddar cheese, and spices like chili powder are fantastic additions.
Sweeter cornbread is also very popular and super delicious. Think about mixing in fresh blueberries for a breakfast or snack treat. Swirl in honey and warm spices like nutmeg and cinnamon, or make a seasonal, fall cornbread by incorporating pureed butternut squash or pumpkin.
No matter how you flavor your cornbread, the sour cream addition should work, giving it an amazing texture and an extra but subtle layer of flavor. Don't be surprised if you never go back to homemade again.