High-Quality Instant Asian Food Has Never Been More Accessible In The US
In college, you probably got very familiar with the myriad ways to dress up a packet of Top Ramen to turn it into a full meal. Maybe you always had a bag of frozen veggie gyoza from Trader Joe's in your freezer or bought packets of spicy green Thai curry from your local Asian market.
For those unfamiliar with Asian cuisine, the idea of cooking a bowl of phô or shrimp pad thai can be intimidating. Many of these recipes take time and call for a broad variety of ingredients you may or may not be able to find in your local ShopRite. But the spring roll gods have heard your prayers — or maybe just the innovative small business owners near you.
Over the last few years, there has been a boom in direct-to-consumer food brands making high-quality East Asian food that is either frozen, microwaveable, or quick to make. Many of them have put effort into making options that are both quicker and healthier than takeout or standard frozen meals, making traditional foods that meet the needs of modern eaters while also speaking to their beloved culinary heritages.
Asian identity through food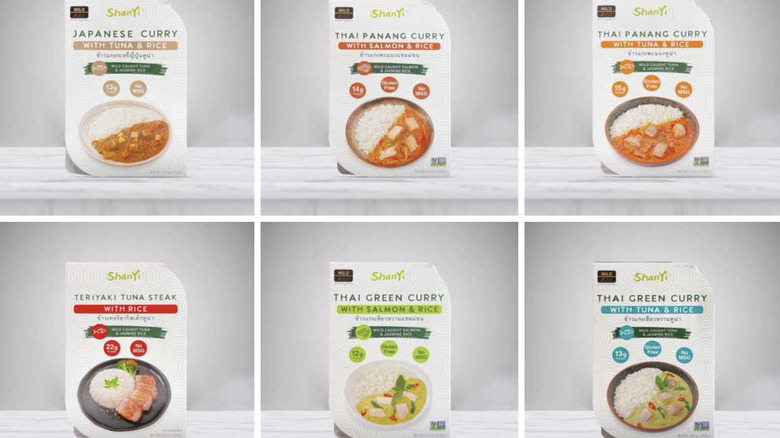 ShanYi
"For both of us, starting MìLà was our way of connecting with our family's history and serves as a reminder that the Chinese identity is constantly evolving," explains Chinese-American husband and wife duo Jen Liao and Caleb Wang on the MìLà website. Liao and Wang had initially opened the brick-and-mortar restaurant Xiao Chi Jie in Washington State before pivoting to an online model during the COVID-19 pandemic. They rigorously tested a model for frozen soup dumplings that turned out to be widely popular, fueled by a frozen food boom between 2018 and 2022.
Other companies have realized that many meals no longer need to be frozen to provide quality. ShanYi (part of Helion Foods), which makes pan-Asian microwaveable meals from Japanese, Thai, Chinese, Korean, and Indian cultures, works with local chefs in Asia to create shelf-stable meals for busy families and professionals without sacrificing authenticity or nutrition.
Noodles for days
Even instant ramen has gotten a significant glow-up in recent years. The iconic Asian-American restaurant group Momofuku has collaborated on an instant noodle collection with the Taiwanese food brand A-Sha, offering three flavors of air-dried noodles (Tingly Chili Wavy Noodles, Spicy Soy Noodles, and Soy & Scallion Noodles).
And if you're looking for a healthy ramen option, there's that, too—and you've probably seen their targeted Instagram ads. Immi was founded by "the Kevins," Kevin Lee and Kevin Chanthasiriphan, who decided they wanted to make healthier versions of the Taiwanese and Thai staples from their youth. Their noodles sub in Pumpkin Seed Protein for part of the wheat, creating a product that is higher in protein and lower in carbs than a standard pack of instant ramen.
And it's not just about ramen. Other noodles are getting on board as well. Omsom, which means "noisy, rambunctious, or riotous" in Vietnamese, was founded by Vanessa and Kim Pham, second-generation Vietnamese-American sisters. The company sells pantry-safe "saucy noodles" in flavors like Chili Sesame and Coconut Lemongrass Curry, along with a collection of sauces inspired by their Vietnamese-American upbringing. As their website explains, "We returned to our roots to finally build the company of our dreams — one that proudly reclaims + celebrates the multitudes to be found in Asian flavors, stories, and communities."