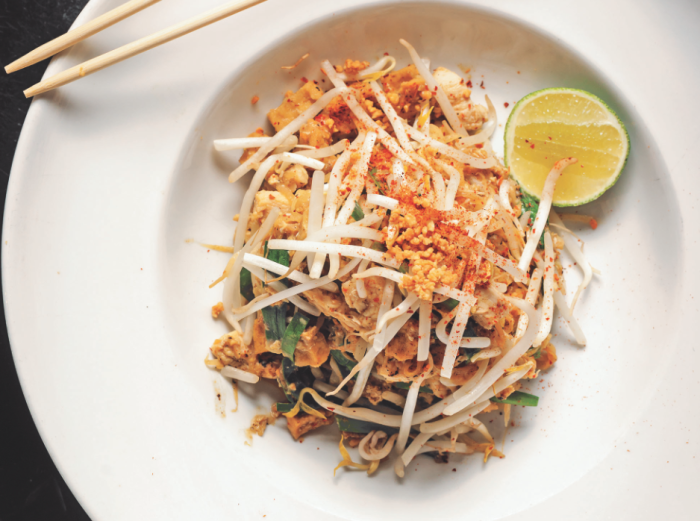 One of our favorite food books of the year is The Way We Ate, a cookbook chronicling the iconic foods of our past and present via some of the world's favorite chefs. The book's authors (and photographers) Noah Fecks and Paul Wagtouicz share a desire to re-create, cook and capture some of the best recipes of the 20th Century that they either missed the first time around, or want to relive in their own kitchens. In the book, food writers and chefs each take a year in the 20th Century and develop a recipe that pays tribute to an invention, moment in history or nugget of pop culture. Model-turned-chef Hong Thaimee loaned the authors her recipe for Thailand's signature dish, pad thai.
Struck by a wave of nationalism, Siam attempted to modernize itself by changing the name of the nation to Thailand, which literally translates to "land of the free." This new era for Southeast Asia promoted the export of its unique culture and cuisine to the United States. In the coming decades, Thai dishes would dramatically gain popularity and undergo several American makeovers and hybridizations — in some cases, with disappointing results. In this case, Hong Thaimee provides a recipe, inspired by that original excitement of the Thai people of 1939 who were eager to share their culture, history and exotic flavors with the world, in its original, flavorful form.
Check out our interview with Hong Thaimee here.
Ingredients
Sauce
1/4

cup

tamarind puree or paste

1/4

cup

palm sugar

1/4

cup

fish sauce
Pad thai
2

tablespoons

vegetable oil, plus more for grilling

1

pound

shrimp, deveined, heads removed, shells left on (6 to 8 large shrimp)

2

teaspoons

finely chopped garlic

2

teaspoons

finely chopped shallot

2

large eggs

6

ounces

rice stick noodles, hydrated in room-temperature water

1/4

cup

extra firm tofu, finely diced

1

tablespoon

pickled turnip (available at Asian specialty stores)

1/2

cup

bean sprouts

2

tablespoons

peanuts, crushed
Garnish
ground red chilies

a couple of

lime wedges

fresh banana blossom, cored (optional)
Directions
For the sauce:
Combine all of the ingredients in a bowl and stir until well combined. Set aside.
For the pad thai:
Heat a grill over medium heat until hot and coat the surface with vegetable oil. Cook the shrimp until no longer translucent, about 4 minutes. Brush lightly with the sauce. Remove from the heat and set aside.
Heat the 2 tablespoons oil in a wok medium heat and cook the garlic and shallot until the garlic is fragrant, about 1 minute (do not brown). Increase the heat to high and add the eggs. Break the yolks and stir gently, but do not scramble. Cook for 1 to 2 minutes.
Once the eggs are fully cooked, add the noodles and about 1/2 cup of sauce. Stir until the noodles are soft. Add the tofu and turnip. Mix well. Stir in the chives, bean sprouts, and peanuts, reserving some as condiments. Serve with the grilled shrimp and garnish with a sprinkling of ground chilies, a wedge of lime and fresh banana blossom, if desired.
More Thai recipes on Food Republic: