The Spicy Tip To Save Mediocre Watermelon Every Time
Watermelon is a staple in the summertime, but it's not unusual to grow weary of snacking on it during barbecues and cookouts. Luckily, the magic of the Mexican seasoning Tajín can reinvigorate your relationship to watermelon by adding a spicy, zesty flair to the typically sweet and juicy fruit. Mix in Tajín's salt with some sour notes from dehydrated lime powder, and you've got yourself a perfectly harmonious blend of diverse flavors.
Although Tajín was first created in Guadalajara in 1985 and entered the U.S. market in 1993, this spice mixture represents a flavor palate commonly found in Mexican cuisine. From chamoy sauce made from pickled fruit to the pineapple-topped spiced pork of tacos al pastor, the blend of sweet, spicy, and sour can be found all throughout Mexican kitchens. Tajín's history feels much older and more traditional than its age suggests, especially given its ubiquitous presence in both the U.S. and Mexico.
Tajín's magic touch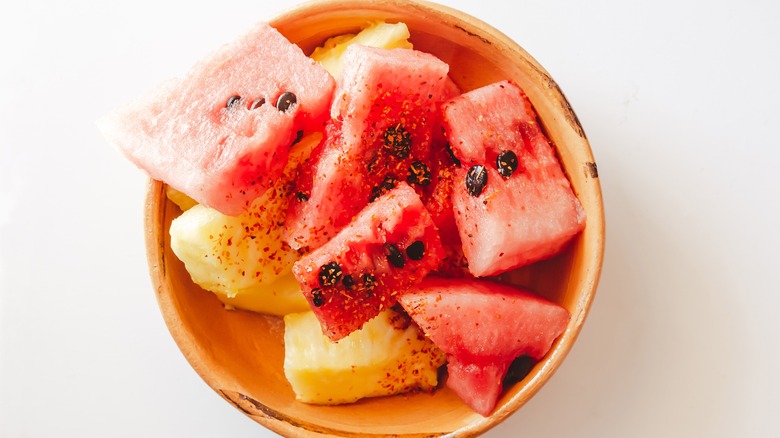 Mario Preciado/Shutterstock
You don't need to go to Mexico to try Tajín. More than 40% of the product's sales now occur north of Mexico, and there's a good chance that if you've ever visited a park in the middle of a hot summer in Los Angeles, Chicago, Houston, New York — or pretty much any other city with sizable Mexican populations — you've seen vendors with carts full of mangoes sprinkled with Tajín on top.
Finding the ingredients for this potentially life-changing snack is as simple as visiting two aisles in your local supermarket. Grab a watermelon from the produce section, and a bottle of Tajín from the spice rack or the international food area. Congratulations! You now have the only two necessities for this particular recipe. If, by chance, your local grocery store doesn't have Tajín, you might have to look for a specialty Mexican market or purchase it online. In a dire emergency, when all else fails, you can always make your own by mixing salt and chili powder together. Add some lime zest to the mixture, or just squeeze some lime on top of your watermelon.
A touch of Tajín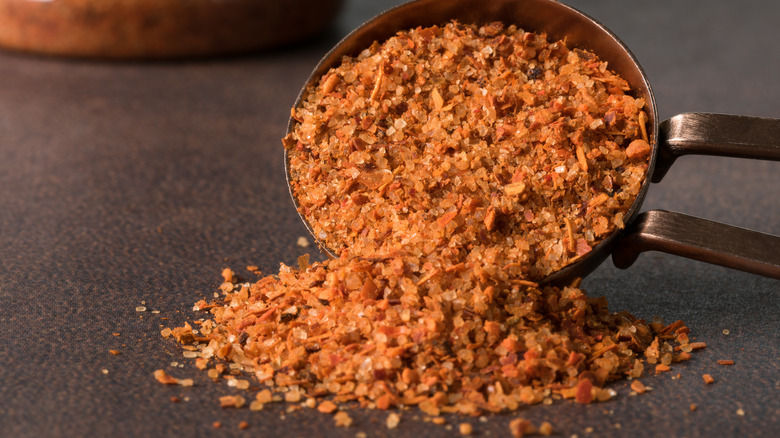 Michelle Lee Photography/Shutterstock
You don't have to stop at watermelon or even fruit when using Tajín. With consistent use, you'll soon discover a world of possibilities waiting for a tiny bit of this seasoning blend. It's a refreshing treat on cucumber, and sprinkling a bit on corn or popcorn feels like it should be the default option. If you're looking for a more savory flavor profile, Tajín also works in a multitude of dipping sauces and as a meat rub.
Of course, watermelon itself comes in many forms, too. Luckily, Tajín is versatile and tends to work well in multiple contexts. It's heavenly on top of a watermelon popsicle, and pairs wonderfully with all types of sweet frozen treats. You can transform your watermelon smoothie into a limeade and sprinkle some Tajín around the rim of the glass. For a boozier route, Tajín also works incredibly on the rim of a margarita glass, and pairs especially well with watermelon margaritas. Truly, watermelon and Tajín go together better than peanut butter and jelly.