The Absolute Best Grocery Stop For Frozen Pizza Lovers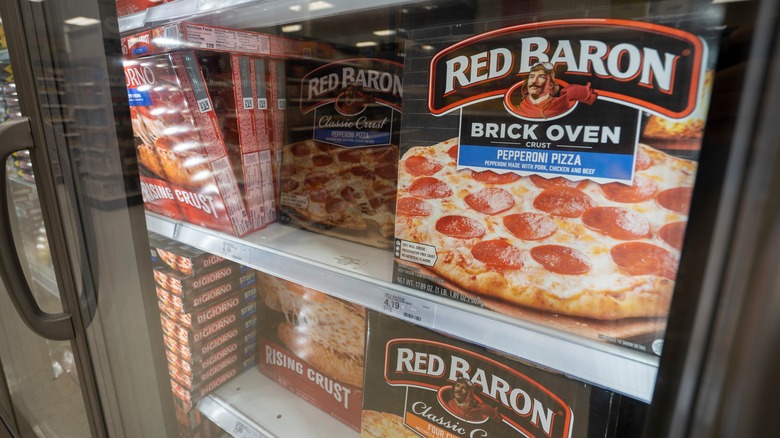 Tada Images/Shutterstock
The modern frozen pizza connoisseur is spoiled for choice thanks to products that range from meeting the basic expectations to those that come with artisanal toppings or gluten-free crusts. This means the challenge isn't necessarily finding the right frozen pizza for you, but finding the grocery store with a selection that matches the incredible variety of options on the market. Today's frozen pizza market has everything from old standbys like Tombstone and Red Baron to up-and-coming gourmet competitors like Screamin' Sicilian and Banza. One question remains: with so many choices, where can I find the best selection? 
The answer may be Target, where a given location can carry dozens of kinds of frozen pizza, as well as pizza-adjacent snacks like Totino's pizza rolls. It doesn't matter if you want something cheap, fancy, or for a special diet. Brands are continuing to innovate as frozen pizza sales grow, and Target is the best place to find some of the most interesting national brands along with some worthwhile contenders under its own private label.
Getting the basics right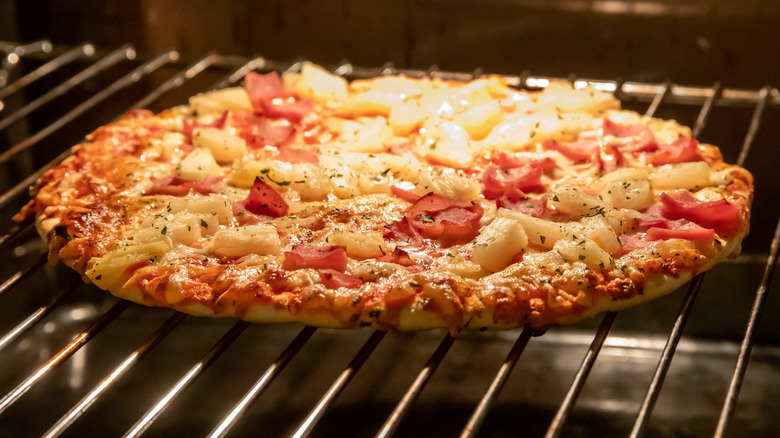 Bauwimauwi/Shutterstock
Target's in-house Good & Gather brand aims to provide products free from artificial sweeteners and flavors. The prevalence of additives in frozen pizzas can be a cause for concern, which makes Good & Gather's relatively clean labels stand out from much of the competition. The brand includes more than a dozen varieties of frozen pizza, ranging from the mundane to the exotic, which adds to the wide selection of frozen pizzas found at Target before even getting into national options.
One of Good & Gather's simplest offerings, the Four-Cheese Rising Crust Pizza, has been praised for its tasty sauce, properly gooey cheese, and solid crust. For those seeking to get a little more adventurous without straying completely off the beaten path, customers have described the Thin Crust Roasted Vegetable Pizza as having high-quality veggies and praise how the combined flavors of multiple cheeses come together to create a satisfying experience.
Gluten-free options are available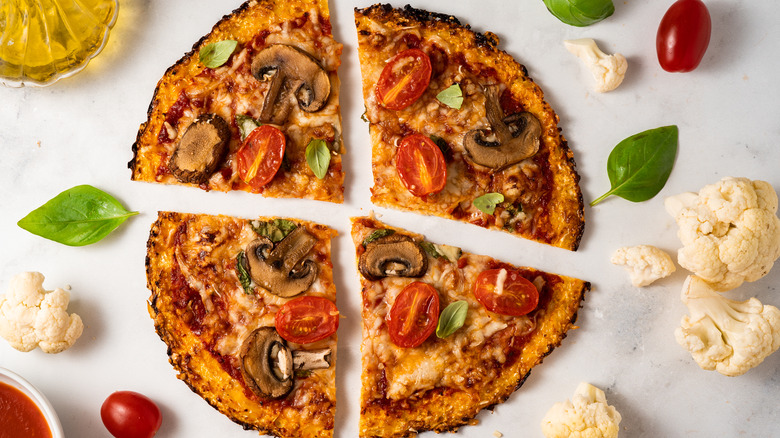 Kattecat/Shutterstock
Finding the right frozen pizza can be a challenge for those with dietary restrictions, particularly those looking to keep gluten-free. However, finding cauliflower crust pizza can be as easy as checking out Target's freezer department. These products won't be in every grocery store freezer, but Target carries a good selection that can help ensure everyone can have pizza for dinner.
One example is Caulipower, which makes frozen pizzas with crusts that mimic their flour-based cousins. As a result, the brand is a great alternative for those cutting wheat out of their diets but who miss the crunch and chewiness of a great New York slice. Another somewhat hard-to-find brand carried by Target is Banza, which uses chickpea flour as the basis for its crust. Some customers find that chickpeas are a better substitute for flour than cauliflower, with a closer match in terms of taste as well as texture, which can be all you need for a satisfying meal.