Grilled Chilean Sea Bass With Garlic Butter Recipe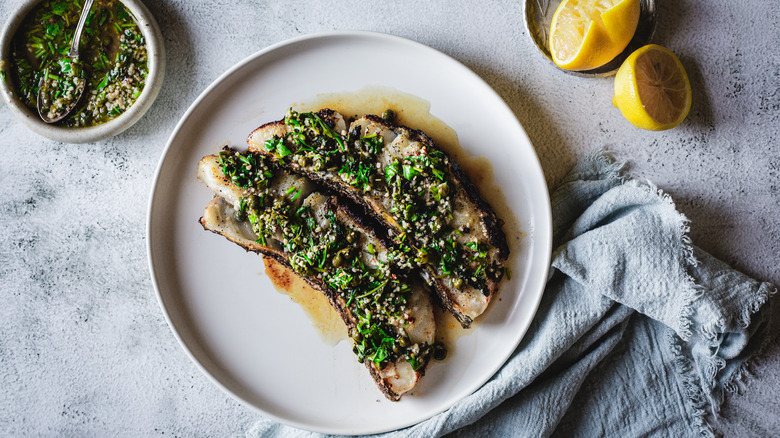 Ksenia Prints/Food Republic
Meet your new favorite recipe for grilled Chilean sea bass, paired with a garlic butter sauce for a dish that seamlessly blends classic flavors with contemporary cooking techniques. According to recipe developer Ksenia Prints of At the Immigrant's Table, this dish preserves the meaty, toothsome texture of Chilean sea bass and enhances its flavor with a zesty, tangy topping made with fragrant capers, parsley, and lemon.
Chilean sea bass, scientifically known as Patagonian toothfish, is one of the most prized fish varieties thanks to its luscious texture that flakes perfectly when met with heat, not to mention a mild flavor that pairs well with whatever sauce you top it with. Though this grilled bass recipe comes together in about 20 minutes, its flavors are elegant and could hold their own in any French restaurant. Filling, flavorful, and unique enough to serve for any date night or special occasion, this is the dish worth making a trip to your fishmonger for.
Gather the ingredients for this Chilean sea bass recipe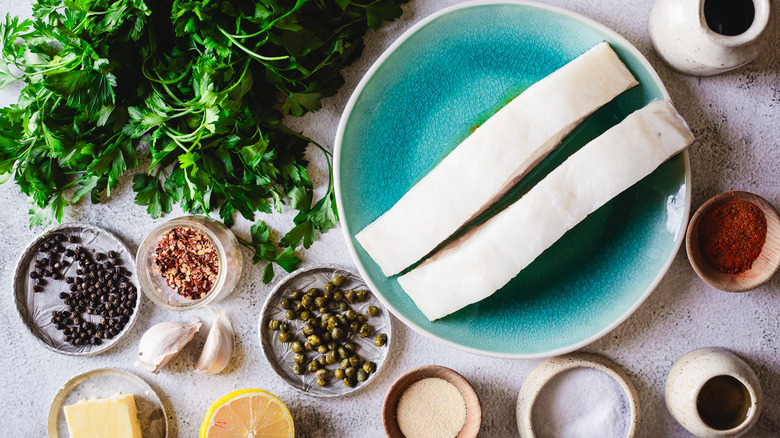 Ksenia Prints/Food Republic
To find the highest quality Chilean sea bass, visit the fishmonger at your favorite market. As for the seasonings, you may already have many of them on hand, including olive oil, kosher salt, garlic powder, smoked paprika, and black pepper.
The luscious garlic butter sauce comes together with unsalted butter, minced garlic, white wine vinegar, and zesty lemon juice and capers. A finishing touch of freshness is added through finely chopped parsley and lemon zest, enhancing both flavor and presentation.
Prep and season the fish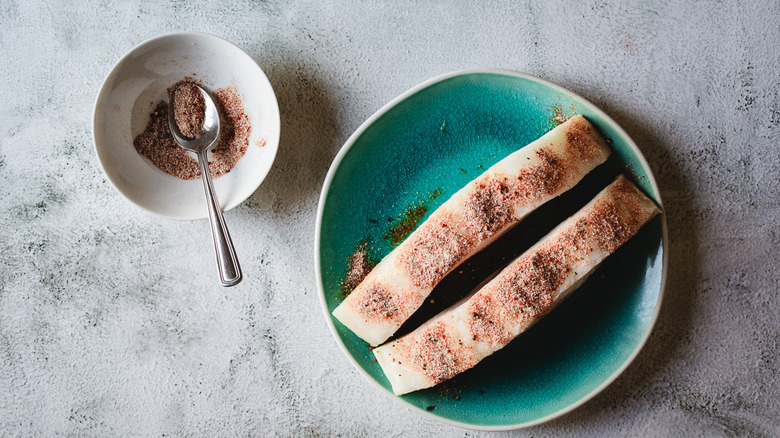 Ksenia Prints/Food Republic
Before cooking, ensure your fish is dry by gently patting it with paper towels — a crucial step for achieving crispy skin. And to prevent curling during cooking, make small criss-cross cuts on the skin side of the fish.
Now for the flavoring. Brush the fish on both sides with a touch of olive oil, then mix together a simple spice rub by combining garlic powder, paprika, salt, and pepper in a bowl. Season the fish thoroughly so it tastes on a nice, flavorful crust.
Grill the sea bass fillets
Ksenia Prints/Food Republic
Heat up your grill to a medium-high setting — or, if you don't have a grill, place a cast iron pan over medium-high heat on the stovetop. Using cast iron cookware ensures uniform cooking, leading to a satisfyingly seared fish most similar to one cooked directly on the grill.
Place the seasoned fish onto the grates or into the preheated pan, skin side-up, and allow it to cook without moving it for 7 minutes. This initial contact with the heat creates a delicious sear on the flesh, which otherwise can seem quite white and pale and has a tendency to flake apart. Flip the fish and continue cooking for an additional 7 minutes to crisp up the skin.
Make the garlic butter sauce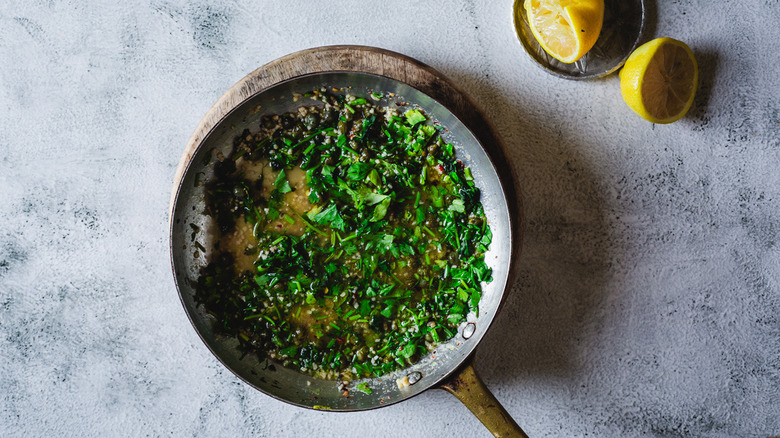 While the fish cooks, craft the garlic sauce by melting the butter in another pan and adding another spoonful of olive oil, minced garlic, white wine vinegar, red pepper flakes, lemon juice and zest, capers, salt, and pepper. Once the butter has fully melted and all the ingredients are combined, remove the sauce from the heat. This gently warms up the sauce and binds it into a cohesive, emulsified mixture without destroying any delicate flavor components. When the fish is almost done cooking, add the chopped parsley to the pan with the sauce, and set aside.
Sauce up your sea bass and serve it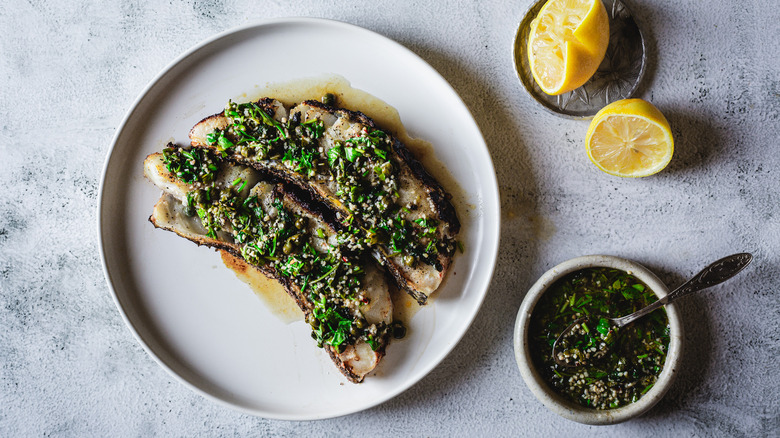 Ksenia Prints/Food Republic
Now that your sauce and fish are both perfectly cooked, hurry up and serve them! Transfer the sea bass fillets to a plate, and top with a few generous spoonfuls of the savory garlic sauce. Accompany each fillet with a wedge of lemon for those who want an even stronger lemony taste.
Grilled Chilean sea bass pairs well with risotto, mashed potatoes, and a nice chilled glass of crisp white wine. If any leftovers remain, store them in an airtight container in the refrigerator. Kept snugly under the remaining sauce, the fish will keep fresh for 3-4 days.
Grilled Chilean Sea Bass With Garlic Butter Recipe
Got your hands on some great Chilean sea bass fillets? Put them to good use with this grilled fish and garlic butter dish.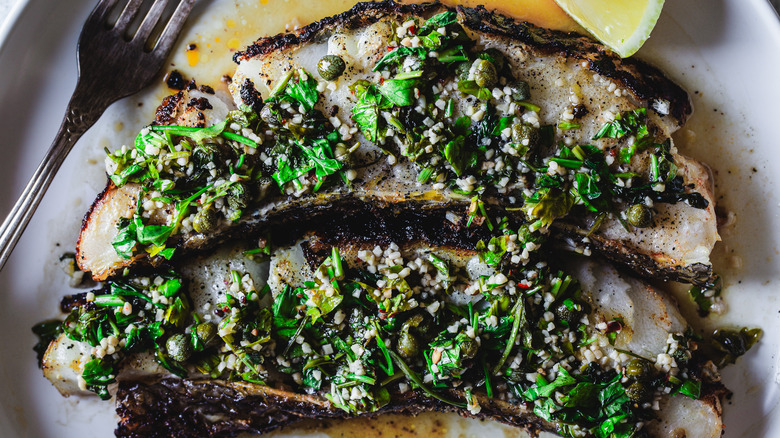 Ingredients
2 Chilean sea bass fillets
2 tablespoons olive oil, divided
1 teaspoon kosher salt
1 teaspoon garlic powder
1 teaspoon smoked paprika
1 ½ teaspoons cracked black pepper, divided
3 tablespoons unsalted butter
3 garlic cloves, minced
1 tablespoon white wine vinegar
½ teaspoon red pepper flakes
1 teaspoon fresh lemon juice
Zest from ½ lemon
1 tablespoon capers
¼ cup finely chopped fresh parsley
Directions
Pat the fish dry and make small criss-cross cuts on the skin to prevent it from curling up during cooking. Brush the fish all over with 1 tablespoon of olive oil.
Combine the kosher salt, garlic powder, paprika, and ½ teaspoon pepper in a small bowl. Season the fish with the spice mixture.
Heat the grill (or a cast iron pan on the stovetop) over medium-high heat.
Place fish on the grill skin side-up and cook for 7 minutes. Flip the fish onto the other side and cook for 7 more minutes.
While the fish cooks, make the sauce: Melt the butter in another pan, and add the remaining black pepper, garlic, white wine vinegar, red pepper flakes, lemon juice and zest, and capers. Cook for 2 minutes, then remove from the heat.
Mix the parsley into the sauce, then allow the flavors to meld at room temperature for at least 2 minutes.
When done, remove the fish from the heat. Transfer fillets to a plate, skin side-down, and top generously with the garlic sauce. Serve immediately with additional lemon wedges.
Nutrition
| | |
| --- | --- |
| Calories per Serving | 430 |
| Total Fat | 33.8 g |
| Saturated Fat | 13.4 g |
| Trans Fat | 0.0 g |
| Cholesterol | 98.7 mg |
| | |
| --- | --- |
| Total Carbohydrates | 7.6 g |
| Dietary Fiber | 2.2 g |
| Total Sugars | 1.0 g |
| Sodium | 502.7 mg |
| Protein | 25.4 g |