Nestlé Recalls Cookie Dough For Possible Wood Contamination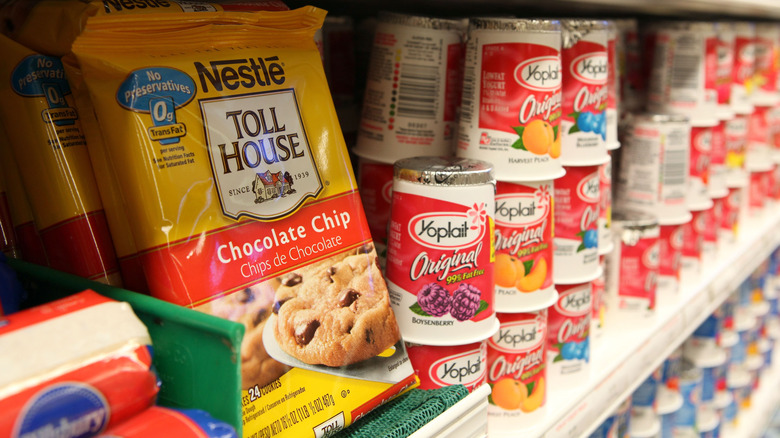 Justin Sullivan/Getty Images
Your favorite chocolate chip cookie dough may contain an unwanted extra ingredient: wood pieces. On August 10, Nestlé USA announced a recall of select batches of its "break and bake" Nestlé Toll House Chocolate Chip Cookie Dough due to a "potential presence of wood fragments," per FDA.
The voluntary recall extends to only two batches of the 16.5-ounce packages of cookie dough, which were produced on April 24 and April 25, 2023, and distributed by U.S.-based retailers, according to a press release issued on August 11 by the Food and Drug Administration.
The batch numbers of the recalled cookie dough bars are 311457531K and 311557534K and feature respective best-by dates of August 22, 2023, and October 23, 2023. Per the release, the recall does not currently include any other Nestlé Toll House products, such as the company's other refrigerated cookie dough varieties that are available in roll, tub, or "break and bake" bar forms.
What to do if you bought the recalled product
This isn't the first time that Nestlé has had to recall its popular cookie batter. In November 2022, the global food and beverage giant issued a similar voluntary recall due to potential contamination of soft plastic film, which extended to three batches of its Edible Chocolate Chip Cookie Dough tubs.
In regards to its present recall, Nestlé USA was first made aware of the foreign wood materials after being contacted by a few customers, according to the public service announcement. It's still unclear how the wood pieces wound up in the cookie dough in the first place; however, no illnesses or injuries stemming from the contaminated cookie dough bars have yet been reported as of the day the press release was issued.
Those who purchased the recently recalled dough bars are advised not to eat them and should instead return them to the place they were purchased to be exchanged or refunded. If you have any further questions, you can contact Nestlé directly at (800) 681-1678.