Alton Brown's Rice Krispie Treat Riff Doubles The Marshmallows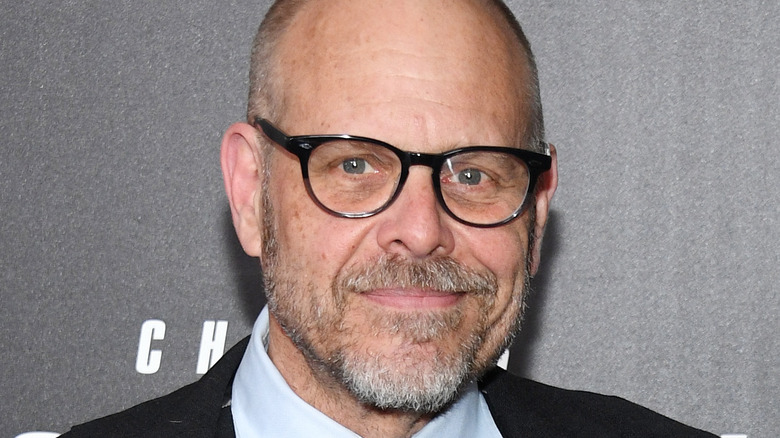 Dimitrios Kambouris/Getty Images
Leave it to Alton Brown to level up a classic treat in the best possible way. The culinary personality is known to whip up some delectable desserts, from peanut butter fudge he makes in the microwave to a giant party-sized Baked Alaska, with his recipes always seeming to have a special secret or incredible twist.
So, it should come as no surprise that Brown's version of Rice Krispie Treats takes the quintessential, classic ingredients up a notch. What's different about Brown's riff on the childhood favorite? His Browned Butter Krispy Rice Treats not only call for some extra toasting, but also for an extra bag of marshmallows.
As he blatantly put it in an episode of Pantry Raid, "Can I do this with one [bag]? Yes. But why would you send one bag of marshmallows if you could send two?" He has a point ... some extra-gooey Rice Krispie Treats never hurt anyone, right?
How to make Alton Brown's version of Rice Krispie Treats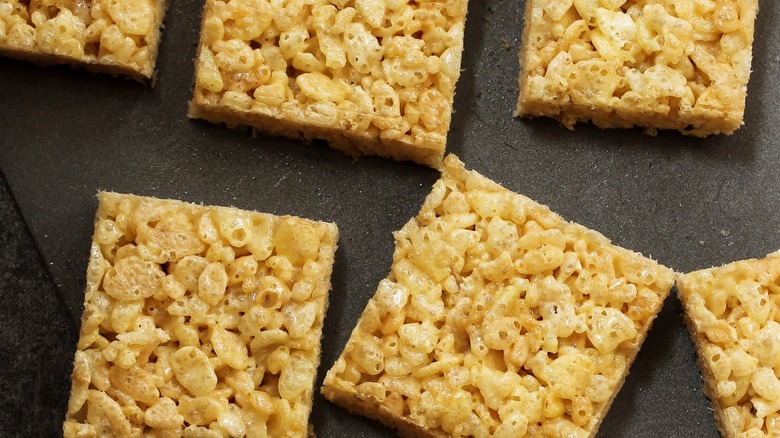 vm2002/Shutterstock
Alton Brown's recipe for Browned Butter Krispy Rice Treats calls for all the classics ingredients: one 18-ounce bag of Rice Krispies, eight tablespoons of butter, a couple pinches of salt, and — not one, but two — 10-ounce bags of mini marshmallows for extra gooey goodness.
To make his gourmet version of Rice Krispie Treats, Brown first toasts the cereal in a large wok until it turns a darker shade of brown. Then, he browns the butter, getting the fatty Kerrygold spread dark, toasty, and foamy to amp up the flavor and dimension even more. Next, he adds a bit of salt and then dumps in both bags of marshmallows into the melted butter, stirring until it creates one thick, gooey mixture.
The last step is stirring in the toasted Rice Krispies, while keeping the heat on, until everything is evenly mixed and stuck together. Then, in true Alton Brown form, he finishes things off with a clever hack — molding the mound of Rice Krispie Treats back into the original cereal box.
Tips and tricks for making gourmet Rice Krispie Treats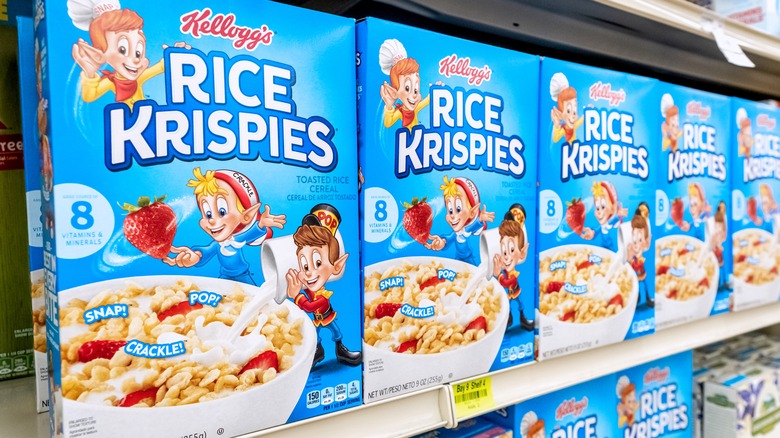 calimedia/Shutterstock
Alton Brown shares a few pointers for Rice Krispie Treats in his recipe instructional, and they're worth keeping in mind if you find yourself making these treats in your own kitchen. First off, he's very specific about brand names for this recipe. Brown implores you to stick with Rice Krispies brand cereal, Jet-Puffed brand marshmallows, and Kerrygold brand butter to class things up — stating in the episode of Pantry Raid that "it is going to make all the difference in the world."
When it comes to browning the butter, he says it can be a tricky process because you don't want to burn it. Brown notes that, if you're using a dark pan, you can check for the colors by dipping a spoon into the butter and getting a good look at it as it drips.
Lastly, if you're using Brown's somewhat sneaky container method (which he once used to hide the treats from his mom as a kid), you'll want to leave the plastic bag inside the original cereal box and be sure to spray the inside of it with cooking spray before packing in the gooey dessert so it doesn't stick to the sides and you can enjoy every last tasty bit.