Vizzy Hard Seltzer Partners With Hardscoop To Create A Boozy Orange Cream Pop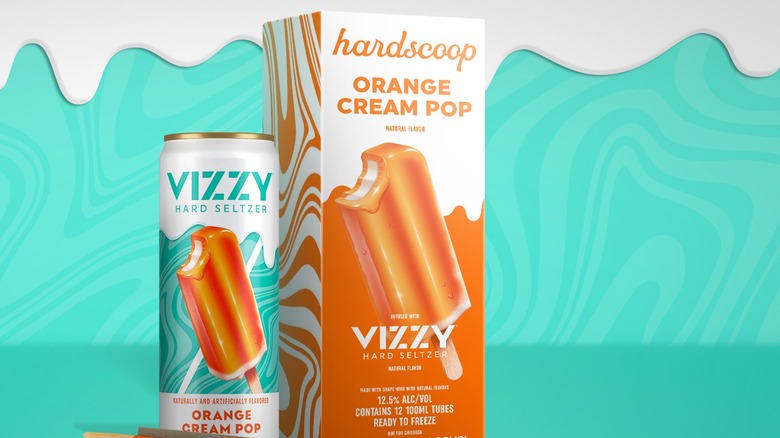 Vizzy Hard Seltzer
Just in time for National Creamsicle Day on August 14, 2023, limited-edition Hardscoop Orange Cream Pops will be hitting shelves. The new orange-and-vanilla popsicle is a collaboration between Vizzy Hard Seltzer and alcohol-infused ice cream maker Hardscoop that brings back the nostalgia of childhood summers as a grown-up treat.
The sweet dairy-based dessert combines Vizzy's Orange Cream Pop Hard Seltzer with Hardscoop's artisanal ice cream base to create a gourmet popsicle that has 12.5% alcohol by volume. Hardscoop Orange Cream Pops are packaged in 100-ml tubes and come in 12 to a box, which can be ordered for a limited time at Hardscoop's official website, beginning August 14. Unlike the company's alcohol-infused pints of ice cream that arrive frozen, these popsicles ship as a room temperature liquid and require at least eight hours to freeze.
Due to state liquor regulations, Hardscoop can ship directly to consumers in only 43 states and Washington D.C. (though not to Alabama, Mississippi, Utah, Arizona, Rhode Island, Alaska, and Hawaii) and the company cannot deliver to P.O. Boxes. Someone over 21 years of age must sign for the delivery as well. Hardscoop offers two-day shipping for orders made on Mondays and Tuesdays, so deliveries should arrive Wednesday through Friday, just in time for weekend fun.
Hardscoop has other boozy treats for summer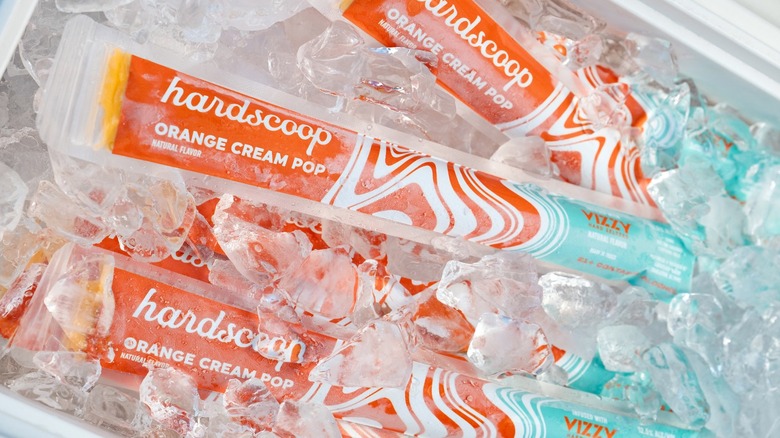 Vizzy Hard Seltzer
Since 2017, Hardscoop has offered spiked ice creams and sorbets using house-made neutral grain spirits from its South Carolina distillery. Its current line has 12 flavors, including traditional options like Madagascar vanilla, chocolate, and cold brew coffee, with seasonal rotations added in, like pumpkin spice, eggnog, and its newest limited batch flavor, Bourbon Apple Cider. Each ranges between 8% to 10.5% ABV. 
The collaboration with Vizzy Hard Seltzer is the newest collaboration for the brand, but not the first. The company‌ also recently teamed up with Pusser's Rum to produce an award-winning tropical cocktail, the classic Painkiller, expanding into the canned ready-to-drink beverage market. Channeling a rock and roll vibe, the brand also worked with music act Doom Flamingo for the Doom Flamingo Wildberry Sorbet. The dairy and gluten-free pint is made of strawberries, blueberries, and blackberries and has 9% ABV.
President of Hardscoop Jason Kirby, said in a press release, "At Hardscoop, we're always looking to create boozy treats that utilize cutting-edge formulas and flavor profiles." He also added that Hardscoop Orange Cream Pop utilizes a dairy-based alcohol formula for the first time ever. If you live in the Carolinas, you can try Hardscoop alcohol ice cream and sorbet at the distillery or in retail outlets throughout the two states, including Piggly Wiggly, Cost Plus World Market, and Total Wine & More.