8 Best Gourmet Popsicles In America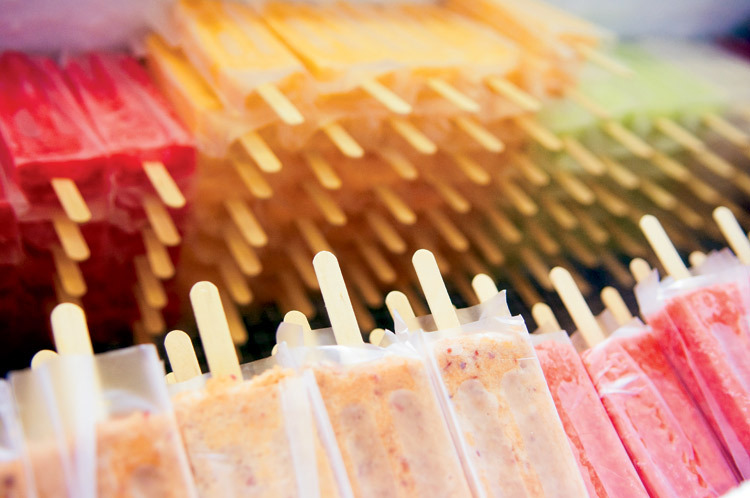 It's July. You don't need a degree in meteorology – is that a thing? – to know that it's hot out there. Thankfully, one of this summer's hottest trends is as cold as ice. At farm stands, food trucks and specialty shops around the country, popsicles are getting the gourmet treatment with farm-fresh ingredients, exotic spice blends and boozy infusions. From frozen lime-lemongrass blends at North Carolina's LocoPops, to innovative poptails and dreams at a new Cincinnati rooftop bar, the proof is in the popsicle. Here are eight places to savor the sweetest tastes of summer.
1. Watermelon Patch: The Neapolitan
Nothing is as it seems at Las Vegas' quirky-cool Cosmopolitan hotel. Take the Watermelon Patch popsicle, a seemingly innocent frozen treat sold at the poolside Neapolitan bar. Made with tequila, chopped cucumber, watermelon and chili salt, it's an unexpected entrée to the brave, boozy world of adults-only ice pops. 3708 South Las Vegas Blvd, Las Vegas, NV.
2. Lime Lemongrass: LocoPops
Straight outta Carolina, this Triangle-area all-star has three locations in the Raleigh-Durham region. Popsicles are made onsite using locally sourced, seasonal ingredients like fresh lime juice coupled with a subtle hint of lemongrass. For icy enthusiasts on four legs, LocoPops also prepares cat- and dog-friendly PetPops from organic beef and chicken broth. 2600 Hillsborough Road, Durham, NC. 919-286-3500
3. Tamarind Chili: Las Paletas Gourmet Popsicles
This Nashville sweets shack has been putting out the sweet stuff since 2002. Sisters Irma and Norma Paz create fruit-forward, Mexican-style pops made from creamy avocado and crisp, fresh honeydew. Those with a taste for danger should try the tamarind chili paletas, spiked with hot and heady Mexican capsicum. 2905 12th Avenue South, Nashville, TN. 615-386-2101
4. Champagne Elderflower: Lucy Restaurant and Bar
The adorably named "boozicles" at this chic Napa Valley resort pair Northern California produce with some of the best stuff that bars are made of. Flavors like Blackberry Mojito and Orange Aperol do not disappoint, but the Champagne Elderflower pop has a fruity, frothy effervescence, perfect for toasting the season. The Bardessano, 6526 Yount St., Yountville, CA. 707-204-6000
5. Key Lime Pie: King of Pops
Atlantans Nick and Steven Carse founded this icy operation after taking a paletas-enriched trip through Central America. Their Poncey-Highland street cart spawned an Atlanta storefront, and the brothers now operate pop shops in Charleston, Athens, Charlotte, Chattanooga and Richmond. The seasonal selection ranges from spring's Tangerine Basil to Caramel Apple in the fall, but a year-round favorite at the Atlanta flagship is the tangy, creamy Key Lime Pie. 1079 North Avenue NE, Atlanta, GA. 404-507-6774
6. Chongos: Pleasant Pops
The frozen wares at these roving food trucks and farmers' market stands are so successful, the company opened a brick-and-mortar café in Adams Morgan last September. Flavors alternate, and often include the insanely delicious Chongos, after the Mexican dessert made with sweetened cream and cinnamon.  Mount Pleasant Farmers' Market, 17th and Lamont NW, Washington DC; Dupont Circle Farmers' Market, 20th and Q St. NW, Washington DC; Foggy Bottom Farmers' Market, 24th and I St. NW, Washington DC; White House Farmers' Market, Vermont and I St. NW, Washington DC
7. Strawberry-Mint-Bourbon, Metropole
This summer, downtown Cincinnati's 21st Century Museum Hotel opened Metropole, a sleek rooftop bar. Metropole's coolest creations are its poptails: fruity, flavored ice pops designed to melt into accompanying cocktails. Grab a Strawberry-Mint, served in a chilled glass of Old Forester Bourbon, and get ready to melt the night away. 21st Century Museum Hotel, 609 Walnut St., Cincinnati, OH. 513-578-6600
8. Campari Cantaloupe: People's Pops
When three Brooklyn friends launched a one-day popsicle pop-up in 2008, they had no idea their frozen treats would launch a revolution. The icy innovators now have multiple locations across New York, package their pops for a wide range of retailers and restaurants and recently published a cookbook. Their Campari Cantaloupe pop, made with ripe melons from New York City's greenmarket, is a spirited summertime crowd-pleaser. Check the recipe below, and get ready to get iced. 808 Union St., Brooklyn, NY; 425 West 15th St., New York, NY; The High Line, 16th St. and 10th Ave., New York, NY; 118 1st Ave., New York, NY. 347-850-2388
The nice people at People's Pops have shared their recipe with us.
People's Pops' Campari Cantaloupe Ice Pop
Ingredients:
One cantaloupe, about 2 lbs., peeled and seeded
3/4 cup (6 fl. oz.) simple syrup (1:1), cooled
1/4 cup (2 fl. oz.) Campari
Equipment:
Food processor
Ice pop molds
Wooden sticks
Method:
Cut the cantaloupe into large chunks and purée in 
a food processor. You should have about 21/4 cups 
(18 fl. oz.) of purée.
Transfer the puréed cantaloupe to a bowl, and stir in the simple syrup.
Slowly pour in the Campari, dribbling in a tablespoon at a time. Campari is less alcoholic than many spirits, so this mixture can handle it, but its strong flavor requires a slow-but-steady hand.
Stir the mixture until uniform, then pour into ice pop molds. Leave a small amount of space at the top, as the liquid will expand as it freezes. Insert sticks, and freeze until solid, 4 to 5 hours. Unmold and transfer to plastic bags for storage or serve at once.
Makes 10 pops.