TikTok's Creamy Cookies Are The Best Way To Showcase Fresh Peaches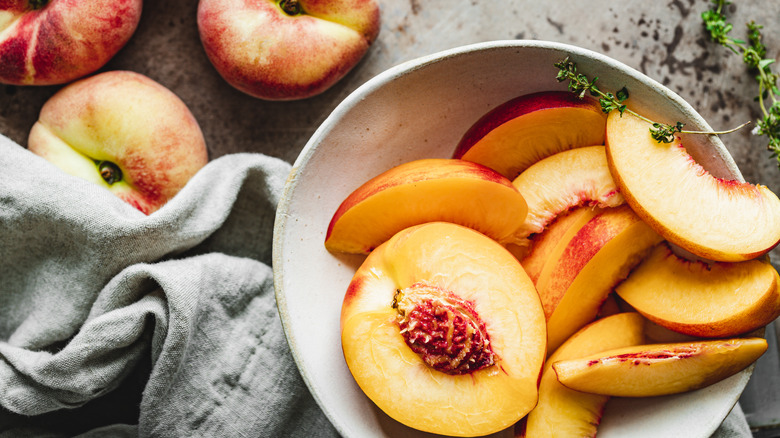 Alvarez/Getty Images
Summertime may revolve around beaches and pools, but for food enthusiasts, it's the prime time to hit up farmers markets to get in on all of that fresh summer produce. Veggies like tomatoes, zucchini, cucumbers, and corn take center stage this time of year, but it's also peak time for peaches. Of course, there are plenty of peachy recipes you can whip up, from peach pie and peach cobbler to peachy cheesecake or grilled peaches, but if you're looking for a handheld way to enjoy some sweet, peachy goodness (other than just biting into the fresh fruit), chilled peach pie cookies may be just what you're looking for.
In a recent TikTok post, food blogger Mallory Oniki of The Palatable Life shared her recipe for what she claims are the best cookies she's ever made. The sweet concoction, inspired by Netflix's Ginny & Georgia, starts with a cinnamon oatmeal cookie as its base, but it's the topping that makes these cookies special. The cookies are first smeared with a silky smooth Greek yogurt-based frosting that's sweetened with powdered sugar and peach juice. Then, they're topped with sliced fresh peaches and a light dusting of cinnamon.
Pick the perfect peach for the job
Since peaches are the star of the show on top of these cookies, you'll want to find the freshest, most vibrant, and juicy ones. To choose the tastiest peaches at your farmers market or grocery store, you'll want to inspect their color and aroma as well as their firmness.
Ripe peaches should be yellow with no hint of green remaining. They should also be fragrant and slightly soft. If you run into a batch of peaches that aren't quite ripe yet, it's not time to worry — you can take the fruit home and allow it to slowly ripen at room temperature. Or, for a quicker ripening process, pop the peaches into a brown paper bag, either on their own or with a banana or an apple.
You don't need a lot of peach juice to infuse peach flavor into the frosting, so you can use a juicer to quickly make the peach juice if you have one. If not, you can use a blender or food processor, adding water until you reach the desired consistency. Making the juice yourself is likely the best bet since peach juice without added ingredients (like sugar or other fruit) can be a challenge to find. If you're not eating these cookies right away, it's best to add the peaches at the last minute so they don't dry out or make the cookie soggy in the fridge; we wouldn't want all of your hard work to go to waste!