Peach-Bourbon Cheesecake Recipe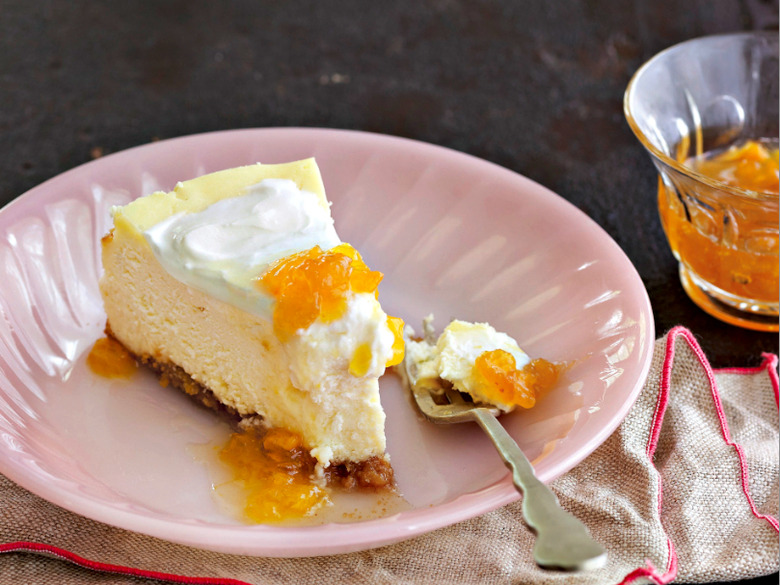 Nobody knows jam, preserves and chutney quite like Southerners do, which is why we were so happy to get our hands on Southern Living magazine's new cookbook, Little Jars, Big Flavors. This little book has over a hundred big recipes for preserving all of spring and summer's sweet and savory bounty, plus ideas on how to serve them. The bourbon-peach jam is the perfect accompaniment to a classic, creamy cheesecake, and you'll have plenty leftover, which will keep up to a week in the fridge. You're welcome.
Peach-Bourbon Cheesecake Recipe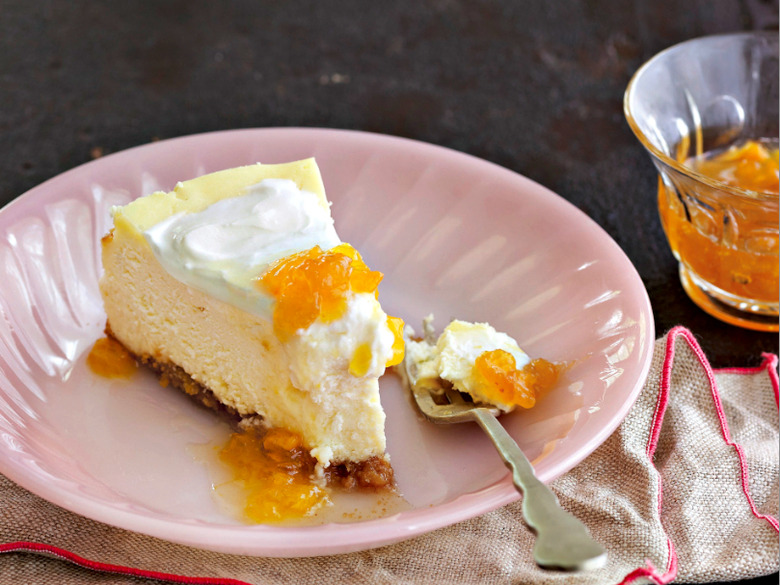 Ingredients
1 cup graham cracker crumbs
3 tablespoons melted butter
1 cup plus 2 tablespoons sugar
3 tablespoons all-purpose flour
4 8-ounce packages cream cheese
2 tablespoons bourbon
1 teaspoon almond extract
1 1/4 cups sour cream
4 large eggs
1/2 cup plus 2 teaspoons peach-bourbon jam
4 pounds peaches
7 cups sugar
1/4 cup lemon juice
1/4 cup bourbon
2 tablespoons crystalized ginger
1 3-ounce package liquid pectin
Directions
Peel peaches with a vegetable peeler, pit, and coarsely chop.
Measure 4 cups of chopped peaches into a 6-quart stainless steel or enameled Dutch oven, and mash with a potato masher until evenly crushed. Stir in sugar and next 3 ingredients.
Bring mixture to a rolling boil; boil 1 minute, stirring constantly.
Remove from heat. Stir in pectin. Let foam settle (about 1 minute). Skim off and discard any foam.
Preheat oven to 325. Stir together graham cracker crumbs, butter, and 2 Tbsp. sugar until crumbs are moistened; press mixture on bottom of a lightly greased 9-inch springform pan.
Bake at 325 for 10 minutes. Cool on a wire rack. Reduce oven temperature to 300.
Beat 1 cup sugar, flour, and cream cheese at medium speed with an electric mixer until smooth. Add bourbon and almond extract, beating just until blended. Add 3/4 cup sour cream, beating just until blended.
Add eggs, 1 at a time, beating at low speed just until blended after each addition. (Do not overbeat.)
Dot crust with spoonfuls of ½ cup of the jam. (Do not spread.) Pour batter over jam. Bake at 300 for 1 hour, 45 minutes or until cheesecake center barely moves when pan is touched.
Turn oven off. Remove cheesecake; run a knife around outside edge of cheesecake to loosen from pan.
Return cheesecake to oven, and partially open oven door. Cool cheesecake 1 hour in oven. Remove from oven; cool completely on a wire rack
Cover and chill 8 to 24 hours.
Remove sides of pan. Spread remaining ½ cup sour cream over top of cheesecake; spoon 2 tablespoons jam in center of sour cream.