Ina Garten's Oven-Baked Pancakes Are Actually Genius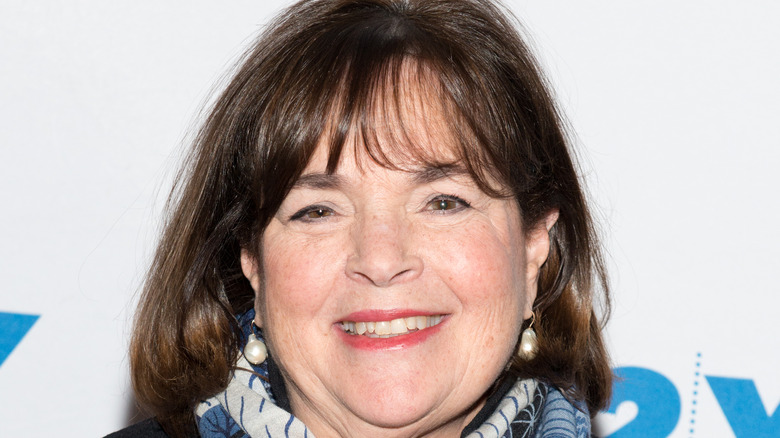 Noam Galai/Getty Images
If the idea of standing over a hot stove forever babysitting pancakes doesn't sound appealing, turn to Ina Garten's trick for oven-baking flapjacks to make the process less labor-intensive. 
As she explained in a "Cooking with Friends" episode on her Food Network show, "Barefoot Contessa: Modern Comfort Food," her genius method avoids making pancakes one at a time using the traditional go-to method of a skillet or griddle. Rather, by turning to the oven, it's an easy alternative that lets you step away from the stove altogether and concentrate on any remaining meal prep or other morning tasks.
This time-saving trick is great for busy parents who still want to give their kids home-cooked meals during the week, busy hosts in need of quick yet impressive dishes to present guests at Sunday brunch, or anyone that doesn't wake up bright-eyed and raring to whip up a multi-course morning meal. Although you can use this option for any recipe to make perfect pancakes, Garten's tri-berry take sounds delectable.
Ina Garten often uses her oven to make things easier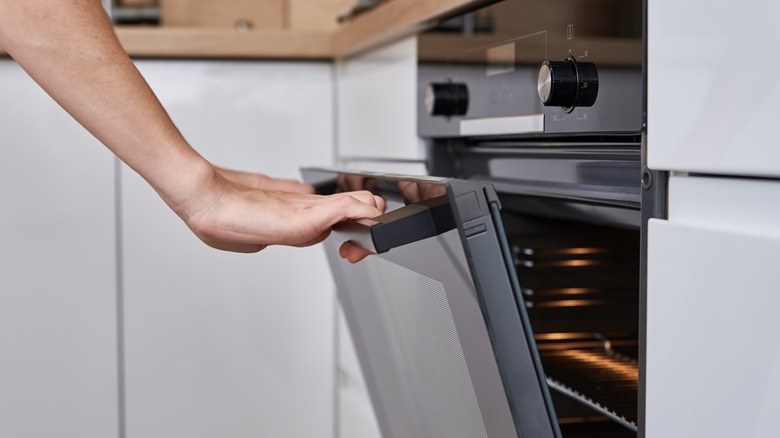 Lazy_Bear/Shutterstock
Ina Garten often relies on her oven to do the heavy lifting when planning out many of her cooking endeavors. In an interview with Food & Wine, Garten explained that she always includes an oven-baked dish when planning menus because the appliance basically does the work for her, allowing the chef to "forget about it" while prepping the rest of the meal.
When it comes to her pancake hack, there's also the convenience factor. Unlike a skillet or griddle, which only has room for a few pancakes at once, an oven offers ample space to bake far more flapjacks. Plus, stovetop pans only heat food one side at a time, whereas an oven can cook all sides of a dish simultaneously thanks to the top and bottom heating elements. 
Because of this, it's important to follow Garten's lead and preheat the appliance, which is essential to the success of these popover-style pancakes, states King Arthur Baking Company, as they need high temperatures on every side to ensure the water trapped in the batter turns to steam, making the pancakes rise, or "pop over."
Oven-baked pancakes are easy to make yet look decadent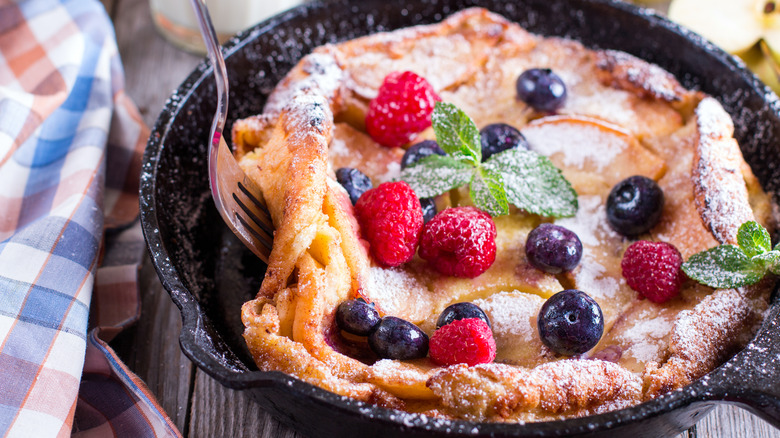 Ahanov Michael/Shutterstock
Beyond just the oven component, other parts of Ina Garten's tri-berry, oven-baked pancake recipe are great examples of multi-tasking done right (after all, she's a fan of quick and straightforward recipes). Because the fresh berries need time to macerate, she preps them first and lets the sugar work its osmosis magic while she continues to cook. Warming up buttered gratin dishes in the preheated oven while her mixer whirs away also saves time and promises piping hot plates that are ready in time for her to pour the batter over.
Plus, most of the items on the recipe's ingredient list are easy-to-find pantry and refrigerator staples. And Garten doesn't need to rely on outlandish kitchen appliances or gadgets to get the job done — just her trusty stand mixer, oven, and other common cooking tools. This means you probably have everything you need to make these oven-baked pancakes in your kitchen right now, allowing you to create the show-stopping dish that Garten describes as "delicious and dramatic."