Baked Jumbo Lump Crab Cake Recipe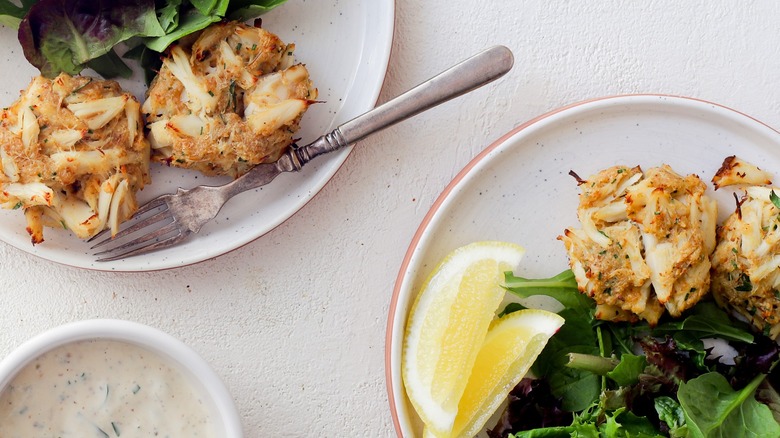 Taylor Murray/Food Republic
A baked jumbo lump crab cake is a classic, delectable recipe, appreciated by gourmands for its rich flavor and luxurious texture. This recipe not only provides a mouthwatering seafood experience but also serves as an economical approach to savoring pricey jumbo lump crab meat. 
Crab cakes are a celebrated tradition on the American East Coast, specifically in Maryland, where blue crabs are plentiful. This recipe pays homage to the region by maintaining simplicity and highlighting the crab's natural, sweet flavor. The light baking process used here offers a healthier alternative to the often deep-fried versions. A plate of these golden, crisp cakes, packed with juicy crab, is an easy yet luxurious way to stretch a gourmet ingredient, bringing a taste of East Coast tradition right to your table. 
Recipe developer Taylor Murray takes us through the process, which is simple enough to throw together for a quick lunch or dinner. 
Gather the ingredients for baked jumbo lump crab cakes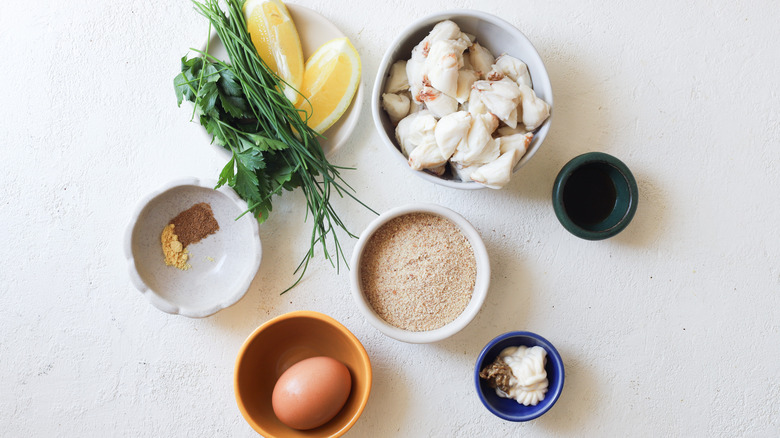 Taylor Murray/Food Republic
Jumbo Lump Crab Meat comes from the two largest lumps of unbroken muscle connected to the swimming fins of the crab. It's renowned for its impressive size, bright white color, and very delicate, sweet flavor. When you're making a dish where the crab is the star, such as crab cakes or a crab salad, jumbo lump is often the preferred choice due to its visual appeal and tender texture. Lump crab meat (not jumbo) is a slightly lesser quality and often comes at a lower price point. This will also work for this recipe if jumbo lump crab meat can't be found.
The other ingredients in a crab cake are relatively straightforward. The bulk of the mix (aside from the crab) will be a mixture of breadcrumbs and egg. Just like in a classic meatball recipe, these two ingredients combine to form a paste that holds everything together. Mayonnaise and mustard add moisture and flavor, along with the spices and fresh herbs. Crab cakes are often served with fresh lemon, and if you so desire, some tartar sauce. 
Mix the base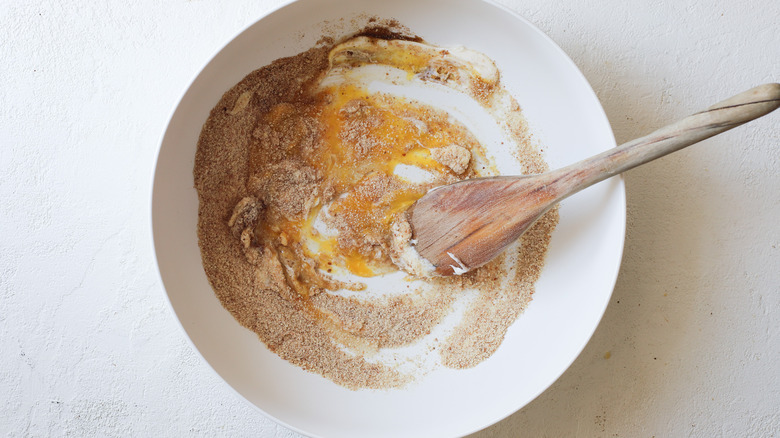 Taylor Murray/Food Republic
Preheat your oven to 400 F and spray a baking sheet with nonstick cooking spray. "It's not strictly required to spray the tray but crab cakes can tend to stick, so make sure to set yourself up for success," says Murray. 
Add the breadcrumbs, egg, mayonnaise, lemon juice, mustard, Worcestershire, and spices to a bowl and stir until completely combined. Make sure that all of the breadcrumbs are completely hydrated. Ideally, this mix can sit for a few minutes so the breadcrumbs have enough time to fully absorb the moisture in the other ingredients.
Fold in the crab and herbs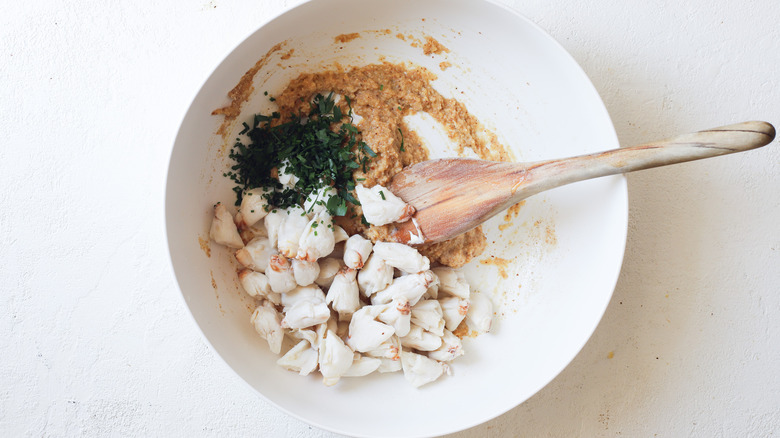 Taylor Murray/Food Republic
Now that the base is mixed, gently fold in the crab and herbs. It's important not to overmix the crab. After all, jumbo lump crab meat comes at a premium price, and mixing it until it's completely broken down ruins the texture. Still, you'll want to make sure the crab breaks down just a bit so that the crab can actually form into patties. If in doubt, try to form a patty in your hand. If it falls apart, keep mixing and breaking up the crab a touch until you can form the mix into a cake that sticks together well.
Form the cakes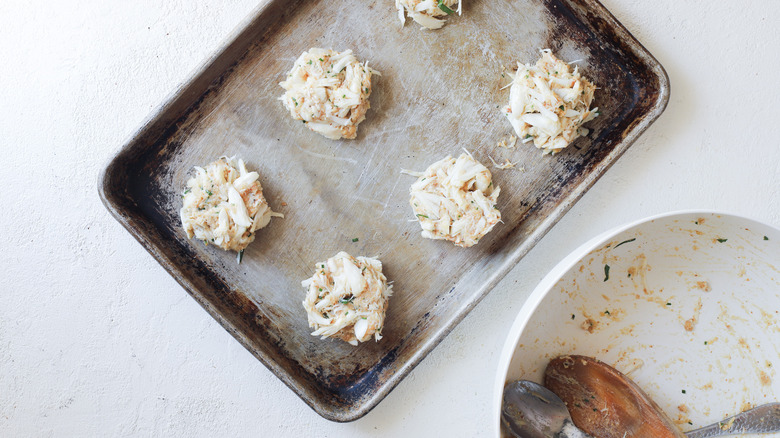 Taylor Murray/Food Republic
Once the mix is done, it's time to form the patties. To create uniform cakes, consider using a measuring cup or scoop. If the mix feels too wet or sticky, chilling it in the refrigerator for a short period can make it easier to handle. When ready, wet your hands or apply a thin layer of oil to prevent sticking. 
Take portions of the mixture, gently cup it in your hands to shape it into a ball, then flatten slightly to form a round, disk-like patty, ensuring any protruding ingredients are pressed in. Space the cakes evenly on the prepared tray, allowing for proper heat circulation. 
Bake the cakes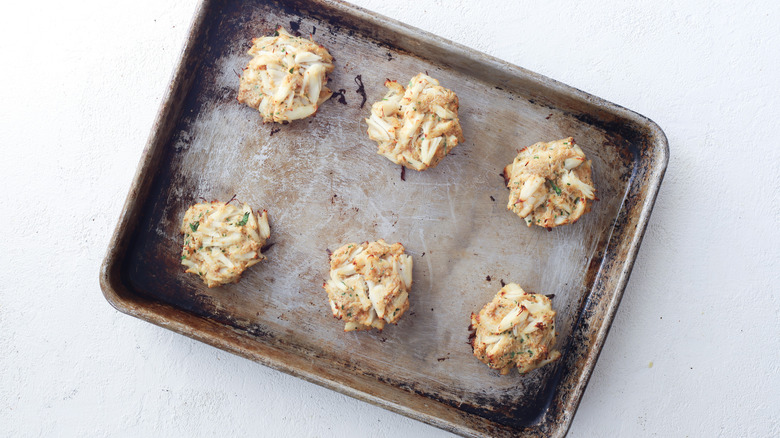 Taylor Murray/Food Republic
Once the oven is preheated, transfer the tray to the oven and bake until the cakes are golden brown on the edges and firm. This should take roughly 15 minutes, keeping in mind that oven temperatures tend to fluctuate from model to model. When the cakes are done, remove them from the oven and let them cool slightly before serving. Crab cakes make an excellent light meal when served with a green salad and a bit of tartar sauce. They can also work as an appetizer or as a side to a larger seafood meal.
Crab cakes are best when fresh, but can be reheated in the oven at 400 F for a few minutes until just warmed through. They will keep in the refrigerator if stored correctly for up to 3 days.
Baked Jumbo Lump Crab Cake Recipe
A plate of these golden, crisp cakes, packed with juicy crab, is an easy way to stretch a gourmet ingredient, giving you a taste of East Coast tradition.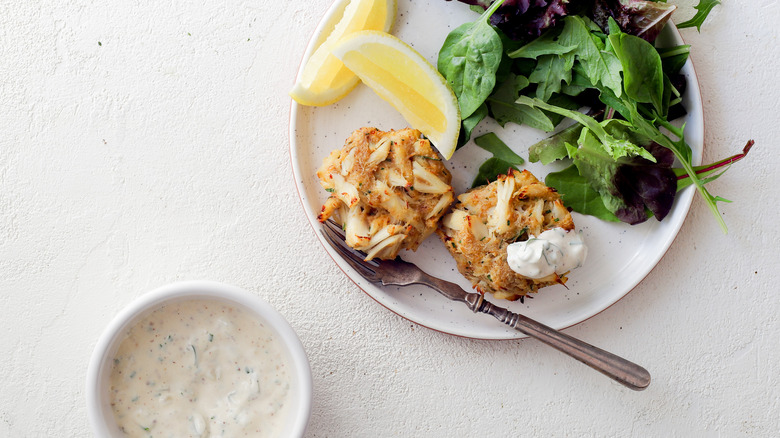 Ingredients
⅓ cup bread crumbs
1 egg
1 tablespoon mayonnaise
1 teaspoon lemon juice
1 teaspoon mustard
½ teaspoon Worcestershire
¼ teaspoon Old Bay
Pinch mustard powder
8 ounces jumbo lump crab meat
2 teaspoons chopped fresh parsley
1 teaspoons chopped fresh chive
Fresh lemons, for serving
Optional Ingredients
Directions
Preheat oven to 400 F.
Line a rimmed baking sheet with parchment paper or a silicone baking sheet.
In a large bowl, combine the breadcrumbs, egg, mayonnaise, lemon juice, mustard, Worcestershire, and spices. Stir to combine.
Add the crab and chopped herbs to the bowl. Stir gently until just combined.
Divide the mix into six small cakes, forming them into round patties with your hands. Place the cakes on the tray and transfer to the oven.
Bake until golden brown, 14 to 16 minutes.
Remove from the oven and let cool slightly before serving.
Nutrition
| | |
| --- | --- |
| Calories per Serving | 259 |
| Total Fat | 9.6 g |
| Saturated Fat | 2.0 g |
| Trans Fat | 0.0 g |
| Cholesterol | 192.8 mg |
| | |
| --- | --- |
| Total Carbohydrates | 16.7 g |
| Dietary Fiber | 1.8 g |
| Total Sugars | 2.2 g |
| Sodium | 889.9 mg |
| Protein | 25.9 g |