Rum Is Now The Premium Spirit Pulling Everyone's Attention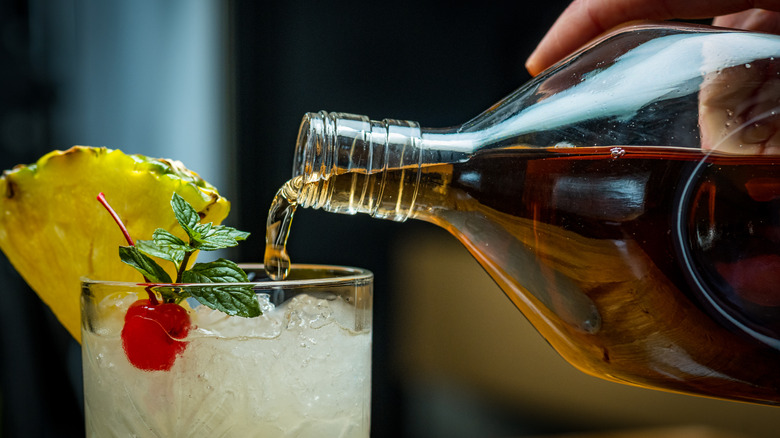 Simonkr/Getty Images
When people talk about their favorite spirits, it usually comes down to the heavy hitters: tequila, bourbon, whiskey, and gin. (Sorry, vodka. We are never ever getting back together.) But rum is usually the odd spirit out, relegated to tiki purgatory and associated with sugar bomb drinks that will leave you hungover for days.
Rum didn't always have such a bad reputation. In the early days of the United States of America, it was the favorite spirit of the Founding Fathers, brought to the colonies by way of British plantations in the Caribbean. But it fell out of favor during the Revolutionary War, when it became associated with the British and went the way of tea and biscuits.
For nearly two and a half centuries, rum has remained on the outskirts of the cocktail world. But there is a new movement aiming to bring it to the forefront, thanks to a miraculous resurgence in interest in the spirit.
Rum's reputation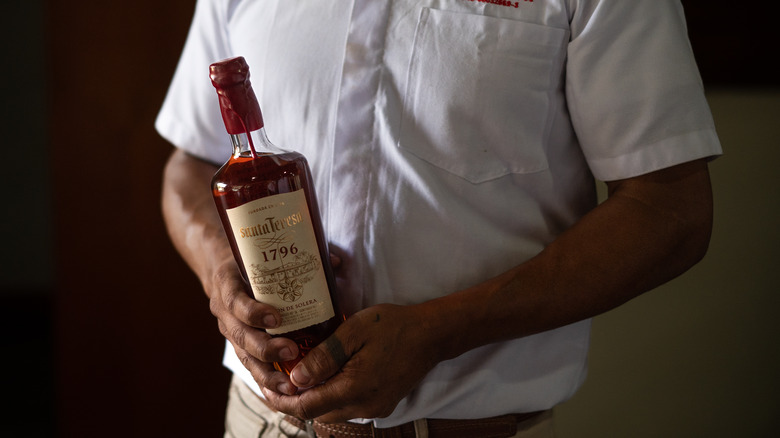 Bloomberg/Getty Images
Rum has a reputation for being overly sweet, since it is made from fermented and distilled sugarcane. But there is a great variety in the taste of rum because production methods vary across regions and styles. High-quality rum has a rich, complex flavor with notes of caramel and pure vanilla, while low-quality rum can taste like a headache in a bottle.
Cocktail fans have been leaning into premium rums over the last few years, with the global rum market estimated to be worth $21.5 billion by 2027, and in the previous five years, the super-premium rum category has seen about 17% growth. Aged rum has become the next obsession of Scotch and bourbon drinkers looking to get more bang for their buck. (Though the term "aged rum" is a contentious one and could be used to describe anything aged from 10 to 25 years.) Islands like Barbados, Jamaica, and Puerto Rico have stricter rules about labeling their rum, so listed ages on bottles from these places tend to be more accurate than on rums made in the U.S. or U.K.
Where to drink good rum
David Silverman/Getty Images
Over the last decade, several rum bars have quietly popped up around the U.S., specializing in the Caribbean spirit and its wide range of possibilities. There's the James Beard Award-winning Smuggler's Cove in San Francisco, the Portland fan favorite Rum Club, and the buzzy new Brooklyn watering hole simply called The Rum Bar. And even higher-end bars and restaurants with no Caribbean affiliation have slipped quality rum cocktails onto their menus.
This new rum boom coincides with a growing interest in Caribbean cuisine in the U.S., with restaurants like Brooklyn's Kokomo and Manhattan's Miss Lily's highlighting both elevated Caribbean food and rum-heavy cocktail lists.
Some popular rum brands making the spirit on the higher end include Mount Gay, Diplomatico, and Flor de Caña, but even big commercial brands like Bacardi sell limited edition bottles of aged rum that are generally positively received.
Even other spirit makers have looked to rum for inspiration, like Redemption Whiskey, which makes an award-winning rye whiskey aged in rum barrels that tastes like pure sunshine. So however you enjoy it, it's looking like rum is here to stay.