10 Things You Really Need To Know About Rum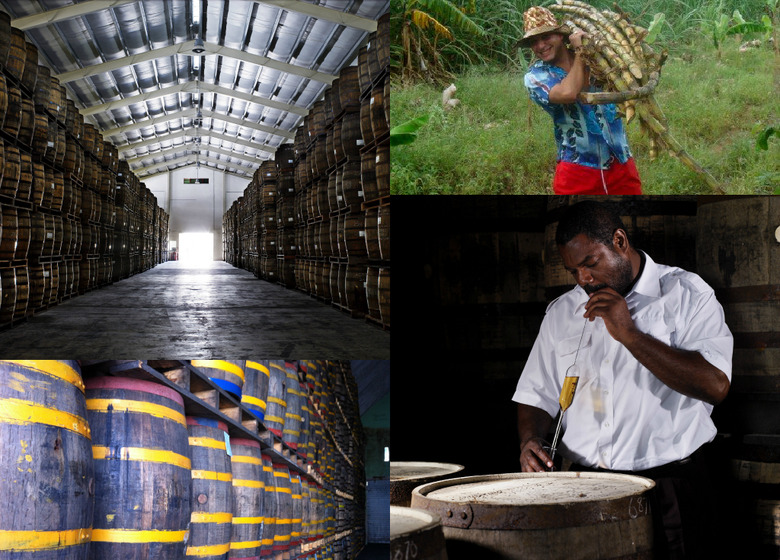 The Rodney Dangerfield of spirits, rum, is rarely given its fair due. In the post-Hemingway world of serious drinkers, it's either maligned as super saccharine, or pigeonholed as a beachside one-trick-pony.
But a rum renaissance is upon us. An increasingly curious cocktail culture is embracing the diversity of the spirit, which ranges from light and dry to dark and rich. Like mezcal and sotol before it, rum's rediscovery is in turn leading to better availability in the US.
From Brooklyn's Clover Club to the Caribbean, the best bartenders and mixologists are crafting rum into cocktails and lists that are conspicuously Captain-free. It's time to rewrite your rum diary. That's why we've compiled 10 things you might not know about rum, plus recommendations for some of the world's best under-the-radar bottles and killer cocktails.
1. No rules, just rum
As lawless as a Viggo Mortensen film, the world of rum is not regulated by the sort of strict classification system that classifies beverages definitively like cognac or bourbon. Individual countries of origin have their own standards — meaning that any spirit that starts with some form of sugarcane can be called rum. The diversity of the designations means rums can range from clear and gin-like to dark, molasses-heavy brews.
2. Taste the rainbow
Since the first rule of rum club is we don't talk about rum club, it can be helpful to keep a few generalities in mind when stocking your bar. Rums are commonly categorized by color: light or white are the mildest; gold or amber have spent time in some sort of barrel; dark have been barrel- or cask-aged for longer, and taste a little like whisky; and black are as rich as a Guinness on your birthday.
3. Do A Keyword Search
Like sorting your Twitter followers or deciphering a French wine label, there are a few general terms that will make understanding rum easier. The majority of rums in the United States fall under the category rhum industriel, which means they were made from sugarcane byproducts. The delightfully earthy alternative is rhum agricole, which denotes seasonal rums made from the juice of fresh sugarcane.
4. Not all rum is sweet
How sweet or dry a rum tastes depends on three factors: the duration of the aging process, the type of barrel of said aging and the form of sugarcane used. There is great diversity within the dryness. "People are discovering white rums that aren't crap," explains John McCarthy, who runs the bars at Whitehall and Highlands in New York City's West Village. His Dry Pedro Cardamom Collins (recipe below) is a crisp cocktail that tastes more Scandinavian than tropical. McCarthy's rum of choice, Brugal Extra Dry, is a particularly good gateway bottle for rum-shy gin drinkers.
5. Some rum is sweet. This is not necessarily a bad thing
Consider Flor de Cana Centenario 12 Year Old, a creamy Nicaraguan rum that is as good a dessert drink as a 1927 Pedro Ximenez Solera, but comes to the table in much manlier glassware. Or, if you're looking to tiki one on, try a dark Jamaican rum like Appleton Estate 21 Year, or India's vanilla-scented Old Monk 7 Year.
6. Hangovers and rum are not mutually inclusive
Barbados, the birthplace of rum, has been distilling the stuff since 1703. Yet, even on-island, the fear of rum-induced hangovers is so prevalent that The Cliff's bartender Papa Jules notes many locals resort to vodka. For shame. In reality, any light-colored spirit – be it vodka, gin or a filtered rum like Jules' preferred Bajan brew Mount Gay Eclipse Silver – is your best bet for pain prevention. [Editor note: A glass of water and locally grown banana before bed never hurt anyone, either.]
7. Stop swilling. Start sipping
You heard it here first: sipping rums will be the biggest thing to hit bars since artful facial hair or artisanal ice. Haiti's Rhum Barbancourt is a whisky-like rum that's fantastic neat or on ice. Better still, it's widely available in the U.S. in distillations aged 4, 8 and 15 years. Brugal's new 1888 is aged 8-15 years in Spanish sherry oak casks used for single malts, and has a smooth, dry bite.
8. Don't call it a comeback
Like the navy suit or A Night at the Opera, the daiquiri is classic for good reason. Papa Hemingway's poison is a crisp, citrusy refresher made from a simple blend of fresh lime, water or simple syrup, and a light rum like Cruzan. Or, take a cue from Bermuda's 19th Century British Royal Navy (as one does). Serve up a Dark and Stormy made with the island's own stout-like Goslings Black Seal, lime and locally brewed Barritt's ginger beer.
9. Some of the best rum cocktails are not rum cocktails
New York City cocktail connoisseur Brad Farran, a mainstay at mixology meccas Death & Co. and Clover Club, swears by a rum Negroni. He also suggests a new take on the Old Fashioned, using oak-aged rum like El Dorado 12 Year. And in St. Croix, bartenders like Jesse Card at the island's new Low Life Bar & Refuge replace cognac with a local amber rum, like Cruzan Single Barrel, for an untraditional Sidecar.
10. Rum is big in Canada. Neil Peart big
After developing a taste for the sweet stuff during the 19th Century sugar trade, our neighbors to the north founded the rum-centric Newfoundland and Labrador Liquor Corporation. The NLC now produces Screech, a dark rum aged in whisky and bourbon barrels and something of a rite of passage in the Canadian Maritimes. A shot of Screech, coupled with folk songs and a quick makeout sesh with a codfish, indoctrinates visitors as honorary Newfoundlanders. Exit the warrior, indeed.
Dry Pedro Cardamom Collins
1.5 oz. dry white rum (John McCarthy's favorite is Brugal Extra Dry)
5 oz. Cardamom syrup
.75 oz Fresh lemon juice
Shake and strain into a Collins glass with ice. Top with soda. Garnish with lemon.
---
Read more about rum on Food Republic: