Coconutty Vegan Waffles Recipe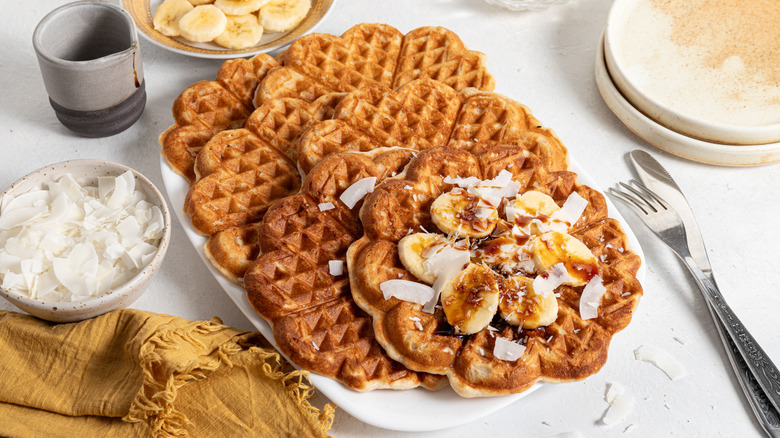 Milena Manolova/Food Republic
It's hard not to be a fan of waffles. With their crispy outsides, soft insides, and all the little wells to help hold in syrup, jam, fruit, or whatever delicious toppings you decide to add to your breakfast, they're basically a perfect food. That is, unless you're vegan or are trying to cut back on animal products. In that case, the milk, eggs, and butter so often included in waffle recipes kind of puts them on the "no-fly" list. Unless, of course, you find a vegan waffle recipe like this coconutty option, put together by recipe developer Milena Manolova.
"The combination of coconut milk, coconut oil, and shredded coconut adds a delightful coconut flavor to the waffles," she explains. "It's a fantastic option for people following a vegan diet or those with dairy or egg allergies." Plus, the recipe is ready in under 25 minutes, so even on busy mornings, you likely have the time to whip them up.
Gather the ingredients for coconutty vegan waffles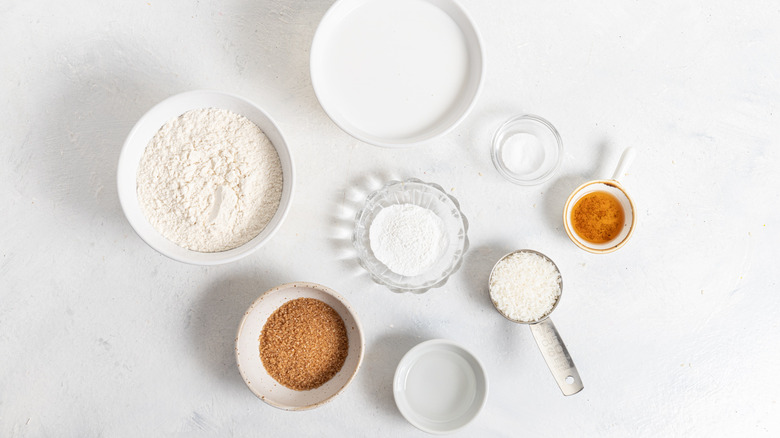 Milena Manolova/Food Republic
What makes this recipe different than most waffle recipes is the tactical omission of dairy and eggs. That said, you may still have most of the ingredients stocked in your kitchen. Go ahead and round up the usual all-purpose flour, sugar, baking powder, salt, and vanilla extract. And for all that lovely coconut flavor, you'll need coconut milk, coconut oil, and shredded coconut, too. 
Among that coconut trio, it's the shredded coconut that really stands out in this recipe. "The shredded coconut added to the batter gives the waffle an extra coconutty flavor and a slightly chewy texture," Manolova says. 
Preheat the waffle maker and mix the dry ingredients together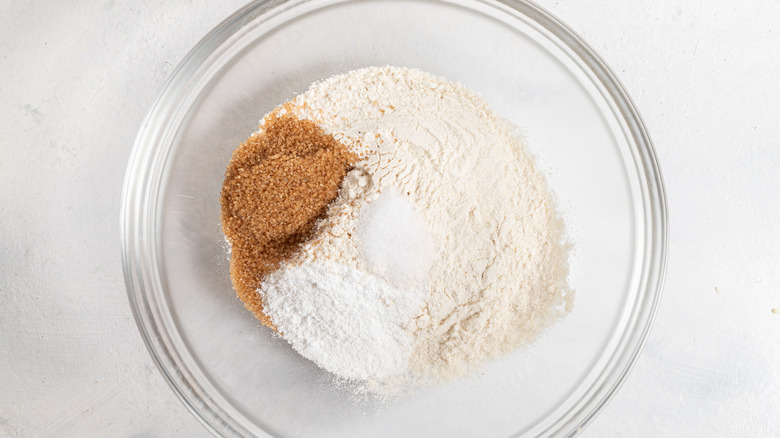 Milena Manolova/Food Republic
Go ahead and fire up the waffle maker, letting it preheat to a medium or high setting and using some coconut oil to lightly grease the waffle maker plates, which will help keep the batter from sticking. (Better yet, keep the oil out so you can re-grease the iron between batches.) While the iron is heating, whisk together most of the dry ingredients: flour, sugar, baking powder, and salt. 
In case you're wondering, you don't need to worry about what type of waffle maker you're using. "Although waffle makers can vary in shape and size, the only difference is the size of the pockets; some are deeper, some are shallower. The taste and texture of the waffles should be the same, no matter what waffle maker you use," Manolova explains.
Add the wet ingredients and coconut to form a batter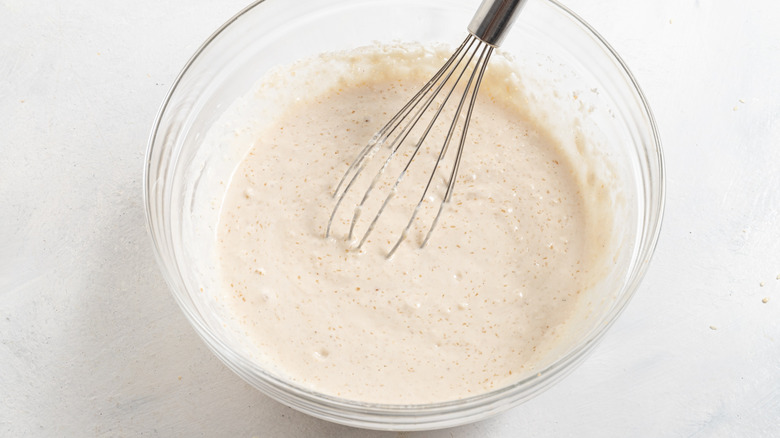 Milena Manolova/Food Republic
Add the coconut milk, remaining coconut oil, vanilla extract, and shredded coconut to the dry ingredients, then mix well until the batter becomes smooth. And remember, don't skip the addition of shredded coconut — Manolova insists you'll want to enjoy the "pleasant chewiness" it adds to the waffles. 
Add the batter to the waffle maker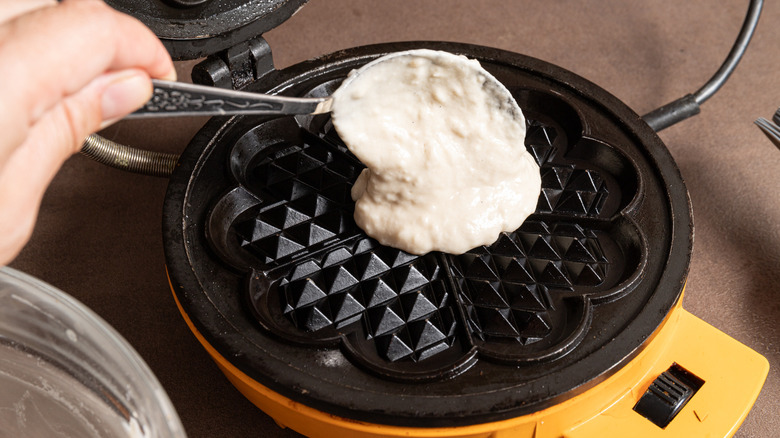 Milena Manolova/Food Republic
Scoop ¼ cup of the batter into the waffle maker, close it up, and let it do its thing. This recipe makes 6 large waffles, so you'll be working 1 waffle at a time. Just remember to brush a little coconut oil onto the waffle maker between waffles to help keep the plates greased and the waffles from sticking.
Cook, top, and serve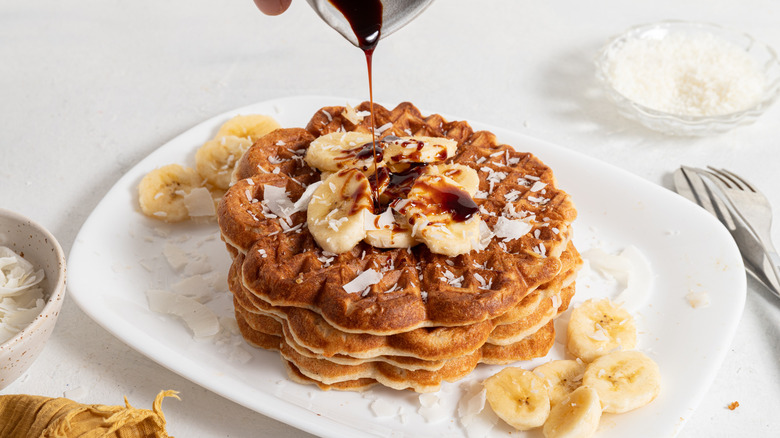 Milena Manolova/Food Republic
Each waffle should cook in about 1-2 minutes, depending on the size and shape of your waffle maker and the heat of the plates. The goal is to remove each waffle when it's nice and golden brown. 
Go ahead and serve the waffles as soon as they come out of the iron, adding the toppings of your choice. "These waffles can be customized with various toppings. Fresh fruits like berries or bananas, maple syrup, chocolate sauce, dairy-free yogurt, or a sprinkle of shredded coconut can complement the coconut flavor," Manolova suggests. 
And while Manolova adds that these are best eaten the day they're made, there are ways to prep ahead of time to make these waffles even faster in the mornings. "If you would like to make the batter the night before, you can, but only add the baking powder right before cooking," she says. And to that end, Manolova adds that if you double or triple the batch, you can freeze and store the cooked waffles for up to 2 months — just make sure they've cooled completely before popping them in the freezer in a freezer-safe bag. "To reheat, place them on a baking sheet, cover with foil, and heat in a 350 F oven for up to 15 minutes," she says. 
Coconutty Vegan Waffles Recipe
Not only does coconut milk keep these waffles vegan, but it also gives them the most pleasant coconutty flavor.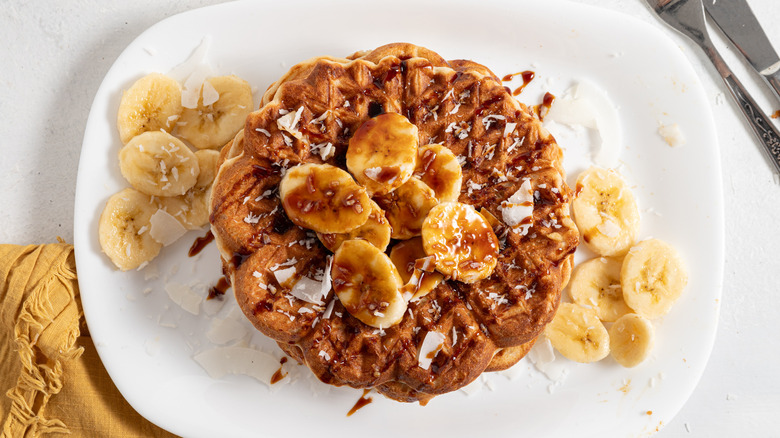 Ingredients
1 ½ cups all-purpose flour
3 tablespoons sugar
2 tablespoons baking powder
½ teaspoon salt
1 ½ cups light coconut milk
2 tablespoons coconut oil + 1 teaspoon for greasing the waffle iron
2 teaspoons vanilla extract
¼ cup shredded coconut
Directions
Preheat your waffle maker on a medium-high setting.
In a large bowl, combine the flour, sugar, baking powder, and salt.
To the same bowl, add the coconut milk, 2 tablespoons coconut oil, vanilla extract, and shredded coconut. Mix until a smooth batter forms.
Scoop about ¼ cup of the batter into the waffle maker. Cook until golden brown, about 1-2 minutes. Repeat with the remaining batter.
Serve warm with your toppings of choice.
Nutrition
| | |
| --- | --- |
| Calories per Serving | 253 |
| Total Fat | 11.1 g |
| Saturated Fat | 8.8 g |
| Trans Fat | 0.0 g |
| Cholesterol | 0.0 mg |
| | |
| --- | --- |
| Total Carbohydrates | 33.2 g |
| Dietary Fiber | 1.4 g |
| Total Sugars | 7.8 g |
| Sodium | 377.0 mg |
| Protein | 3.5 g |