Crio Bru: Here's What Happened After Shark Tank
Everyone and their mother has a mild to severe caffeine addiction these days, and the last few years have seen dozens of companies offering coffee alternatives that don't come with the same risk of jitters, withdrawal headaches, or increased tolerance. MUD/WTR offered ground mushrooms as a lookalike coffee alternative, Instagram-friendly matcha companies like Golde have touted high-quality green tea as a lower caffeine dosage option, and health food companies like Ora Organic have created ready-to-make Golden Milk powders for turmeric-based "lattes."
But before all these companies, Crio Bru was making not-coffee for the masses. The beverage brand sells a coffee substitute made from powdered cacao, which bears remarkable flavor similarities to coffee. (The coffee/cacao resemblance hasn't gone unnoticed by other companies, like Big Island, which makes espresso bars that taste just like chocolate.)
In April 2014, Crio Bru competed in Season 5, Episode 26 of "Shark Tank," hoping to bring home the brew bucks. But did they succeed?
What happened to Crio Bru on Shark Tank?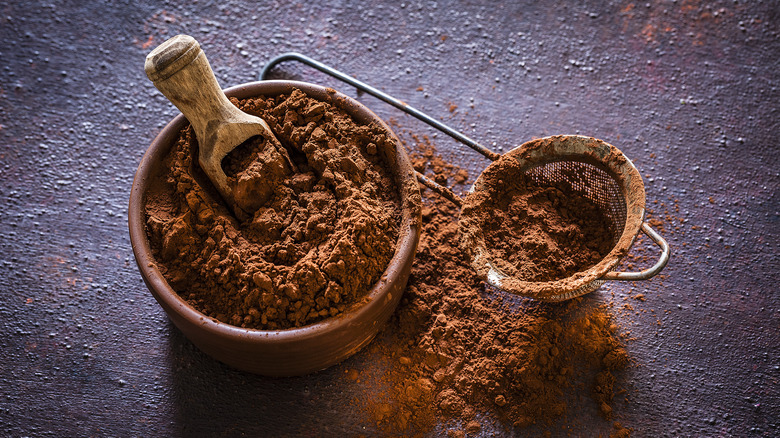 Fcafotodigital/Getty Images
Crio Bru founders Jon Fotheringham and Eric Durtschi participated in "Shark Tank" to try and get $1 million in exchange for 10% equity. The two marketed their cacao beverage, made from raw cacao beans, as a caffeine-free, low-carb, low-calorie coffee substitute packed with antioxidants, valuing their company at $10 million. They had already sold over 275,000 units for an estimated $1.5 million in sales. However, they struggled, not with the drink's purported health benefits, but with its taste.
The sharks on this episode included Mark Cuban, Robert Herjavec, Daymond John, Kevin O'Leary, and Barbara Corcoran, all of whom were underwhelmed (or flat-out disgusted) by the flavor of the drink, which was supposed to taste and smell like unsweetened hot chocolate, but appeared not to be such an easy mark. Corcoran and O'Leary expressed skepticism over the valuation, and Fotheringham and Durtschi ended up walking away with no investors and no capital.
Crio Bru after Shark Tank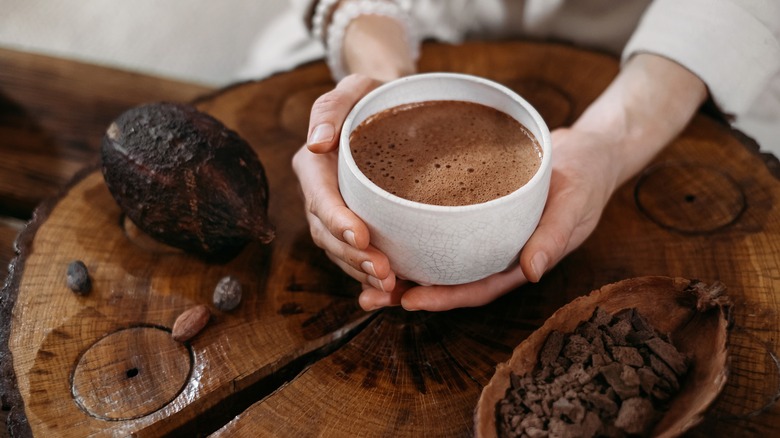 Nina Lishchuk/Shutterstock
Luckily for Fotheringham and Durtschi, "Shark Tank" was not their final blow. The two continued to expand the company. Durtschi works closely with cacao bean farmers in Ecuador, the Dominican Republic, Nicaragua, Peru, & Venezuela, to create a sustainable supply chain that is heavily advertised on their site and their social media accounts. "We pay a premium for the best cacao beans, so the farmers here will grow cacao trees instead of other things," Durchi was quoted in one Instagram post. "If we can incentivize that, then they have a greater chance that their children will continue as farmers of cacao & we will be saving heirloom quality trees at the same time."
The company worked hard to promote its products as being a true coffee substitute that can be brewed using every kind of coffee-making apparatus, including stovetop moka pots and AeroPresses, or made into a cold brew-style concentrate. They have collaborated extensively with the milk alternative brand Califia Farms to target health- and environmentally-conscious consumers looking to revamp their morning routine and have also targeted the Whole30 and Paleo communities online. They have even rolled out seasonal "coffee" flavors like Pumpkin Spice and Peppermint and built strategic partnerships with various food bloggers to encourage creative ways to use their product. Their Instagram account has featured celebrities and influencers like "The Big Bang Theory's" Mayim Bialak, and a former Miss USA, all purported fans of the drink.
What's next for Crio Bru?
Crio Bru is still in business and seems to be thriving. The company currently has an estimated net worth of $15 million and makes $3 to $4 million annually in revenue. Their products are available for sale on the Crio Bru website, as well as on Amazon and at major grocery stores like Whole Foods, Walmart, Kroger, Safeway, and Sam's Club. Their products have continued to evolve, with coffee-inspired Dark Roast, Medium Roast, Light Roast, French Roast, and other products, as well as seasonal and limited edition flavors. They have expanded their online store to also sell coffee-making equipment that can be used for Crio Bru products, such as a French press, moka pot, electric frother, and coffee filter.
Eric Durtschi is still the President of Crio Bru, but the founding CEO, Jon Fotheringham, left the company in December 2013, after the 'Shark Tank' episode was filmed, but a few months before it aired. He is currently the Manager of Principal Global Business Transformation at Adobe.