Grubhub Unites With The Hatchery Chicago To Accelerate Promising Food Businesses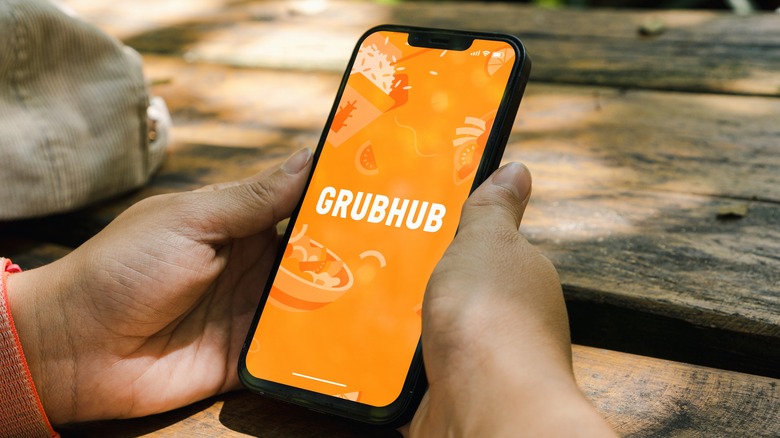 Diego Thomazini/Shutterstock
Grubhub doesn't just deliver good food from restaurants across the U.S., the popular mobile and online platform is also helping to ensure that new restaurants continue to prosper. That's the case in Chicago, anyway, where Grubhub has partnered with The Hatchery Chicago, pledging $300,000 to help the next generation of restaurant entrepreneurs launch their businesses, per a press release.
Helping food entrepreneurs get started and create jobs for others has been the focus of The Hatchery since the non-profit opened a facility in Chicago in 2019, complete with shared and private kitchen spaces, and abundant storage capacity. Access to these kinds of spaces is an enormous boon for food startups, of course, as the high cost of renting in Chicago is one of the biggest challenges faced by new business owners. Grubhub's $300,000 investment will also help in this regard, as the delivery company is sponsoring a series of new programs that will provide additional support to food and beverage startups on the Midwestern city's West Side.
The selection of Chicago as the host city for this type of partnership was not random. Grubhub itself got its start in Chicago in 2004, and is still headquartered in the "Windy City." It has also maintained a robust local presence, having contributed to the success of over 14,000 area restaurants during its nearly two-decade-long history.
Programs and initiatives that will result from the partnership
From The Hatchery's perspective, the partnership with Grubhub seemed like a natural fit. "On top of our existing services, our partnership with Grubhub allows us to look at new ways to support our community of entrepreneurs, including helping them successfully leverage online marketing and delivery resources to increase efficiencies and generate revenue," explained Natalie Shmulik, The Hatchery's Chief Strategy & Incubation Officer, in a press release.
The partnership should prove beneficial to Chicago-based restaurant startups in a number of ways. Several new programs, for instance, have already been announced, including a pitch contest whose winner will be given rent-free access to a private GrubHub kitchen at The Hatchery for an entire year. Another new program of note, meanwhile, will help educate entrepreneurs on the possibilities of third-party delivery to enhance revenue and facilitate business growth.
Grubhub will also provide funding to The Hatchery's Sprouts incubation program, under the aegis of its branded community fund. This innovative program helps would-be entrepreneurs go from aspiration to startup status in six months' time, courtesy of personal coaching and other support services aimed at getting food service businesses off the ground.