King Charles Has A Troubled Relationship With Cling Filmed Food
Tim P. Whitby/Getty Images
The British royals — are they really just like us? Apparently not, if King Charles' attitude toward cling wrap is anything to go by.
According to an unauthorized biography of King Charles III titled "Rebel Prince," Charles had an unusual reaction to what was apparently his first encounter with plastic wrap. In the book, journalist Tom Bower writes that Charles reportedly "trembled" and "shrieked" when he saw plastic wrap covering some plates of food following a function at Clarence House, a royal residence located in London. It allegedly fell to Queen Camilla (who was the Duchess of Cornwall at the time of the book's publication in 2018) to clarify the situation, telling Charles, "It's cling film, darling."
It's hard to assess exactly how true this account is: The royal family's spokespeople declined to comment on any of the anecdotes in Bower's book, which includes other outlandish stories, such as a tale about Charles bringing his own toilet seat on a trip to visit a friend. However, Bower reportedly interviewed over 120 people in the process of researching the book.
King Charles has more peculiar food habits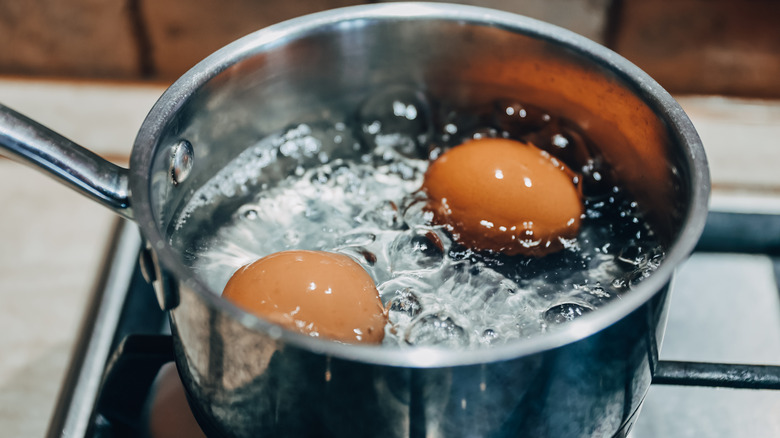 Elena Karetnikova/Shutterstock
King Charles is known to have some other unconventional habits and attitudes in regards to eating and drinking. In the same book, Bower writes that the king sometimes shows up to events wielding his own pre-mixed martinis, which a member of his detail holds for him.
He's also rumored to have highly exacting demands when it comes to his breakfast. Award-winning journalist Jeremy Paxman's book "On Royalty" — which follows the broader royal family — claims that Charles eats one soft-boiled egg as part of his daily breakfast. Paxman goes on to write that to ensure Charles' satisfaction, the royal kitchen would boil seven eggs at slightly different levels of hardness every morning for his inspection. A spokesperson for Clarence House responded to the anecdote, claiming the story wasn't true. Another of Charles' former employees, Grant Harrold, also said it was likely untrue, as the king particularly detests food waste. 
On top of these, the king reportedly does not eat lunch. A former royal correspondent has suggested that this food quirk is due to Charles' busy schedule.
He's a highly seasonal king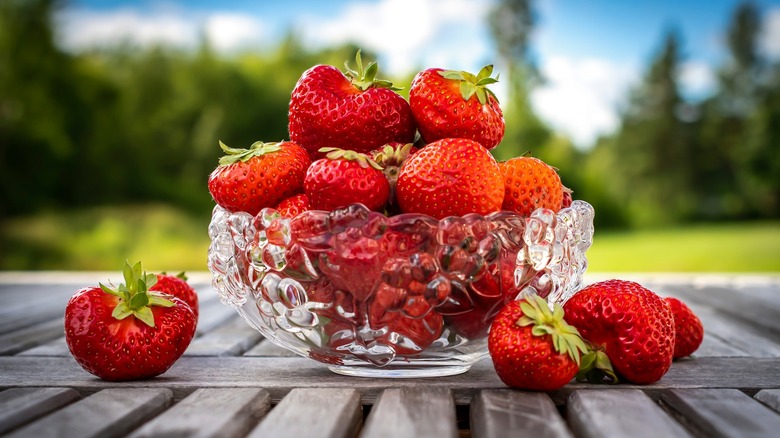 Ruslan Suseynov/Shutterstock
Some of King Charles' food preferences are a little more down-to-earth. According to one of his former chefs, Darren McGrady, the king prefers organic food.
You could arguably describe Charles as a flexitarian; in a 2021 interview with the BBC, the then-prince said that he does not eat fish or meat two days out of every week, and also avoids dairy one day a week, for environmental reasons. In possible connection to this, Buckingham Palace advertised a job for a new live-in chef to cook vegan meals in early 2023, in the lead-up to Charles' coronation.
Despite forgoing meat twice a week, Charles is reported to be a fan of lamb, according to McGrady (though he doesn't eat foie gras). In line with that, McGrady described Charles to Delish as a foodie, and shared that the king's ideal meal would be wild mushroom risotto with lamb.