The Tangy Ingredient You Need For Ultra Flavorful Whipped Cream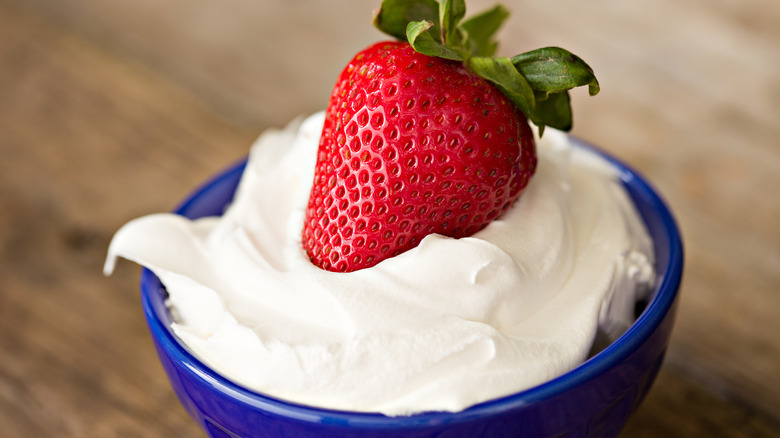 Debbismirnoff/Getty Images
Decadent, rich, and perfectly fluffy whipped cream is undoubtedly a year-round favorite when it comes to sweet treats. It is the ideal topping for a seasonal fruit crisp in the summertime, as well as the crowning glory of a slice of sweet potato pie during the holidays. Of course, it is also divine on top of a mug of hot chocolate on a cold winter day.
There are, however, a couple of downsides to this seemingly perfect dessert topping. Whipped cream can be tricky to prepare in advance, and for that reason, many home cooks tend to make it just before serving. This is an extra time-consuming step when you are eager to serve dessert to a hungry crowd during an already stressful holiday meal. Also, should you decide to save time and try to whip cream in advance, it often deflates, loses its beautiful velvety structure, and begins to weep watery liquid. And don't even get us started on the sad spray-can variety.
The good news is, there is one ingredient that you likely already have in your refrigerator that can save the day when it comes to making the perfect whipped cream. All you need is a few spoonfuls of tangy Greek yogurt to make the best whipped cream of your life.
Rise in popularity of Greek yogurt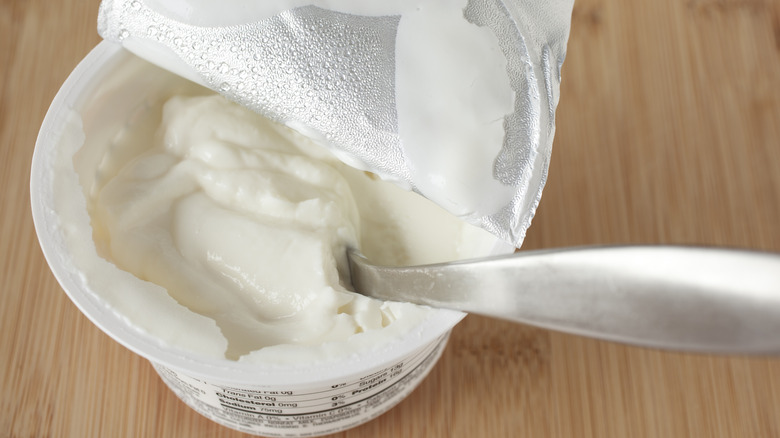 Haha21/Getty Images
Traditionally, there have been several different techniques home cooks have turned to for stabilizing their whipped cream. Some use a bit of gelatine mixed with water, or maybe a dash of cornstarch or cream of tartar. Others use ingredients with a bit of acidity such as crème fraîche or sour cream to add a structure and bite. Lately, Greek yogurt has become that acidic, tangy addition of choice primarily because so many of us already have it on hand. 
The availability and popularity of Greek yogurt have been on a meteoric rise since the early 2000s. According to ABC News, "Greek yogurt went from being 1% of yogurt sales in 2007 to capturing 44% of the market in 2013." In addition, Grand View Research claims, "The global Greek yogurt market size was valued at USD 27.4 billion in 2020 and is expected to expand at a compound annual growth rate (CAGR) of 7.0% from 2021 to 2028."
There is no doubt that Greek yogurt has become a staple in many households across the country. Not only does it serve as a healthy and delicious breakfast or snack, but many home cooks are finding countless ways to incorporate Greek yogurt into their recipes in other ways as well. In fact, Greek yogurt is also a great addition to homemade whipped cream in more ways than one.
Whipped cream with flavor and function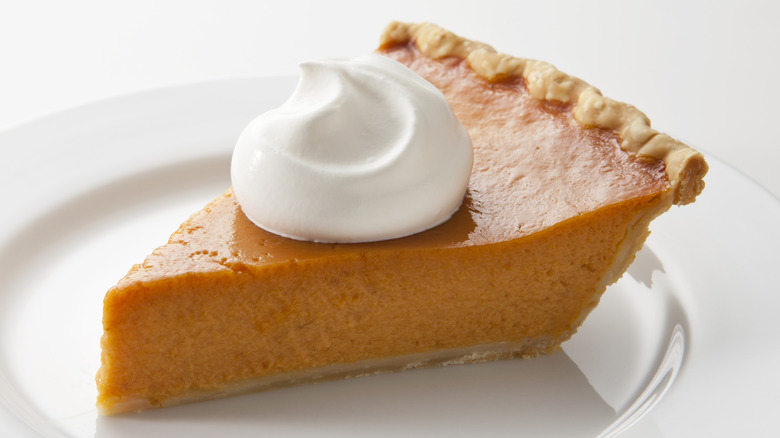 Jmichl/Getty Images
Adding as little as one tablespoon of Greek yogurt to every one cup of heavy cream can transform your homemade whipped cream in two ways. First, it adds a gentle tanginess to the final product, which is a nice way to balance out any sweet dessert you pair it with. Secondly, the additional fat and bit of acidity that comes from the Greek yogurt helps the whipped cream maintain its structure. This means the whipped cream can be prepared in advance and kept in the refrigerator until you are ready to serve without the fear of it falling and becoming a watery mess. According to the experts at King Arthur Baking, "if not stabilized, the network of fat molecules will collapse, losing the whipped-in air and returning the cream to its liquid state." Think of yogurt as a handy stabilizer, the support the cream needs to not deflate.
It is important to use full-fat plain Greek yogurt when making whipped cream. This way, it won't affect the flavor of the final product or weigh it down. Of course, you can always add extracts, spices, or even a dash of booze later to customize the flavor of your whipped cream – bourbon whipped cream, anyone? In the end, it is incredible how this one trendy ingredient can completely transform a classic treat like whipped cream.