Swap In Watermelon Over Tuna For Cheap, Fresh Poké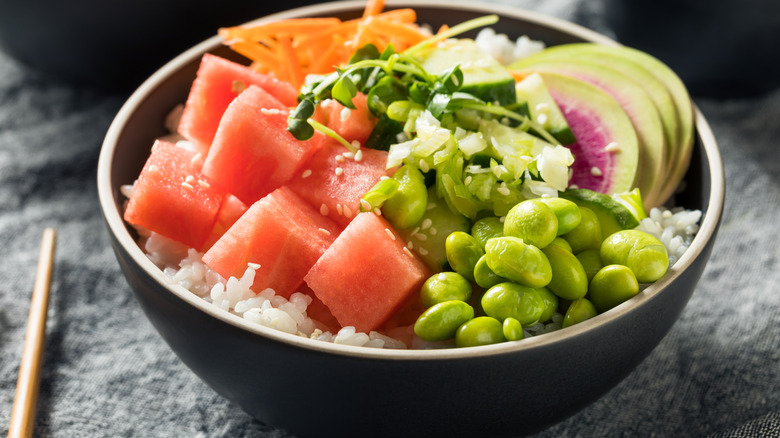 Brent Hofacker/Shutterstock
Watermelon isn't just for afternoon summer snacks anymore. The low-calorie summer favorite has gained popularity as a vegan tuna substitute over the last few years, thanks to a slew of viral watermelon recipes on TikTok. If you haven't encountered these videos, in which watermelon is marinated and baked until it resembles raw tuna, they might shock you. The finished watermelon really looks like tuna, making it catnip for the viral and visually driven social media algorithm.
But the appeal goes beyond the appearance. Watermelon, when marinated in the right seasoning and cooked, bears an uncanny textural and taste resemblance to raw tuna.
Many people have enjoyed using watermelon as a substitute in recipes for "tuna steak" or traditional sushi, but watermelon tuna is also a fantastic stand-in for the real deal in poké. This Hawaiian dish typically uses chunks of raw tuna, but watermelon is an easy and affordable alternative.
Watermelon tuna poké
Using watermelon as a substitute for tuna in poké actually aligns with the dish's original concept, as the word "poké" translates to "chunk" in Hawaiian, and was historically applied to cut meat or seafood that had been marinated. The idea that poké can only be made from seafood, particularly raw tuna, is a common misconception — one that could have been popularized by the prevalence of fast-casual poké bowl restaurants in the U.S. in recent years.
Watermelon tuna is also a safer alternative to ahi tuna, as raw fish dishes require the best quality fish (which is often expensive) to avoid contamination and food poisoning.
Before making your watermelon poké, make sure you have all the other ingredients on hand to make your final poké bowl. A lot of people prefer the dish served on a bed of rice, and like to include add-ons such as sesame seeds, edamame, thinly sliced scallions, dried seaweed (or seaweed salad), and roasted nuts. Crushed inamona or kukui nuts are traditional, but macadamia nuts are a common substitute.
How to make watermelon tuna
Making watermelon tuna is relatively easy. You want to use the same primary ingredients that you would in a classic poké marinade: sesame oil and soy sauce. Rice vinegar, sriracha, and red pepper flakes are also commonly added. Many believe, however, that the trick to getting that perfect fishy flavor is to add shredded dried seaweed to the marinade.
Simply cut your watermelon into chunks and marinate it for several hours or overnight in a mixture of sesame oil, soy sauce, and whatever other flavors you enjoy. If you want to take the easy way out, you can leave it at that and serve the raw marinated watermelon with your other poké fixings.
If you want to really get your "tuna" going, bake it at 350 degrees Fahrenheit for one hour, which will make it pliable but get rid of excess moisture. You can finish it with a sear on the grill or in a pan on the stovetop. Then, douse it in a mixture of black and white sesame seeds for a final aesthetic touch.